This company has an existing land bank of 6 million sq ft
01 Feb 2023
Long Read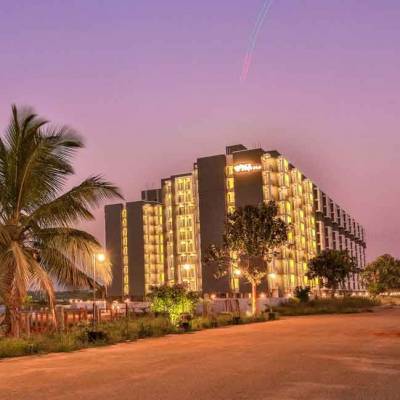 For seven decades, BCD Group has designed and constructed projects of all sizes and types in an economical and efficient manner. From complete towns to high-rise buildings for reputed builders, steel plants and hotels, the company has also launched its own real-estate projects enabling its transition from a construction company to a customer-facing brand. Angad Bedi, Managing Director, BCD Group, speaks on the company's journey and expansion plans.
Kindly tell us about the brand BCD Group.
As an organisation with over seven decades of experience in building and constructing quality infrastructure across the country, we have emerged as a trusted name in the industry for customers and developers. Over the past few years, we have partnered extensively with international consultants to bring global expertise, from design and delivery to formwork and CRM systems, with companies from Dubai, Saudi Arabia and Israel forming key partnerships. We are focused on bringing first-time solutions to India that enhance the value creation for our partners, clients and stakeholders. Unlike a traditional contractor that offers basic solutions, we are focused on providing state-of-the-art services that include construction, development, engineering, funding and consultancy and take care of projects from excavation to handover.
Today, we offer a multitude of services that span the residential, commercial and industrial segments and are emerging as an organisation bringing change across the value chain, thereby enriching the sector.
Tell us about the company's performance last fiscal. What are your expansion and growth plans going forward?
After a difficult pandemic period, the real-estate sector has bounced back rapidly and we've mirrored the recovery. While post COVID projection was blind, our turnaround in terms of turnover, execution and delivery exceeded our expectations. Our projected order book of Rs 5 billion was closed at almost Rs 10 billion in the last fiscal and we continue to grow even beyond metros and in Tier I and Tier II cities. This is a testament to the strong fundamentals our business is built on and we will continue to invest in key markets and add value for customers. We are developing residential projects across Karnataka,Tamil Nadu, NCR and Uttar Pradesh and have received several key industrial, commercial and residential projects.This is a showcase of the market bouncing back and BCD India is at the forefront of helping developers turn around their projects in the fastest manner possible.
How has technology adoption changed the face of building and construction in real estate? What are some newer innovations in terms of machines and technologies?
The Indian real-estate industry has significantly evolved over the years with the inclusion of technology, which is bringing efficiencies across the value chain. From using precast cement to fast-track construction with the use of drones and other systems to monitor progress, technology is acting as a catalyst in the streamlining process. Similarly, enterprise resource planning (ERP) systems are being widely adopted in facility management; execution timelines, CRMs and post-handovers have been taken over by mobile applications; technology has simply transformed the way markets operate.
As we look forward to the next decade, we expect a greater inclusion of technology in real estate that will help bring efficiencies, reduce costs and enable the industry to build sustainably sound properties. Having said that, technology inclusion is still in its nascent stage in real estate in India and overall systems have not yet reached the levels global markets operate in. Therefore, a greater emphasis on digitising systems and processes, working with startups closely and co-developing solutions remains key.
Given the scale and size of the projects your firm undertakes, can you tell us about the equipment bank and skilled manpower you have in place for timely execution?
The infrastructure and real-estate sectors are among the biggest employment generators in the country, employing millions of people. As a leading player in this industry, we have an inhouse manpower of over 5,000 people and a majority of employees have been associated with us for over two to three decades. We are deeply invested in training and grooming our employees to enable them to elevate their skills with changing technology and remain relevant. As a majority of workers are migrants, retaining them and controlling the quality of training has always been a challenge for the industry.But we have been able to solve it with our people-focused approach. We are proud to say that our workers are 45-60 per cent more proficient than the industry average.These factors enable us to deliver projects timely or even before the deadline, exemplifying our expertise of being the leading partner for developers. We also have a sufficient equipment bank to take up 10 million sq ft of space without leasing any assets from outside.
Please tell us about the projects you have executed in other countries. How is it different from the way projects are executed in India? Is there any new international project in the pipeline?
In one of the most successful examples of Indian companies making a mark globally other than in IT services, BCD Group has built a global presence with clients across Iraq, Nepal, Saudi Arabia and Mauritius. We are also close to signing a marquee project in the heart of Dubai, adding to our long list of global projects and strengthening our positioning as the partner of choice for developers. Our global exposure started almost four decades ago and we have emerged as one of the most sought-after contractors offering end-to-end services to developers. This expansion was premised on efficient planning and scheduling, logistics, development cycle and cash flow management and on the ability to tweak offerings to suit the demands of the local ecosystem.
In 2022, you launched BCD Emprasa in Bengaluru. Going forward, what are some of your own projects you are working on? Do you have an existing landbank for the same?
As mentioned earlier, we are quite bullish on the sector and have already rolled out a few projects worth over Rs 10 million across the residential, commercial and industrial segments. In 2023, we will be rolling out luxury projects near the international airport that will be designed in Dubai and will have an international-level elevation, design and detail.We are confident this will bringcustomer delight and are expecting to complete it in record time. This assumes significance as the luxury segment is one of the fastest growing segments and as a trusted name in the industry, we bring in the expertise of offering high-end luxury residential apartments in a cost-effective manner. We also have an existing land bank of 6 million sq ft on our books, which strengthens our position as one of the most financially sound contractors in the industry.
You have been very prevalent in Southern India and one of your most recent projects is also based in Chennai. Where else in India would you like to expand your footprint and what kind of projects would you like to execute?
The real-estate market presence, which was largely restricted to the top cities till the last decade, is witnessing a transformation with Tier II and beyond cities opening up immense opportunities for developers and contractors. This comes on the back of the pandemic democratising white-collar jobs and the startup ecosystem that is creating employment and entrepreneurship opportunities in smaller cities. We are actively expanding in cities such as Raipur, Pune and Hyderabad while entering new markets such as Kochi in Kerala. These projects span residential, commercial, special economic zones, oil refineries and warehouses. In the next phase of expansion, we are also looking at industrial, hospitals and schools.
As of today, if you had to cite a revenue breakup, how much is driven by domestic clients and international projects?
We have seen a huge jump in revenue after COVID as projects across segments like residential, infrastructure and commercial saw a revival. The residential sector has performed exceptionally well in the past two years and this bull run is expected to continue. Pre-COVID, we had 60 per cent of our business coming from international markets while the remaining 40 per cent was domestic projects. However, after COVID, domestic consumption picked up and we saw 75 per cent of our business from domestic operations while international business contribution was down to 25 per cent. We expect a strong pickup in international demand too in coming quarters.
How can alternative investment funds (AIFs) play an important role in Indian real estate? Please tell us about India's second largest stress asset fund you have in place for the realty ecosystem.
The collapse of the NBFC sector and the tightening of banking payouts from 2016 to 2021 affected real estate. Lack of liquidity impacted the natural extension of project delivery and increased the timeline. The beginning of 2022 brought some exciting news for the real-estate industry. The market competition to buy a pie of the stressed assets only got better. The market regulator, the Securities and Exchange Board of India (SEBI), classified special situations funds under category 1 of the AIF provisions. AIFs have emerged as a genuine alternate option to traditional lenders such as banks, NBFCs and housing finance companies. Alternate classes of investments bring immediate liquidity faster into the system. AIF along with personal promoter contributors bought immediate liquidity into the system and will be a driver of growth in the real-estate sector. We have also launched ourRs 5 billion AIF along with NISUS Finance and are investing in it.
What is your take on Indian real-estate trends for 2023? And to what degree are we insulated from the global housing scenario where pessimism is doing the rounds?
Global economic sentiments and market volatility haven't affected the Indian real-estate market all that much yet as demand outstripped supply. It was easier to own rather than lease homes during COVID. Buying houses was easier as housing loans were down from 10.5 to 7.5-8 per cent, a historical low. There is no dearth of homebuyers but developers need to worry about the supply side. The current real-estate cycle has been consumer-driven. We are still in a sweet spot as far as affordability is concerned in spite of rational price hikes by developers. Another reason that encouraged lakhs of Indians based in other nations to own a home in India was the depreciating value of the Indian rupee. Since 2018, the rupee has been on a falling trend. Given the momentum achieved thus far, 2023 is expected to continue the momentum at a rapid pace, reshaping real-estate returns for investors and homebuyers, and pushing developers to launch new and innovative products to address rising demands. India remains among the few countries with a highGDP growth. The residential sector, despite the price increase, is likely to cross over 300,000 units in FY22-23.
You have built projects for clients and under Brand BCD. What are some of the challenges faced as a contractor and developer and how can they be addressed?
For contractors, the biggest risk is being dependent on the developer's balance sheet cash flow and profit and loss. Any turmoil with developers will have a ripple effect down to the labour and an instant demobilisation from the site, more than execution risk. As a developer, the biggest risk continues to be land title issues and India's regulatory framework for land wherein insurance of land title, land disputes and the Government's authentication of land is implemented. It is a basic need for any execution of a project; there is a dearth of clear title land and even a 1 per cent dispute can hit builders hard.
What kind of a portfolio do you see for yourself between commercial, residential, redevelopment and new age?
Commercial is an asset class we are contracting for third-party companies while for residential we will do turnkey and even build the BCD brand as there is a strong demand from homebuyers. Redevelopment is a decade away before it catches speed apart from Mumbai which was developed decades back; even Pune is catching up. New age is more for target audiences like HNIs looking for bespoke luxury homes either in a European or Singapore style and will be driven by them. We do not see any opportunity in redevelopment. We are working with international developers and are looking to scale business, while commercial and residential will continue to be a larger pie of our business.
Have the interest rate hikes dampened the sales of housing units? What is your take on the this year's Budget?
An interest rate hike has a psychological bearing on the consumermindset and if interest rates continue to be high, it is bound to have an impact. The outrageous hike of 250 basis points since May 2021 needs to be warranted before it turns negative for the ascending Indian economic growth curve. The impact of home loan interest rate hikes will be highly deterrent in the affordable housing segment as it will impact price-sensitive homebuyers and fatigue the supply of developers. The luxury and mid-housing segment players will remain cautious with a slightly longer sales cycle. The Union Budget 2023 has provided much-needed ammunition to the real-estate industry to fight recessionary fears with enhanced capital expenditure targets and impetus to the salaried class by providing increased disposable income at hand with the higher tax rebate. This will further boost demand for mid-income homes,which form a larger part of residential sales in the country.
Fact sheet
Year of establishment: 

1952
Top management:

 Board of Directors (with over 50 highly trained professional management), headed by Angad Bedi
Segments of operation: 

Residential (affordable, hi-end residential, bespoke homes, senior living, student living) and commercial (hospitality, schools, IT parks, warehousing)
Areas of operation:

 Turnkey construction, design and build
Centre of operation: 

Bengaluru, Karnataka
No. of employees: 

600
No. of completed, ongoing and upcoming projects:

 500, 35, 25
Turnover:

 Rs 5,000 million
Order book: 

Rs 15,000 million
Related Stories