This company offers luxury projects starting at Rs 10,000 per sq ft.
01 Apr 2023
Long Read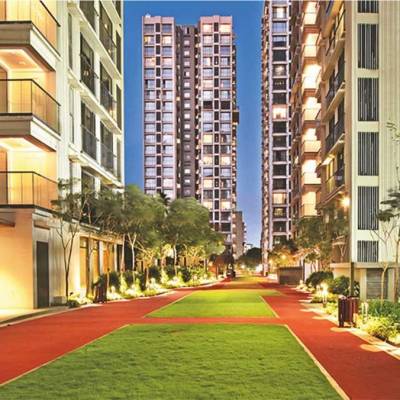 Founded in 1998, Bengaluru-based Vaishnavi Group is a real-estate development company. The company has created a number of residential, commercial and hospitality projects in Bengaluru, including opulent condos, mansions and office buildings. Known for developing environmentally sensitive communities with cutting-edge amenities, the company creates world-class living environments using cutting-edge technology and creative design. Kishan Govindaraju, Director, Vaishnavi Group, shares more on the company's journey and future plans.
Please tell us about the history and mission of Vaishnavi Group. What keeps you ahead of the curve?
At Vaishnavi Group, we strive to be the most admired brand in the real-estate industry by exceeding expectations and consistently creating delight. Our focus is on developing niche and urban-centric properties across residential and commercial segments, with a strong emphasis on exquisite designs, best-in-class amenities and feature-rich dwellings that our residents fall in love with. We are committed to creating wealth with trust and care and we achieve this by designing and developing energy-efficient and environment-friendly homes using innovative approaches. We believe sustainability and durability are critical elements in nurturing community living and providing a stable and sustainable environment for future generations. Our passion and commitment to delivering the best experience for our buyers are evident in our professionalism, integrity, honesty and fairness in our relationships.
As we celebrate 25 glorious years, we take pride in the trust and satisfaction we have earned from our clients, including technology giants, medical establishments and individual residents. We understand that expectations vary at different levels, whether it is amenities, comfort and security for residents or a thorough understanding of professional needs for commercial establishments. At Vaishnavi, we score high on all these parameters by consistently exceeding expectations with uncompromising quality and a clear vision as evident in our 4,000+ happy families and a rich roster of commercial clients. Our track record of delivering quality projects ahead of time and the numerous awards and accolades we have received over the years stand testament to our commitment to being a trustworthy and dependable organisation in the real-estate industry.
What are the new-age innovations in building and construction that are acting as a gamechanger for real-estate development?
Offsite precast construction technology has revolutionised the construction industry at scale by introducing the concept of DFMA [Design for Manufacturing and Assembly]. Using this method, many of the key components of the building are designed and manufactured at a manufacturing facility and brought to the construction site for assembly. This ensures 50 per cent faster completion time while reducing pollution onsite by over 60 per cent. Since the elements are manufactured in an assembly-line fashion in a dedicated factory, there is significant saving in the input material as well as in the water used since the curing process is done through steam in the factory. The design efficiency and precision of the immaculately finished product is also far superior given the controlled planning and machine manufacturing, while ensuring the quantum of material usage at the construction site is significantly reduced. The precast concrete elements are manufactured with integrated mechanical, electrical, and plumbing conduits, ensuring superior quality and an unparalleled finish for the end product.
Significant advancements in glazing technology over the past several years have produced creative solutions that raise the calibre of construction. Glazing now offers many advantages, such as preventing dangerous UV rays in addition to letting in natural light. Modern glass can now block approximately 100 per cent of the sun's UV rays, making indoor spaces safer and healthier by shielding occupants from dangerous radiation. Glazing can also stop items like furniture, drapes and carpeting from fading by lowering the quantity of UV radiation that enters the building. It can also aid in lessening environmental noise pollution. In urban areas, noise pollution from construction, transportation and other sources can be a serious problem. Unwanted noise can be reduced using sound-insulating windows, creating a quieter and more relaxing indoor atmosphere. The ability of glass to lower building energy use is a key benefit as well. Buildings stand to dramatically reduce the amount of energy needed for lighting, cooling and heating by installing energy-efficient glazing. As a result, the building has lower energy costs and a smaller carbon impact, increasing its sustainability.
Finally, improvements in renewable energy have made the integration of green energy into buildings simpler and more effective. Incorporating solar panels, wind turbines and other renewable energy sources into buildings is increasingly possible. Because of this integration, the building uses fewer conventional energy sources, which minimises carbon emissions and contributes to a more sustainable future.
When it comes to maintaining steady cash flows for building and construction of newer projects as well as investing in newer technologies, how do you go about it?
We at Vaishnavi understand the significance of pricing in the real-estate sector. As a result, we use an aggressive pricing strategy during our projects' pre-launch and launch phases. With the help of this method, we can increase our sales velocity and produce substantial cash flows throughout the initial phases of building. We also rely on financial institutions to provide us with the necessary funding for the building of our projects. To make sure that the finance we get is in line with the aims and objectives of our projects, we work closely with these institutions.
Additionally, we are devoted to making investments in the newest technologies to advance the building process and guarantee that our structures are planned to provide the utmost levels of comfort and convenience. We carefully consider each building's intended use before deciding which technology will best meet the needs of the end-user.
What are some of the core areas and cities in your focus this year? What is your revenue share across residential, commercial, office space, retail and new-age projects?
At Vaishnavi Group, we have set our sights on both the residential and commercial segments in Bengaluru, with a commitment to deliver premium projects. This year, we are excited to launch our premium plotted development project in Mysuru. Our vision is to provide Grade A commercial office spaces and customised facilities for the healthcare industry, while also developing high-end residential projects such as premium apartments, villas and plotted developments. With an emphasis on luxury living, we plan to offer projects with a selling price of Rs 10,000 per sq ft and above. We have an excellent line-up of launches planned for the financial year and beyond.
Please comment on your sales prospects considering the big-tech layoffs and NASSCOM's forecast of muted demand in the IT sector for 2023.
The forecast of muted demand in the IT sector along with big-tech layoffs raises concerns about the impact on sales prospects in the residential and office segments. However, the Indian real-estate sector has shown resilience in the face of challenges and posted strong sales figures in 2022 across the commercial, residential and industrial segments. The residential sector witnessed a decade-high closure of 215,000 units sold across the country, with Bengaluru and Mumbai contributing the highest sales (22 per cent) among major cities. Lower inventory levels, new launches and positive customer sentiment towards residential real estate as an asset class are expected to sustain the growth momentum in 2023. Although there were occasional repo rate hikes that led to an increase in home loan interest rates in 2022, the recent unchanged repo rate is expected to provide a positive impetus to residential sales.
In the commercial real-estate sector, flexible workspaces have emerged as a significant contributor to office space absorption, accounting for 18.5 per cent, second only to ITeS. Despite NASSCOM's muted demand forecast for the IT sector, the Indian economy offers new opportunities and business models, as reflected in the growth of over 100 decacorns and unicorns. Our company has leased 1.5 million sq ft of commercial office space in the past year, with less than 5 per cent going to the IT industry. This balanced distribution of office space absorption across industries helps cushion the real-estate sector against any unforeseen challenges in specific sectors.
How do you approach sustainability and environment-friendly practices in your real estate projects?
As a company, we at Vaishnavi strongly believe that sustainable practices are essential for creating a better future for our planet. We are always exploring innovative and technological solutions to incorporate sustainability into every aspect of our real-estate projects. Our commitment to sustainability is reflected in the way we design our communities. For instance, we have developed communities that are nestled amid 358 trees, leveraging LiDAR technology to create nature-responsive architecture without cutting any of the trees at the site. We also prefer using precast construction, which is a more sustainable method of construction that reduces waste and improves energy-efficiency.
We are very conscious of our carbon footprint and have been striving to achieve IGBC Gold or Platinum ratings for our projects. Our approach to sustainable construction involves not only construction technology but also planning for ample ventilation and sunlight, effective utilisation of water, opportunities for community farming and open spaces, among other things. This enables our customers to lead a sustainable lifestyle while also enjoying the comforts of modern living.
Choosing the right building materials is also crucial for building a sustainable building. We ensure that we carefully consider the environmental impact of the materials we use. The market offers several eco-friendly alternatives today, such as fly-ash bricks, radiant cooling solutions, glazing that provides thermal and sound insulation, recycled plastic and wood composite flooring, among others. We strive to use these environmentally conscious materials in our projects whenever possible.Overall, we are dedicated to creating sustainable communities that not only benefit our customers but contribute to the betterment of our planet.
In residential between affordable, mid-segment and luxury, which segment acts as a money spinner and will be your focus going forward? What are some of your ongoing projects?
In the residential segment, Vaishnavi will primarily focus on the aspirational and luxury segment. This will include premium apartment projects, well-designed luxury villas and premium plotted developments. Our ongoing projects include:

Vaishnavi Premiere:

 Labelled'a community for connoisseurs', and rightly so! It offers 35 exclusive ultra-luxury residences designed in the Art Deco style of architecture. These three-bedroom luxury flats located close to MG Road in Central Bengalurufeature breathtaking views of the city, including Ulsoor Lake.
Vaishnavi Life:

A 45+ acre premium plotted development located in the fast growth corridor of North Bengaluru. It comprises pre-engineered smart plots with underground electric, water and sanitary pipes. The project features a 32,750 sq ft courtyard-themed clubhouse, over 50 per cent of landscaped, green and open spaces, 2 acre of central activity space and a whopping 14 thematic parks.
Owing to the nature of plotted developments that see a shorter sales lifecycle and completion timelines, we witness a faster realisation of money.
Fact file
Year of establishment: 

1998
No. of employees: 

230
Top management:

 CN Govindaraju, Managing Director; Prashant Deshpande, Director; Darshan Govindaraju, Director; Kishan Govindaraju, Director
Areas of operation:

 Development of residential, commercial, built-to-suit and retail projects
No. of completed projects:

 46 (10.80 million sq ft)
No. of upcoming projects:

 04 (1.83 million sq ft)
No of ongoing projects:

 05 (8.35 million sq ft)
Total: 

20.98 million sq ft
Related Stories