This firm's ticket sizes range from Rs 2.8 million to Rs 31.5 million
01 Mar 2023
Long Read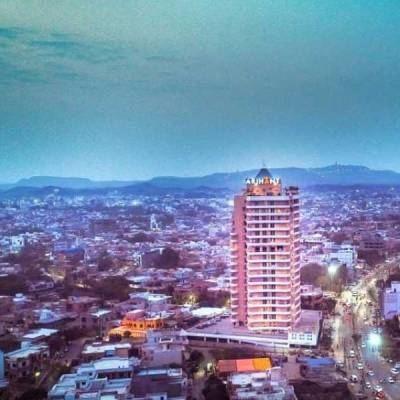 Arihant Superstructures is a well-respected player in the Indian real-estate market, known for its commitment to providing quality housing that meets the needs of a diverse range of customers. The ticket size of the firm's projects ranges from Rs 2.8 million to Rs 31.5 million. One of its most notable ongoing projects is the construction of 20,000 houses, which demonstrates the company's dedication to meeting the housing needs of India. In an interview, Ashok Chhajer, Chairman and Managing Director, Arihant Superstructures, discusses the company's journey and its plans for expansion.
Kindly tell us about the brand Arihant.
Arihant Superstructures is a renowned real-estate company that has been undertaking various housing projects in Mumbai, Navi Mumbai and Jodhpur, Rajasthan. With a strong focus on quality and customer satisfaction, it has emerged as the most reliable and trustworthy brand in the real-estate industry. The company has earned the trust of its customers by providing them with flat-buying experiences that are hassle-free and buyer-friendly. Currently, Arihant Superstructures is undertaking a massive project of constructing 20,000 houses, which is a testament to the company's commitment to providing quality housing to the people of India.
Tell us about the company's performance last fiscal.
The company has shown impressive growth of 25 percent CAGR [compound annual growth rate] in the last fiscal year. Its focus on quality and customer satisfaction has translated into sales of 1,650 homes, resulting in sales of Rs 7,500 million.
How has technology adoption changed the face of building and construction in real estate? What are some newer innovations in terms of machines and technologies?
The building and construction sector has embraced cutting-edge technology to ensure faster construction and better workmanship. As a firm, we have consistently adopted innovative technologies and construction techniques; we use MIVAN technology and building management systems across our diverse range of projects. The integration of technology into our construction process has enabled us to achieve greater efficiency and complete projects within promised timelines. This has had a positive impact on our customers, who have received their homes without any delays or cost overruns. Additionally, the use of advanced technology has also contributed to the long-term durability of the buildings, reducing the need for immediate repairs and maintenance. As a result, homeowners can enjoy a hassle-free experience, with reduced burden and expenses in maintaining their homes.
From 2.8 million to 31.5 million, given the ticket size of your projects, how do you maintain your profit margins given the fact that the cost of construction is a key factor in all the projects?
We understand that the margins for affordable housing and premium housing differ significantly and, accordingly, the company works on invested ratio returns. However, it is not only the efficiency of timelines and cost control that impact the company's profitability. The cost of purchasing land also plays a crucial role in determining margins. Despite this, the company has been successful in maintaining a strong balance sheet through effective management of costs and investments. By optimising its resources and implementing efficient processes, Arihant Superstructures has been able to build a strong financial foundation that allows it to continue providing quality housing to its customers.
Can you tell us about the projects you have executed in Jodhpur, Rajasthan? How is it different from the way projects are executed in Navi Mumbai, Maharashtra?
Though a majority of our projects are based in Navi Mumbai,we have made a significant impact on the housing landscape of Jodhpur through our large-scale projects, which have been aesthetically pleasing and grand in scale. The company has introduced the concept of multi-storeyed apartments in the city, transforming the traditional housing options available to its residents. The successful implementation of these projects has helped the company establish its presence in the Jodhpur real-estate market as a reliable and trustworthy developer.
In the business of real-estate development, land banks are an important factor.What kind of existing land bank do you have and what is the time period you have in mind to monetise it all?
We have an impressive land bank that can sustain our business goals for up to seven years. Our proactive approach to acquiring land has helped us stay ahead of the competition and maintain a strong foothold in the real-estate market. Currently, the company is handing over 1,000 houses each year to end-users, which in itself is a testament to its commitment to delivering quality housing to customers. With a robust land bank and a steady pipeline of projects, we are wellpositioned to maintain our growth path and continue to meet the growing demand for housing in India.
When it comes to the process of acquiring land banks, is the process easier from a developer's standpoint?
As opposed to Jaipur, there is a good deal of competition for acquiring land in the Mumbai Metropolitan Region(MMR). Speaking of the government involvement in this process, it has made the process of land acquisition transparent by digitising land records. This has eradicated a lot of ambiguity in terms of land titles. In the long run, such moves will speed up the process of land acquisition and make it simpler.
Which are the other regions in India where you wish to expand your footprint and what kind of projects would you like to execute?
Going forward, we are keen to unlock the real-estate potential in other cities too. However for now, we have identified Navi Mumbai as having the highest potential for real-estate development for the next 20 years. As a result, we continue to focus our attention on the city and are actively pursuing new projects.
As of today, if you had to cite a revenue breakup, how much is driven by projects in Navi Mumbai and how much by projects in Jodhpur?
Arihant Superstructures has a diversified portfolio of real-estate projects in different parts of India. Out of the total business, 7 per cent comes from the city of Jodhpur, while the remaining 93 percent comes from MMR.
What is your take on Indian real-estate trends for 2023? To what degree are we insulated from the global housing scenario where pessimist opinions are doing the rounds?
The real-estate market in India is expected to experience a booming period over the next five years, with sales expected to rise by volumes. The demand for affordable housing is on the rise, driven by factors such as rapid urbanisation, growing population and rising income levels.
Have the interest rate hikes dampened the sales of housing units? What is your take on the Budget that was presented?
The interest rates on home loans have a significant impact on the housing industry. It has affected eligibility, particularly for homebuyers below the age of 35, which has made affordable project sales more difficult.
What are your thoughts on FDI in real estate?
FDI in the Indian real-estate sector has the potential to bring several benefits to the country's economy. It can help attract significant investments from foreign investors, leading to an increase in overall investment, job creation and economic growth. FDI is always a welcoming note from the country's perspective because it also accounts for increased foreign exchange. It also enhances the commercial rate of interest. Overall, FDI in Indian real estate can be advantageous provided it is properly managed and strikes a balance between the possible advantages and disadvantages. To prevent unwanted effects on the local population and economy from foreign investments, appropriate regulations and policies must be in place.
What kind of portfolio do you see for yourself between commercial, residential, redevelopment and new age?
We have established ourselves as a leading residential developer and our future focus will remain the same. Despite the growing demand for commercial and retail space, the company will stay true to its roots and remain focused on residential development. By staying focused on residential development, we wish to leverage our expertise and deliver projects that meet the needs of our customers.
How will the infrastructure projects being developed impact the Navi Mumbai real-estate market?
Once ongoing infra projects like the Mumbai Trans Harbour link and the Navi Mumbai International Airport are completed, the price appreciation of projects will be phenomenal. In four years, we expect property prices in Panvel and the Phalaspe sub-locality to scale up by 50 percent, which makes them a viable option for better ROI. Property prices in Taloja, Kharghar are expected to shoot up by 30-40 per cent.
Fact File
Year of establishment:

 1983
Segments of operations: 

Residential properties, apartments, villas, townships, affordable housing projects and ancillary services such as interior design, landscaping and property management
Areas of operation:

 Mumbai, Navi Mumbai, Jodhpur
Centre of operation: 

Navi Mumbai
No. of employees: 

250 plus
No. of completed, ongoing and upcoming projects:
Turnover:
Order book:
Related Stories