Timely completion of Jammu-Akhnoor 4-lane road project is uncertain
01 Apr 2023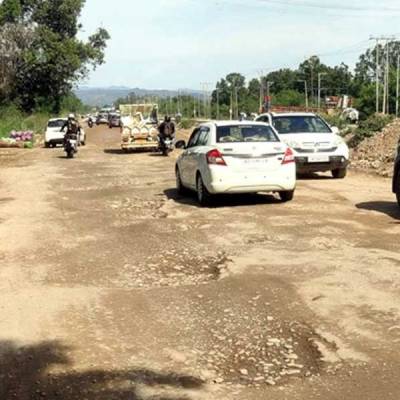 The much-hyped Jammu-Akhnoor 4-laning road project, which the Union Government approved in 2015, has missed numerous deadlines and won't be finished until 2023. In flagrant violation of the "contract agreement," the contractor, M/s Tarmat Limited, which has sublet work to local contractors, has failed to provide adequate and concrete service lanes along this road that is still being built.
When transporting patients from the Akhnoor, Khour, Jourian, Sunderbani, Nowshera, Kalakote, Rajouri, and Poonch areas to Jammu and back, commuters and especially the patients have been experiencing a great deal of difficulty due to the very bumpy and rough drive on the broken road patches at many locations along this under construction road. Even the District Magistrate of Jammu, the Regional Officer of the National Highway Authority of India (NHAI) in Jammu, and senior NHIDCL officials in the area have done nothing to stop the open breach of the contract agreement or the suffering of the road users.
Although the project was sanctioned in 2015 as part of the Prime Minister's Development Package Projects, according to official sources, actual ground work on the 26.35 km road project from Bhagwati Nagar/Canal Head Jammu up to Khati Chowk, a crossing near new Chenab bridge near Akhnoor town along bypass road, began in 2018.
Even though NHIDCL gave the contractor a completion deadline of July 31, 2023, the Rs 9.17 billion project known as NH-144-A is far from finished. Construction was done in stages, and because of bureaucracy and the slow speed of the contractors' work, many locations have not yet seen a resumption of the project. While work on five other bridges is progressing slowly, work on the bridge spanning Ranbir Canal at Suyya No. 1 (Bypass) has been abandoned for the past eight months.