Tricity Metro Project in Punjab and Haryana gains momentum
01 May 2023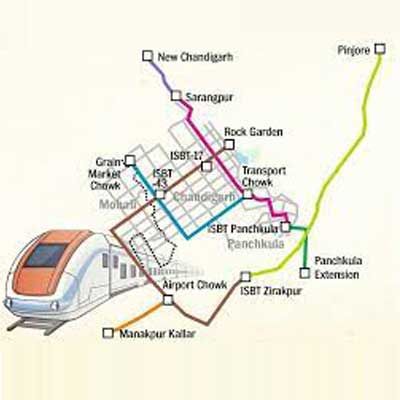 The Tricity Metro, a long-awaited project in the capital cities of Punjab and Haryana, is finally set to take shape. After the governments of Haryana and Punjab recommended the Comprehensive Mobility Plan (CMP), the Chandigarh administration has organized a conference to discuss proposed modifications and move the metro project forward.
The approval marks a significant milestone as it comes almost 14 years after the initial proposal. The construction will be carried out in stages, with the first phase focusing on building a 14.5-kilometre metro line in Chandigarh. Mohali and Panchkula will follow with 25.5 km and 3.5 km tracks, respectively, in phase one. In the subsequent phases, Panchkula will receive a 4.5 km expansion, and Chandigarh will see a 5.5 km extension.
The Chandigarh Metro project was initially proposed in 2009, and the Delhi Metro Rail Corporation (DMRC) subsequently prepared a Detailed Project Report (DPR) with a budget of Rs 1.5 crore. The final version of the DPR was completed in 2012. However, it wasn't until 2015 that the DMRC revised the estimated overall development cost to Rs 13,600 crore. In 2017, the project faced termination by the Union Home Ministry due to financial constraints.
Additionally, suggestions have been made to include additional stations along the route, such as PGIMER, Secretariat, Vidhan Sabha, Pinjore, Kalka, Punjab and Haryana High Court. The metro will also pass through key locations, including the Airport, Fountain Chowk, ISBT Panchkula, Chandigarh Railway Station, Tribune Chowk, JLPL Industrial Area, Grain Market Chowk, among others.
Implementing the Tricity subway is expected to alleviate traffic congestion on the highways. According to statistics from the UT traffic police, the number of registered vehicles in the city exceeds the population by more than 8%.
Related Stories