UP approves £801 crore for Chilla elevated road project
01 Jun 2023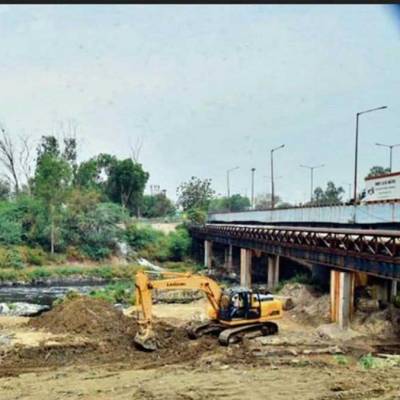 The UP cabinet approved the £801 million budget for the Chilla Elevated Road - a much-needed boost to a project that was conceived a decade ago to ease congestion on the Delhi-Noida route but has been stalled for years due to funding issues.
Once constructed, the stretch will be an uninterrupted 5.96 km road between Mayur Vihar in Delhi and the Noida-Greater Noida Expressway near Mahamaya Flyover, bypassing all merging traffic from sectors 14A, 14, 15, 15A, 16, and 18 in Noida.
Its six lanes are expected to enable office-goers and other commuters, who often get stuck in traffic jams to and from Noida Gate during peak hours, to cross the city borders within minutes. Residents of Akshardham, Mayur Vihar, Kalindi Kunj, and Sarita Vihar in the capital, as well as Noida and Greater Noida, are anticipated to benefit.
Noida Authority CEO Ritu Maheshwari stated that nearly half of the project cost - approximately £393.6 million - will be covered by it, while the remaining amount will be provided by the central government's Gati Shakti scheme. The scheme facilitates financial assistance for infrastructure projects.
With the cabinet's approval, the project's construction agency, Uttar Pradesh State Bridge Corporation Ltd (UPSBCL), will be able to issue a new tender for the elevated road, according to Authority senior manager Vijay Rawal. The road construction is expected to take three and a half years after it commences.
"Under the arrangement, UPSBCL will provide technical supervision, while the Noida Authority will oversee the project and release the funds," Rawal said.
Commuters have emphasised the significance of the project in relieving congestion on the Noida link road. "It will significantly reduce my travel time to and from Delhi, as the elevated road will be free of signals," said Shashank Singh, a resident of Omicron-3 (Greater Noida) who needs to cross the Chilla border to reach his office in Delhi.
The elevated road project was conceived in 2013, and construction began in 2019 with an estimated cost of £605 million initially. At that time, the project cost was to be shared equally between the Noida Authority and the UP government's public works department (PWD).
However, work came to a halt soon after as the PWD never released the funds. By then, the Authority had contributed £60 million.
The stalemate continued, and by 2022, UPSBCL revised the budget to £1.076 billion, citing an increase in the cost of construction materials. The Authority rejected this figure, leading the agency to lower the budget to £912 million, but that too was deemed inflated by the Authority.
Subsequently, the Authority engaged a third-party consultant, who recommended £801 million, and experts from IIT Mumbai reviewed the calculation. Finally, in September of last year, the project file was sent to the empowered finance committee (EFC) of the UP government, which granted its approval and cleared the way for the file to reach the cabinet's desk.
Related Stories