Varanasi Ropeway Project's civil work to commence this week
01 May 2023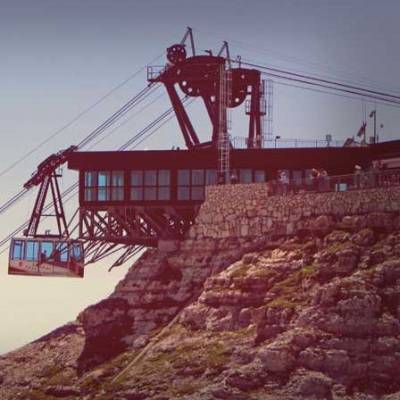 The civil work for the Rs 645 crore Varanasi ropeway project will start in the second week of May, according to a media report. Cable car service between the first two stations, Cantonment railway station and Kashi Vidyapeeth is anticipated to be finished by March 2023, even though the project's overall completion date is 18 months away.
The contract for the Varanasi ropeway project was given to an Indian company, Vishwa Samudra Engineering, and its Swiss technology partner Bartholet Maschinenbau. The 15-year operation and upkeep of the project are covered by the contract order. The ropeway will make it easy for visitors to get to Dashashwamedh Ghat and Kashi Vishwanath Temple from Varanasi Cantt Railway Station. Prime Minister Narendra Modi laid the foundation for this ambitious project on March 24.
Varanasi Ropeway
The Cantonment Railway Station and Godowlia Chowk in Varanasi will be connected by a 3.8-km ropeway link with the intention of reducing traffic on city streets and giving commuters last-mile connectivity.
The journey through one of the busiest areas of the city currently takes about 60 minutes during rush hour, but after the ropeway is finished, it will only take about 17 minutes, relieving some of the strain on the city's existing transport system.
In May 2022, the National Highways Logistics Management Ltd (NHLML), a division of the National Highway Authority of India (NHAI), issued a call for bids for the country's first urban ropeway project.
The contract was ultimately given to Vishwa Samudra Engineering-Bartholet Maschinenbau AG of Switzerland, who submitted the lowest bid.
The ropeway will be developed on Hybrid Annuity Mode (HAM) wherein 60 per cent of the project cost will be paid as construction support during the construction period, and the remaining 40 per cent will be paid as an annuity during the operation and maintenance period.
The connectivity project is expected to operate for a total of 16 hours per day and have a maximum capacity to carry 3,000 passengers per hour per direction (PPHPD). In both directions, it has a daily capacity of about 96,000 passengers.
There will be about 153 gondolas or cabins deployed along this stretch, and each one can accommodate ten people. Five stations will be built along this corridor, according to the design, at the Varanasi Cantonment, Vidya Peeth (Bharatmata Mandir), Rath Yatra, Girja Ghar, and Godowlia Chowk. Only a technical station would be present at Girja Ghar. For the ropeway, a total of 30 towers will be constructed, ranging in height from 10 to 55 metres. Land is being purchased by the Uttar Pradesh government for stations and towers. Additionally, it is relocating the utilities that obstruct the ropeway's alignment.
Also Read
PMC awaits funds from state to execute infra projects
Noida's first signature bridge to open soon


Related Stories