Financing road projects: Challenges and mitigation
01 Nov 2020
Long Read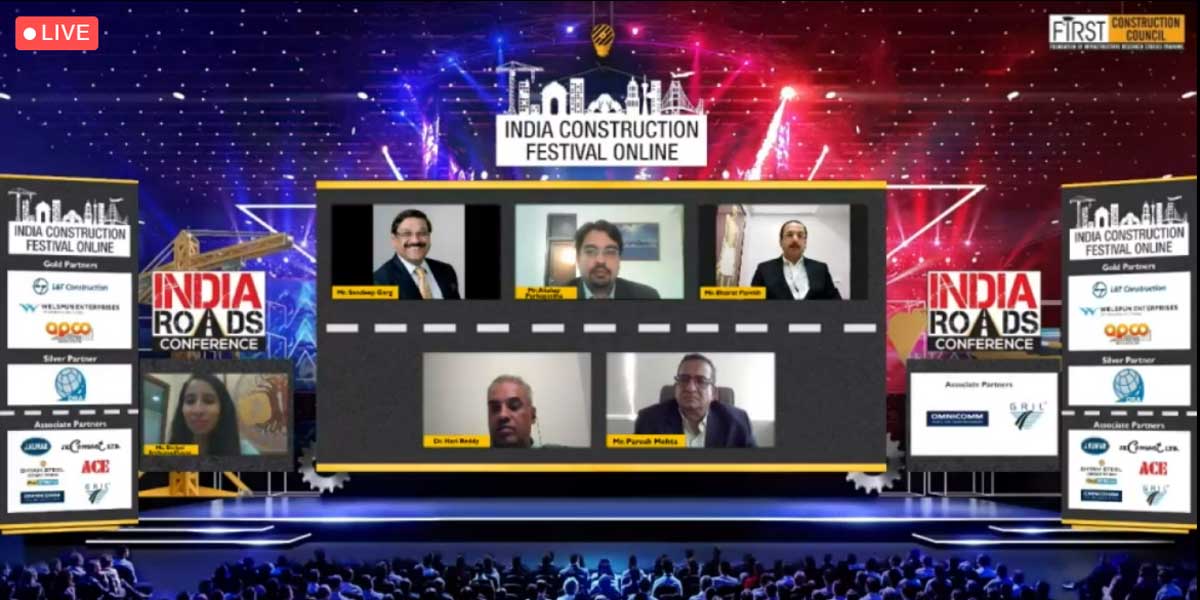 The revenue of road EPC companies is expected to degrow 8-10 per cent this fiscal with the pandemic-driven lockdowns severely curtailing activity. Many HAM projects have seen financial closure taking over a year. The Government is bidding out more projects on the EPC mode while exhorting developers to tap the capital markets to raise funds. Further, in the post-pandemic world, NHAI has filed the prospectus with SEBI for the InVIT capital raise.
Against this backdrop, the recently concluded 10th India Roads Conference—part of the India Construction Festival Online 2020 organised by FIRST Construction Council—initiated a panel discussion on 'Financing Road Projects for HAM and EPC Companies - Challenges and Mitigation'. Moderated by Shriyal Sethumadhavan, Feature Editor, CONSTRUCTION WORLD, the esteemed panel included Akshay Purkayastha, Director, CRISIL Infrastructure Advisory; Bharat Parekh, Executive Director, CLSA; Dr Harikishan K Reddy, CEO, Cube Highways and Transportation Assets Advisors; Paresh Mehta, CFO, Ashoka Buildcon; and Sandeep Garg, Managing Director & CEO, Welspun Enterprises.
Pressure on margins
Several factors have been putting pressure on margins in the roads and highways sector. The panel discussion kicked off with this point.
Addressing the issue of land acquisition,
Paresh Mehta
said, "Availability of land and delayed land handover are major factors that put pressure on the margin. We bid for a project with the presumption that there is 80 per cent land and the balance will be available in a short while. But during execution, there are challenges with small patches of land being available. Then there is the issue of quality, and mobilisation and demobilisation and a host of issues that come along."
Moving on to the next aspect, Mehta pointed to delays in seeking permissions from authorities or independent engineers. "Whether it is a HAM or EPC project, this typically brings uncertainty of cost as well as idling of resources." For HAM projects, he also mentioned the southward movement of the RBI rate, which has had a major impact in the past year, as one of the major pressures on the margins.
Survival of HAM
Recently, the National Highways Authority of India (NHAI) extended deadlines for HAM projects, but did not address the cost overrun issue.
"The industry has been continuously representing that the cost side has to be compensated," said
Sandeep Garg.
"We are hopeful the authorities will take notice of it and respond adequately." Should that not be the case, he added, the only mitigation plan available for developers would be to try and expedite completion and hopefully earn some bonus so they can compensate for the cost overrun incurred owing to the pandemic. "But that's going to be a difficult one."
Additionally, the task force on the National Infrastructure Pipeline (NIP) has reportedly pointed to the need to downplay HAM as it has adversely impacted BOT (toll) and the financial health of the NHAI. "NHAI is an implementer of infrastructure projects and building roads is a national agenda, whether it is through regular sources of income or deficit financing," said Mehta. "In fact, implementing road development through HAM or TOT is a good combination because you are de-risking two aspects of the business: construction and traffic."
Agreeing with Mehta, Garg added that all three models—HAM, EPC, BOT—have to coexist. "HAM has its own place in the development of India's road infrastructure. At present, with the kind of risk and stress in the financial sector, I doubt there are many players for toll road projects."
Further, under HAM, NHAI bears 40 per cent of the project cost upfront and the remaining 60 per cent goes to the developer over a period of 15 years. "There is popularity for HAM projects," said Mehta. "There is really no dearth of money for a good bid, either on the debt or equity side. On the debt side, in the present scenario, because the participants of the concession agreement, NHAI or the concessionaire, do not believe in their part of the deal in time and appropriately, lenders are averse to funding."
While Garg agreed that there is capital for a rightly priced asset, he pointed to the challenge of limited risk capital. "The churn of risk capital is important. The authority may want to reconsider blocking the bidders of the concessionaires for COD + two years. If early exit is allowed, the money available for this risk capital will be quickly recycled."
Bolstering private investments in highways
Raising funds for financing large projects has mostly been a challenge. Can private investments be bolstered in highways, and how?
"I would be cautiously optimistic and stick my neck out and say that there is no dearth of capital for good projects even now," said
Akshay Purkayastha.
HAM was introduced in 2015-16 and in the past four years or so, about 115 NHAI HAM projects have achieved financial closure. "This number has been much lower in the past six months and there is a reason for that." He shared that most HAM projects were awarded in February and March 2020. "Given 45 days for SPV formation and five months to achieve financial closure, the next six months will be crucial to see how financing has been hit."
Purkayastha also laid emphasis on secondary market transactions. With reference to the NHAI, he said, "It is heartening to know that TOT Bundle 3, which has nine highway stretches of 566 km and a bid concession fee of about Rs 60 billion, including the EPC cost and preliminary preoperative expenses, has achieved financial closure. This makes me believe financing is there for good projects."
On bolstering private investments in highways, he said, "You need to bundle the right assets and do all your studies properly, such as traffic surveys and asset condition surveys, and provide authenticated data to bidders." He listed key areas that require attention:
For HAM, the pain points of land acquisition, erroneous detailed project reports and environment clearance have to be sorted out.
Concession value should be correctly estimated. We have seen that TOT Bundle 2 was not awarded because the Government's estimate and the bidder's estimate did not match. Lower toll revenues have impacted projects negatively.
We need a well-structured stakeholder strategy. The private sector is a partner to the Government—its viewpoints should be taken on board and feedback incorporated in a timely fashion.
Time should be given for due diligence. These projects involve thousands of crores of investments and cannot be rushed through.
Expeditious dispute resolution is needed. The highways sector has an unnatural number of disputes and more can be done to ensure liquidity and that there are no red flags for financing highway projects.


The question of funds
Recently Union Minister Nitin Gadkari mentioned that the Government would bid out more projects on EPC while urging developers to tap capital markets to raise funds and low-cost finance from foreign investors.
Bharat Parekh emphasised upon the message from the equity markets, saying, "They are frustrated for infrastructure financing particularly. Stock prices of most infrastructure developers or EPC companies have not gone anywhere but down. There isn't a performance in the sector." Citing the good news, he said, "The minister knows this and in the current year, where capital is scarce and investors want confidence, it makes sense to do EPC." However, within EPC, the Government does have the lowest cost of borrowing. And hence, he added, it makes sense for the Government to borrow. During pandemic times, it makes even more sense because the risk, even on existing assets, is much higher than what it deserves to be—and who else but the Government could secure low-cost funding?
Parekh further added that the Central Road and Infrastructure Fund (CRIF), which used to be around Rs 1.24 trillion till last year, has actually grown to over Rs 2 trillion this year because the Government did not transfer the oil savings in the hands of the consumers, parking it instead in CRIF. This can be levied to do a lot more than what a normal dollar in the Budget can probably do. He said, "India is equipped with all kinds of risks to do EPC work and the Government is best equipped to actually raise resources and build infrastructure."
On developers seeking investments for foreign investors, Parekh said, "Foreign investors want readymade assets. Unfortunately, these are available in limited stock." He added that foreign investors have tested the realities; though they are excited about India as a high-yield market, they are going to put in higher cost of equity while valuing India's infrastructure assets. That will either shrink the value for existing asset owners or lead to a lesser take in the next round of TOT bundles because the risks have been consistent.
Mobilising funds
The discussion then went on to question the difficulties that foreign road-sector players such as Cube Highways with strong investor backing could face in mobilising funds. To this,
Dr Harikishan K Reddy
optimistically responded that there are no challenges for raising funds. "We have recently achieved financial closure for TOT Bundle 3."
In some projects, the issue is with the quality of the asset, he said. Either the asset has poor credit rating or it is below an acceptable performance level in terms of engineering. "What we like is basically having a mature concession. It all depends on how we evaluate the assets, what methods we consider to measure these assets, and then how we budget and therefore get into these assets."
Dr Reddy further highlighted quality of manpower as a huge gap in the industry that needs correction. "Because we have brought in many technologies in the past four to five years for our operations and maintenance, NHAI has asked us to submit Cube operations and maintenance practices, and asked what the cost would be for that level to be maintained." He confidently said that in the financial model of every HAM or BOT project, the budget for operations and maintenance would be extremely low to effectively operate and maintain. "It is time for us now to assess each and every parameter and put benchmarks; once done, projects can be completed and finances raised.
In India, Cube Highways has added nearly a dozen more assets to its portfolio and invested at least $1.2 billion to buy road assets. Asked what factors impact the company's decision to buy a road asset, Dr Reddy replied, "If I take over an asset, I will consider the local communities, their requirements and local situations, including the political and social environment, and see whether it is conducive for me to be able to operate that asset in the first place." Also, I will look at the budget for maintenance of the asset and see whether I can give quality service to the road user within that amount.
Dr Reddy also mentioned that the company does not get into geographies where collecting toll or operating an asset is a problem, or if the road requires a lot of money for maintenance. However, he added, "We are supporting a couple of companies for under-construction HAM projects. The company's graduation over the past five years has given us the ability to invest in and look at under-construction projects or basically a last-mile project where some engineering challenges are there."
InvIT capital raise
In the post-pandemic world, NHAI has already filed the prospectus with SEBI for the InVIT capital raise.
Sharing his views on the same, Purkayastha emphasised upon the following aspects, a combination of which, in his view, will make the InvIT attractive to investors:
First, the authority (NHAI) requires a huge quantum of funding. It has been publicly saying that till fiscal 2025, it needs to raise about Rs 850 billion through asset monetisation of its 6,000 operational toll roads. This can be done through TOT or InvITs. TOT 1 and TOT 3 have been a success, TOT 2 did not happen, TOT 4 got cancelled and TOT 5 is in the market. While the draft prospectus for InvIT has been filed with SEBI, there is a lot of work before it hits the market. NHAI is looking at 15 projects through which it wants about Rs 350 billion; it is targeting about Rs 50-60 billion from three projects initially.
Second, InvITs have slowly started gaining traction, especially in the roads and highways sector. Investors are better educated about this product; it has been marketed more effectively now and SEBI has made some relaxations in InvIT regulations. So starting from the first public InvIT of IRB in 2017 to date, there are a total of about five InvITs: one the IRB public InvIT and four private InvITs. I am given to understand that NHAI is looking at a private InvIT.
Third, pricing is not the only factor to make the InvIT a success. The key factor would be quality. The assets intrinsically have to be good and data on these needs to be authentic to elicit investor interest. These have to be valued at the correct price and cannot have unrealistic expectations because that will not fructify the deal.
Last, it needs robust management and strong governance. There has to be an arms' length distance between the sponsor and the investment manager.
On how effectively NHAI can monetise its highways through the InvIT route, Parekh added, "There are experts who can do TOT, the more preferred route for FDI. Also, there is a host of yield-seeking financial investors, who would like NHAI's backing and have an enormous amount of assets that are globally deployed at some optimal yields." Clearly, NHAI needs to get every dollar it can to build more roads—which is what India needs.
- SHRIYAL SETHUMADHAVAN
Related Stories