Going the Extra Tile!
01 Jul 2020
Long Read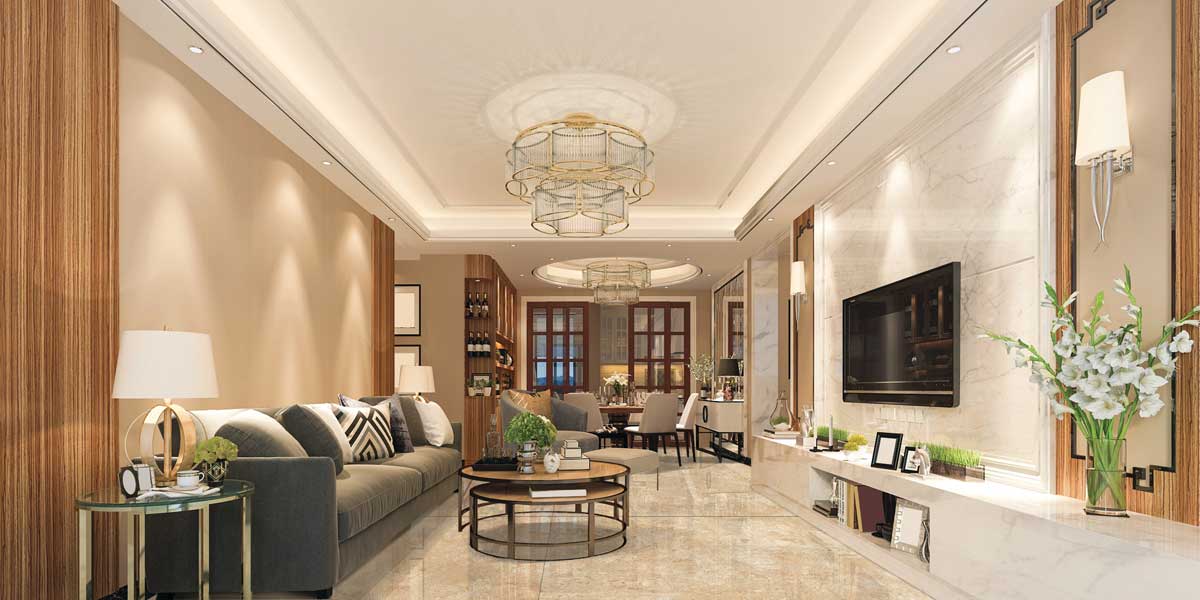 Photo courtesy: Asian Granito India
India ranks second in the world in tile production with 12.90 per cent of global output. The country's tile industry is worth around Rs 350-400 billion, growing at about 8-10 percent. Only 40 per cent of this is considered 'organised'. Ceramic tiles account for 60 per cent of the total demand for tiles in India, with key drivers being the boom in real estate—which accounts for nearly 70 per cent of total demand—followed by the retail, IT and BPO sectors.
With per-capita consumption in India at 0.59 sq mcompared to the global average of 1.40 sq m, the Indian tile market holds immense growth potential, believes Kamlesh Patel, Chairman and Managing Director, Asian Granito India (AGL).
As for sanitaryware, this market is an almost Rs 300-billion industry, with organised brands making up about 30 per cent. Trending features
Earlier, tiles were used mainly for ornate purposes but consumer preferences have changed over time. Various aspects like slipresistance, anti-bacterial properties and scratch resistance are preferred today.
"This year, the industry will see attention-grabbing patterns and shapes, as well as bright new looks," notes Mahesh Khaitan, Director, Salarpuria Sattva Group. He highlights some other trends:
Floor tiles for living areas and bedrooms: 800×800 mm and 600× 600mm double-charged (DC)tiles
Ceramic 300× 300 mm for bathroom, balcony floorsand 600×148 mm and 1,200×198 mm for balcony areas
Glazed vitrified tiles (GVT) or full-body vitrified 600× 600 mm or 1,200× 600 mm for corridors, floors and walls
GVT or ceramics elevation tiles 600x300 mm and 450x300 mm
450× 300 mm and 600× 300 mm ceramics tiles for bathrooms and kitchen walls
Full-body vitrified tiles as steps and riser 1,200× 300 mm and 1,200× 198 mm.
Popular technological innovations
The role of technology in tile manufacturing and sanitaryware has been tremendous. "From intelligent smart home bathroom wares to integration of technology into vanity mirrors, the industry is seeing a sea change," remarks
Shobhan Kothari, Architect-Partner, ADND Studio.
Waterless sanitaryware for use of less water and spouts that control flow of water are all innovations, with sustainability being the key.Geometric patterns, in-situ terrazzo and concrete floorings are some ongoing trends, adds Kothari. "The world of design is experimenting with parametric design and the evolution of 3D printing is allowing experimentation of materials."
The evolution of printing technology has led to manufacturers creating unique patterns, designs and vibrant colours on individual tiles, similar to natural materials, "which we are replicating with incredibly high degrees of authenticity," addsKhaitan. Speaking of shapes and sizes, he adds, "New technology helps manufacturers create new shapes, from rectangular to hexagonal tiles, as well as large format tiles such as 1,200× 600 mm, 1,200× 1,200 mm, 1,600× 800mm, 2,400× 1,200 mm, etc.We can also create large tiles with thin formats like 6mm to 10 mm."
On the technology front, AGL boasts of having among the highest numbers of digital machines in the industry. "We invested in rainbow glitz tile, which is a nine-colour digital tile with special effects, and are alsothe first in the world to introduce five-layer tiles kilns from Sacmi-Italy," says Kamlesh Patel.
What do users demand?
Natural materials are most sought after by designers and clients. However, the source may be depleted, sizing maybe limited, or, most important, consistency is not guaranteed, notes Kothari. More important, the application of these materials is tedious, not to say expensive. "The world of tiles changes all these parameters to an advantage," he says. "Tiles are now imitating the look of natural stone, concrete, metal, leather, etc,bringing a whole new dimension to design." Their availability in a consistent colour and size complimented by strong durability and cost-effectiveness makesthem a popular choice.
Khaitan shares that real-estate developers usually request vendors for "customisation like size, colours, texture and design, etc, which can be taken up with minimum order quantities; as well as ceramic tiles that can be manufactured in GVT or vice-versa."
How do manufacturers cater to this?
"Customers may often not demand or specify their needs explicitly, so we work with them to create a product that will meet their objectives and deliver unique value," says
Alok Agarwal, Chief Marketing Officer, Orient Bell.
"For example, for schools, we created tiles with educational content printed on them, customised for every grade. So there are tiles with multiplication tables and others with more complicated concepts like the periodic table or a biology diagram. This saves time for the teacher, while being low maintenance and visually impactful. Similarly, germ-free tiles were developed in response to hospitals, schools, airports and food servicesthat demanded anti-microbial properties. Cool tiles were developed to keep indoor temperatures 40-60°cooler in geographies with high temperatures; this will offer a significant advantage in recurring cooling costs.'Forever Tiles'were developed for service stations, gymnasiums and industrial establishments needing high scratch-resistance."Affirming that the firm's primary focus will continue to be tiles, Agarwal says, "The approach of thinking of both the product and the service keeps us ahead of competitors."
When it comes to flooring in commercial and industrial applications, there is often more than just the floor space to consider. Users prefer tiles that are high on surface hardness and durability as well as scratch-resistant and large format. Here, Mukesh Patel, Managing Director, AGL, adds, "AGL's DC tiles are in vogue in the domestic market. Porcelain tiles, vitrified floor tilesand glazed ceramic tiles are all the mostpicked floor tile options."
For his part, Atul Sanghvi, Executive Director & CEO, shares that CERA has a 3D printing facility for converting a product drawing to mould. "Based on economies of scale, we can provide customised designs."
Premium offerings
While AGL manufactures and markets a wide range of tiles, engineered marble and quartz, last year the company forayed into bathware with an exclusive range of 300-plus SKUs of bath-ware accessories. "We aim for AGL Bathware to become a Rs 1.5-2 billion brand in the next four to five years," says Mukesh Patel. The firm is also focused on strengthening its leadership in the marble and quartz segments;with a current capacity of 1,600 sq m per annum; it is looking to increase capacity and expand its product range by introducing Calacatta and Carrara quartz.Further, AGL has launched big slab tiles just like Italian marble:AGLMarblex, available in 128 designs, five large-format sizes and six finishes.
For the next phase of growth, AGL is focusing on an asset-light and capital-light business model, becoming a strong retail brand in the domestic and exports market and achieving a leadership position in key business segments. "We have a strong global footprint in over 78 countries across the world," says Kamlesh Patel. "Our target is to expand our international reach to 100 countries and generate strong export revenue by FY2020-21."
Orient Bell's GVT or ceramic tiles are available in a huge assortment of sizes, colours and SKUs to meet the needs of diverse Indian consumers.
In the sanitaryware and faucets space, CERA has an array of eco-friendly products that save water. "We have several rimlessWCs that are ideal for better hygiene," says Sanghvi. "We have integrated urinals with washbasins and sensor taps for not only saving water but the hygiene quotient." Going forward, the firm has planned new design launches in every quarter, which have now been pushed back by one quarter.
Indeed, a lot to look out for!
COVID, amid other headwinds
The Indian tile industry has been facing headwinds and slowed down dramatically since 2019. "Ours is an industry that is a key supplier to the building and construction space, which has been an underperformer for quite some time now," says
Alok Agarwal, Chief Marketing Officer, Orient Bell.
He believes that real demand drivers are still missing, with the COVID-19 lockdown aggravating an already tough situation. "Growth in the building materials sector has been struggling over a couple of years owing to issues like demonetisation and GST.Now, it will need to cope with the impact of COVID-19.Real estate and construction are feelingthe brunt. Non-availability of labour and the short-term impact on consumer confidence will impactreal estate as well as ceramic tiles. This will affect not just sales but financing and liquidity."
Atul Sanghvi, Executive Director & CEO, CERA, expects a short-term impact in salesowing to the current pandemic. "But in the long term, the market will bounce back," he avers.
How can the market bounce back?
Agarwal addresses several challenges the industry has been facing and what needs to be done to make a lasting impact. As he explains:
a. Even after 2.5 years of GST rollout, power and fuel, roughly 30-40 per cent of the cost base for heavy industries, is still outside the GST ambit, resulting in cascading of taxes and thus higher costs for the end consumer.
b. Despite the welcome step of reduction in GST for realestate last year, the absence of an input credit mechanism for taxes paid against raw material supplies makes the entire system inefficient and may result in leakages for the exchequer. Availability of input credits should still make housing more affordable while arresting potential malpractices.
c. Payment delays/defaults, even from some of the larger construction houses/ developers, are a norm, impacting working capital cycles. While IBC is a great reform to take legal recourse against defaulting customers, enforcement is still lengthy, complicated and costly. We will benefit from any additional steps to enforce payment disciplines and restore lost trust.
Further, it is imperative that the incentive on export of tiles be reviewed and increased, in the view of Kamlesh Patel. According to him, about 40-50 per cent of the Indian ceramic industry's production comes from the Morbi-Rajkot belt and the industry there has gone through a demand slack over the past couple of years.
Ceramic tile industry: China's loss is India's gain
"
We need to get our act together and make this opportunity count,"explains Munish Aggarwal, Director-Investment Banking, Equirus Capital.
For decades, China has dominated the ceramic tile production, consumption and export market with India being the second largest producer but a marginal player in the export market. During this period, China has manufactured every second tile manufactured across the globe and contributed to ~40 per cent of global consumption. During the same period, China has been able to corner ~35 per cent of the global export market of over $ 17.5billion, which effectively means every third ceramic tile that crossed borders originated in China. During this period, India has maintained its position as the second largest manufacturer as well as consumer of ceramic tiles with a market share of ~9 per cent and ~6 per cent in production and consumption, respectively. However, India's share of global exports was ~10 per cent in volume terms and less than 6 per cent in value terms. China outgunned India in exports on account of better infrastructure, which helped reduce logistics cost; lower cost of capital, which helped achieve economies of scale; lower energy costs; and lax environmental norms.
The Chinese ceramic industry has been undergoing a transformation in the past two years because of stricter environmental standards. The Chinese government's policy of switching lines from coal to gas to reduce air pollution has increased production costs for ceramic companies by 20-30 per cent while prices of other materials and labour have also been increasing. The prevailing trade spat between the US and China has already led to the imposition of anti-dumping duties of >200 per cent on Chinese ceramic tile imports into the US and other key export destinations for Chinese tile exports. The EU, Brazil, Taiwan, Chile, Vietnam, South Korea, Philippines and Argentina are at various stages of their own negotiations.
This offers a mammoth opportunity for Indian ceramic tile companies that have invested in building capacities and capabilities over the past 10 years. The Q1 CY20 data for imports of ceramic tile into the US is an indication of the potential impact of China being pushed out of global markets.
In our estimate, if the offtake had not been impacted owing to the lockdown at the end of March, India would have had a market share of >12 per cent.
The Indian ceramic tile sector has a lot going for it: a deep domestic market that is already showing signs of healthy recovery, reducing cost of capital, improving infrastructure and a diminishing China. We need to get our act together and make this opportunity count.
- SERAPHINA D'SOUZA
Related Stories