Advanced Engine Technology and Best Compaction for Earthworks
01 Jun 2022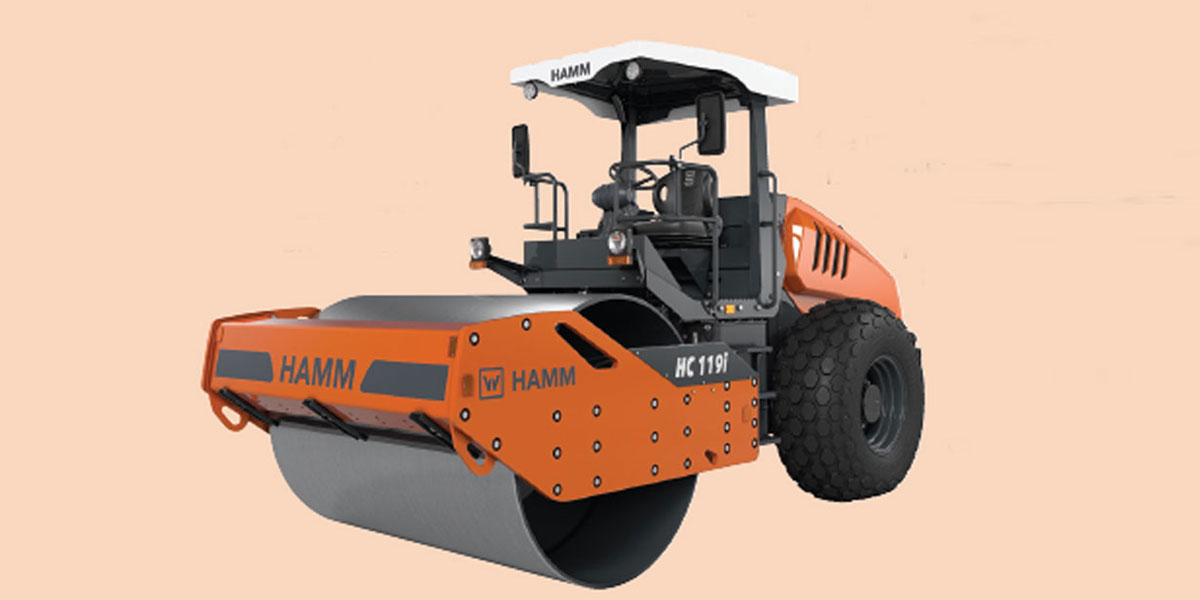 Hamm presents new compactor models from the HC series. The machines are available with and without a drum drive. All machines fulfil the requirements of the CEV Stage IV. At 90 kW, they bring power to the construction site while consuming lesser fuel than their predecessors, and feature a modern, convenient operating platform, excellent driving and handling properties. 

Premium compactors for India
The HC 119i and HC 119i D compactors are manufactured in Pune, Maharashtra. They are completely homologised and comply with the Indian laws and specifications in all details, from the engine and the lighting system to their dimensions.
Compaction performance 
With a 2,140 mm drum width and large static linear load, the compactors are fit for inner-city projects and compaction of motorways, airports and other large areas. The Cummins engine ensures maximum compaction force and immediate vibration once the nominal frequency is activated, keeping it imperceptible for the driver. The automatic vibration system shuts off as soon as the compactors stop moving, stoping over-compaction and ensuring high-quality surfaces.
Operation and workstation
The engine hood design ensures that the driver has a clear view of the construction site and the drum. The operation is self-explanatory and does not require any special language skills. A USB socket, 12 V socket and a bottle holder, along with bright work lighting with durable LED lights rounds off the high-quality environment.
Future-proof engine
The models are driven by a water-cooled 4-cylinder engine in accordance with CEV Stage IV. The 90 kW (121 HP) power unit features two fuel filters. The machines are equipped with SCR and DOC to clean the exhaust gas. During operation, the operator can choose between three preset engine speeds. If the driver selects the average speed, the machine operates in ECO mode which reduces fuel consumption by up to 20 per cent, as well as lowers CO2 and noise emissions, while also maintaining the frequency, centrifugal force and compaction power, enabled by the large-sized hydraulic components and smart control system. The compactors come with an air duct and large radiator allowing them to be used in temperatures of up to 53 °C. 
Three-point articulation
The three-point articulation in the new compactors guarantees directional stability, stability when negotiating curves and safety against overturning, even on uneven terrain. The D model (HC 119i D) also has a drum drive that helps it to scale gradients up to 53 per cent with confidence.
Numerous options
As optional components for ICS systems, Hamm offers a speedometer for comprehensive compaction inspection and the Hamm Compaction Meter (HCM) for continuous measurement of the load-bearing capacity. The HC 119i D can also be equipped with pad foot shells. Further options are available for lighting and the operator platform.
Convenient maintenance
The compactors also prove to be convenient when it comes to daily checking and regular maintenance. All access points can be easily reached due to the open able engine hood.
Related Stories