Enhanced Productivity!
01 Sep 2021
Long Read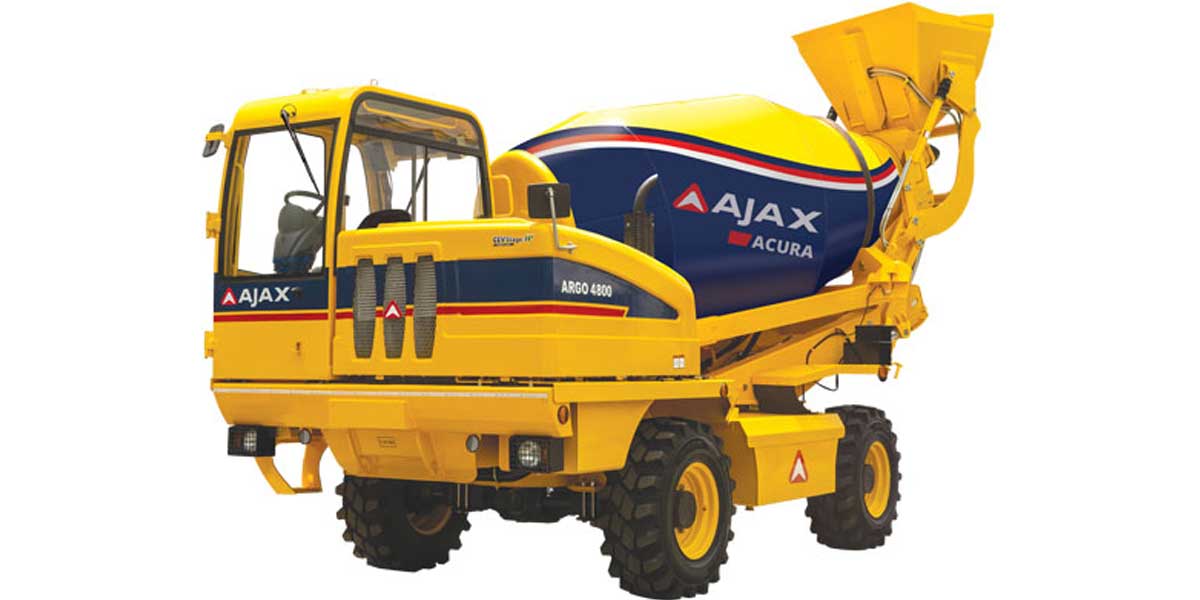 AJAX introduces the all new CEV Stage-IV compliant ARGOs.
"AJAX, in continuation of its 'Customer First' philosophy, has introduced the all new CEV Stage-IV compliant ARGOs with best-in-class features like CRDi engine, turbo charger and its acclaimed and patented load cell weighing system. The new Argo's CEV Stage-IV engines are more fuel efficient and with the new features, the new ARGO series offer higher productivity," says Ajay Aneja, Chief Marketing Officer, AJAX Engineering, as he shares more on the features and benefits.
What are the benefits of CEV-IV compliant equipment and how are you creating awareness of this with your customers?

AJAX, the pioneer in SLCM, prides in announcing that we are the first-to-market in launching future-ready new series of ARGOmachines that come with CEV Stage -IV compliant engines. These engines are more environment friendly with well proven CRDi technology and after treatment systemthat reduces emission levels. These machines are also equipped with several advanced technological features viz.Electronic Engine Control Unit (ECU), turbochargerand its patented load cell weighing system that stands out in the market and gives value-added benefits to its customers. We have fine-tunedour hydraulics and have increased the frequency of hydraulic oil change to 1,500 hours, thus lowering the maintenance cost for the customer. We have also increased the drum capacities of certain models so that customers now get higher productivity. With the new AJAX Smart Fleet Telematics, customers will have a host of new features and alerts available on their mobile phones.
We have already launched the new AJAX CEV Stage-IV SLCMs over digital platforms and is being circulated to all connected customers. The AJAX Service and dealers service teams of over 500+ have been trained on CEV Stage-IV compliant ARGO machines to ensure uninterrupted support to our customers. 
The implementation of BS-IV emission norms is posing certain challenges for both sellers and buyers. How do you see it impacting demand and the selling challenges of equipment with BS-IV compliance?
We believe that every challenge brings an opportunity. AJAX Product Development team has used feedback and insights from our customers to develop the new ARGO series. All the new products are loaded with advanced features, using the latest technologies. We have rigorously tested each model under different Applications and in difficult terrains and then fine-tunedit based on feedback received from these tests and validations. We have also validated these on performance, safety and reliability parameters. 
To ensure seamless production, we have also upgraded our entire manufacturing ecosystem. 
This new CEV Stage-IV engine comes with ECU and depending on horsepower are provided with CRDi engines. Being ECU controlled engines, all engine parameters are monitored and in case of any issues, error codes are displayed for ease of fault finding. This has resulted in a huge increase in cost. Coupled with the increase in commodity prices, the end prices of new CEV Stage-IV products will be much higher. This may impact demand in the short term, but we are confident that demand will come back as all prices of all other CE industry products impacted by this emission norms will increase by similar price.
Have you crafted any special schemes for buyers of your BS-IV machines?
AJAX takes up pro-active role in improving the availability of financing for its customers by means of long-term tie-ups with banks and NBFCs routed through ourdealerships pan-India. AJAX has been active in this space through exclusive contracts with NBFCs and by launching dealer-run financing schemes to improve penetration for their complete range of products. AJAXthrough its dealers has been offering attractive buy-back schemes, AMCs and extended warranty and will continue these for ARGO CEV Stage-IV models as well.
(Communication by the management of the company) 
Related Stories