L&T: What makes them India's Most Admired Construction Brand
01 Jun 2022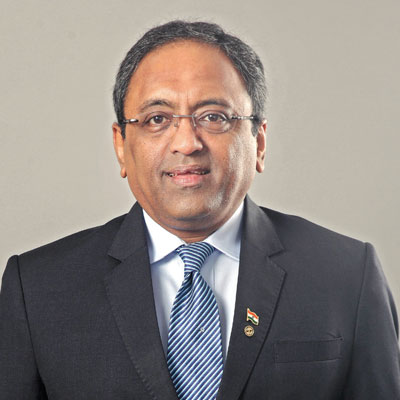 Larsen & Toubro (L&T) is a major Indian multinational engaged in technology, engineering, construction, manufacturing and financial services and operating in over 30 countries worldwide. L&T Construction, the construction arm of L&T, is India's largest construction organisation, and encompasses multiple businesses, with distinct but complementary capabilities that addresses various core segments of the infrastructure and industry. SN Subrahmanyan, CEO & Managing Director, Larsen & Toubro, shares more…
What is a key parameter that you think has contributed towards being one among the 'Most Admired Brands' in Construction?
Trust. Larsen & Toubro has built a reputation over several decades of possessing the capability to execute infrastructure projects that others cannot. Some of the tallest and the largest, the fastest and the longest, the smartest and the most complex infrastructure projects have been executed by us engendering trust and reliability among all our various stakeholders. They depend on us to deliver, and we do. Repeatedly.
In the backdrop of the pandemic, did you manage to increase your sales over the previous year's same period? If yes, how?
Being a project-based business, most projects we execute are either government-sponsored or government-driven. During the pandemic, there was certainly a lull in activity as the government's focus shifted to social spending to safeguard the health of the nation. However, once the threat posed by the pandemic has receded, large infrastructure development projects have been kickstarted and, as such, L&T presently has an order book more than Rs. 3.5 lakh crore.
Also, did you manage to improve your margins with more efficient cost management? Did any other method help you in improving your margins – for example, price revision, and new launches?
In the project business, profitability can improve by being smarter and more efficient in execution by reducing costs, improving productivity, cutting wastage, and reducing execution time. We have successfully enhanced our efficiencies with increased automation, mechanisation and embracing the benefits of digitalisation.
Presently, there are more than 11,000 assets across our projects that are connected with sensors streaming real time data about performance enabling us to detect trends, find patterns, do predictive analysis, improve our methods of manufacturing and construction for superior efficiency.
According to you, what is that one thing that your customers value most about you?
On time delivery of projects to cost, quality and safety.
How will your FY22-23 plans continue to contribute to this admired quotient?
We will continue to build the things that make India proud.
"We have successfully enhanced our efficiencies with increased automation, mechanisation and embracing the benefits of digitalisation."
Related Stories