Products and services to add value to concrete users
01 Aug 2021
Long Read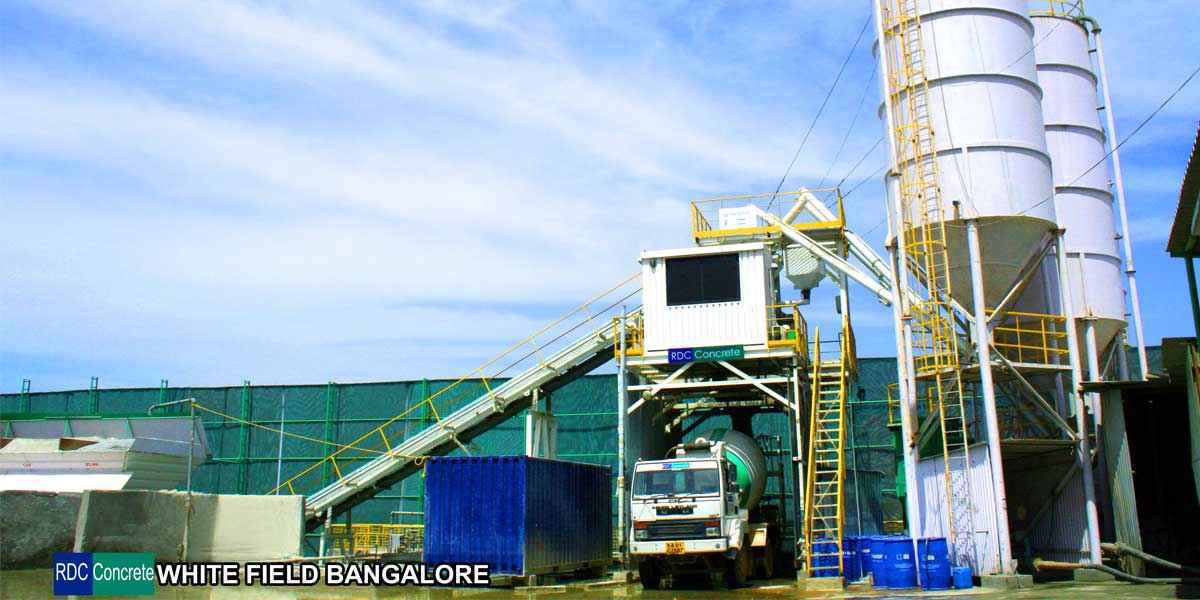 Indian construction companies are selecting concrete equipment based on project needs, the size of the site, project timeline and safety concerns.
"We prefer smaller boom pumps for smaller sites where the height to which concrete needs to be pumped is lower; smaller boom pumps have a lower turning radius," shares Anil K Banchhor, Managing Director & CEO, RDC Concrete. "We prefer larger-sized transit mixers to carry large quantities of concrete within a limited time. Belt conveyors help place concrete up to 4 m height or in pit/piles to cover 4-5 m horizontal distance, without the need to bring transit mixer trucks closer to the pit or pile. This ensures better site safety."
"We prefer RMC batching plants of 60 cu m (pan mixer) per hour, transit mixers of 6 cu m and boom pumps of 90 cu m per hour to construct metro rail projects, multilevel car parks, etc," shares R Prabakaran, GM, Plant & Machinery, UMSL. "As far as the roads vertical is concerned, for major and minor bridges, we deploy batching plants of 30 cu m (pan mixers) and transit mixers, and reversible drum mixers and mixer machines for culverts. For pavement quality concrete highways, we used to deploy 120 cu m batching plants with twin-shaft mixers and chilling plant/ice plant to maintain the concrete mix temperature."
New technologies
Gradually, companies are shifting from older to newer technologies and this is pushing demand for certain products.
"Now, we are directly pouring concrete from the transit mixer to slab culverts and pipe culverts as this eliminates the time required to set up scaffolding for the concrete pipeline," shares Prabakaran. "Where a lot of concrete needs to be poured, such as for larger slabs, consider using a radial placer instead of the concrete pump."
"Earlier, we were using 30 cu m scraper batching plants but now we are using compartment batcher plants, which give better quality concrete and higher production," shares Pramod B Joshi, Additional General Manager (P&M Head, All India), Ahluwalia Contracts India. "The latest batching technology allows the user to monitor production remotely and integrate the plant with weigh bridges. The equipment is easy to operate."
"We were earlier using vibrators with 2,800 rpm; now, we are using high-frequency vibrators with 12,000 rpm for better compaction and better quality concrete with no honeycombs in the column, slab, etc," continues Joshi. "Self-loading mixers are preferred for scattered work where the quantity of concrete involved is less, such as compounds, drainage lines, etc."
What's missing?
A positive aspect of the concrete equipment market in India is that it is well-stocked.
"We can buy any kinds of models of machines that are available globally in India; 90-95 per cent of global products are launched simultaneously in India as the buying capacity of infrastructure companies in India has improved tremendously in the past few decades," says Prabakaran. "Even if the product has not been launched here, it can be imported promptly. We see a lot of competition between Schwing Stetter, Putzmeister, Sany, Liebherr, Terex and other companies, which is good for buyers."
But there are still product gaps pending.
"Of late, many construction companies are facing a shortage of masons and they are looking for mortar-spraying machines for wet mortar or dry-mix mortar and finishing equipment," shares Banchhor. "There are few options available in the market and there is a good opportunity available for equipment manufacturers to focus on this segment and demonstrate usage at site."
"We need more equipment to speedily check concrete quality to eliminate the need to redo a piece of work," says Joshi. "Also, we need smaller cost-effective equipment to recycle waste concrete. We need transit mixers with a closed discharge system so that no one can add water from outside and thus adversely impact the quality of concrete."
Rental gaps
While concreting requires a combination of equipment, each with a different role to play, the hiring industry offers equipment that is mobile and doesn't need a lot of maintenance and upkeep, says
Vidhu Shekhar, Executive Director, Yantraduniya.
"Transit mixers, concrete pumps and boom placers are the most popular in this industry. However, the Indian second-hand and/or rental industry offers all sorts of concrete equipment except for trowels, which are not still very popular in the country."
OEM-driven opportunities to rent or lease equipment in the short term are desirable but this option is missing in Indian industry, observes Banchhor. "Indian OEMs are more interested in selling equipment instead of providing short-term rental services, say, for six months to two years."
Training loopholes
Recently, it was reported that concreting, construction and mining equipment maker Schwing Stetter India aims to train over 10,000 people in India over the next four years through its operator skill training programme. Are such programmes useful? What other training opportunities would the industry like to see?
"Operators need to be trained in the use of pumps, loaders and batching plants, and as drivers of transit mixers," says Banchhor. "At present, most people learn on the job, even drivers; this causes many accidents."
Training is essential to familiarise people with the latest technologies, says Prabakaran. "In the past few years, road equipment has shifted from BS4 directly to BS6. The engines of BS6 models are very different to BS4 models. Also, newer variants of all construction equipment are IT-enabled for location tracking, fuel efficiency, higher productivity, to facilitate scheduled maintenance, etc. Operators need to be trained in using these models."
Training programmes are conducted under skill development initiatives for concrete batching plant operators and other technical personnel mainly on operational and mechanical aspects, observes Suhas Dhuri, Concrete Consultant, e-cube Concrete Consultants. "However, what's missing is training for these personnel in methods to produce quality concrete and appreciate the dos and don'ts to produce the same. Product appreciation and basic concrete technology are a requirement for all the personnel in an industry: fresh engineers, lab/field technicians, transit mixer drivers and pump operators." e-Cube Concrete Consultants can organise and conduct such programmes tailored for personnel in different areas of concrete production.
"We need to train hands for operations and onsite maintenance as well as for the office with a focus on improving their basics," says Joshi. "Some minimum education is a must for operators, mechanics and electricians for better outcomes and safety. We need to pay operators higher salaries. Training managers, engineers and supervisors would help improve selection of equipment."
Shekhar lauds the Schwing Stetter initiative if the aim is brought in practically. "These sorts of programmes will enhance the safety and upkeep of equipment," he says. "It would be worthwhile to conduct such skill training on all construction equipment. In reducing the abuse of equipment and ensuring timely maintenance, such trainings will extend equipment life. Skill training is always a value addition, not only on the professional front but in life as well."
True enough!
- CHARU BAHRI
Image courtesy: RDC Concrete
Related Stories