An endeavour to deliver fine living – Meenu Agarwal
01 Nov 2021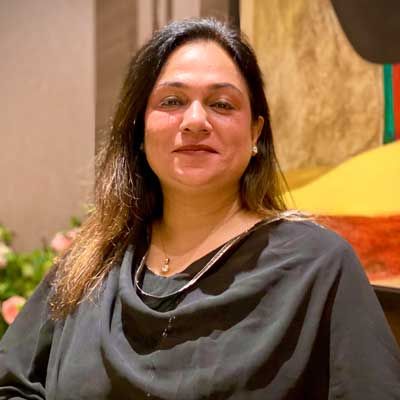 The creative genius of MADS Creations, Meenu Agarwal, has designed some of the most spectacular spaces covering the full spectrum involved in lifestyle design.
CW DesignBuild speaks to Meenu Agarwal about her vision, challenges in design, influence of travel and more.
What is your vision for MADS Creations?
Our vision is to create spaces that have a deep personal touch and a client-friendly emotional approach. That's why we design and manufacture each piece of furniture and most accessories as a bespoke addition to the luxury projects we take up. With this unique capability, we have established ourselves as a one-stop solution for all interior related requirements. In addition to this, expanding into new horizons and exploring different types of projects in different cities is what's on the mind.
Tell us about the major challenges you faced while establishing your firm and what were your key learnings from them?
Establishing a firm is a mammoth task, the major challenges being gathering resources and putting together the right team to execute our ideas. From this, one understands how important it is to have the right team and how careful management of resources is crucial to achieve good results.
How have the clients' requirements for their home or workplace evolved in the past ten years?
Over the past 10 years, people have become more specific about what kind of home they want. They want a home / workplace that reflects their personality and elevates their lifestyle. Clients today have travelled widely and seen the world. They want a similar experience at home or at their workplace. That's why today interiors bear a more international outlook, though they remain Indian at heart.
The times we live in influence our requirements. For example, today, in the aftermath of the pandemic, we are all seeking calm and comfort in our homes.
Homes are being designed as an all-encompassing sanctuary for the entire family. So, clients' requirements for their home / workplace are constantly evolving, which is exciting for us designers.
Tell us more about the influence of travel on your designs.
Travel has influenced design for a long time because you pick up elements and a little bit of the culture from every where. That in turn gives you ideas and fresh perspective to enhance design.
How do you incorporate sustainability in your work?
By treating materials and resources with respect, and avoiding wastage of any kind, and using smart tech to minimise usage of electricity, etc. Today, the clients are also aware of green décor, so we ensure our practices follow sustainability at all levels.
Tell us more about your design philosophy and your process.
Our design philosophy is to create exclusive and exquisite modern luxury that speaks for the client's personality. The design process includes talking to the client at length and understanding their lifestyle, their aspirations and dreams for the home. Most clients come to us because they have liked something that we have done, and want the same for their home. But we still try to make sure that it is conducive to their lifestyle and adds value to it. Then we come up with a design scheme, that we extensively share with the client to make sure that it is in alignment with their expectations. Once the clients approve of the design scheme, we start the execution process which strictly follows the set processes and systems that we have put in place for the smooth running of the project. The process goes on seamlessly until finishing touches and day of décor.
Which of your projects till date have been the most innovate and experimental and how?
Tatvam Villa - The project turned out well because of the holistic approach in terms of design. From flooring to ceiling, everything was considered and executed perfectly, including the final look, which would come out after styling. Every space in the home has customised furniture pieces, accessories and artworks.
How would you define your style of design? How do you ensure that your projects bear your signature?
Design and style are ever evolving, keeping pace with new materials, technology, innovation and aesthetics, as well as trends. Similarly, I would say my design philosophy is also undergoing evolution. It's a constant process of adapting and refining… what remains constant is the desire to introduce comfort, calm and harmony through design.
Tell us about the projects you are working on currently.
Residential projects are our forte. We are currently working on some large projects like farmhouses, bungalows, villas, builder floors, apartments, etc. As experienced professionals from the field of architecture, how would you advise youngsters to approach architecture as a profession?
My advice to aspiring designers would be to work towards establishing an individualistic style that stays true to their design philosophy. With that you will look forward to working everyday of your life.
Also read:
https://www.constructionworld.in/latest-construction-news/real-estate-news/interiors/-i-get-immense-job-satisfaction-doing-interiors-----ajay-arya/30927
https://www.constructionworld.in/latest-construction-news/real-estate-news/interiors/clarity-of-purpose-and-simplicity-are-the-essence-of-design---ak/30734

Related Stories