Charming and luxurious family lounges by Aparna Kaushik
01 Dec 2021
Long Read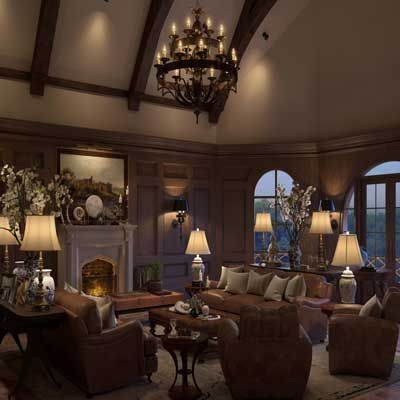 Bearing the family's personality, the lounges reflect the lifestyle the owners enjoy. One is a great room complete with elegant classic details, another a delightful cabana enclosed by a glass ceiling; yet another, a tea lounge in perfect interaction with its green exteriors.
Redefined traditional lounge
In the contemporary times, this lounge shows glimpses of the olden days in a classic look. Brown faux leather couches and a cushioned center table gives it a beautiful luxurious look. Adorned by multiple lamps that have beautiful designs and classic lamp shades in a light complimentary colour. A white fireplace with a designer mantle and a brick wall backdrop adds to the charm of the space. A classic chandelier makes the center piece of the room and adds a vintage charm.
Glass enclosed cabana style lounge
Enclosed with glass on all sides and the ceiling, this cabana style lounge has a beautiful pristine light coloured palette. The furniture is upholstered in a beautiful printed fabric in a delicate pastel shade. The style is a mix of contemporary and classic. Following suite to the theme of the space, the coffee table is made of clear glass and a wooden panel. A grey carpet flows through the floor distinguishes the space by creating a contrast to the furniture of the room.
Indoor plants and beautiful décor pieces and a large chandelier make a beautiful center piece to the room. Adding to the charm of the space, is a fireplace with a marble mantle.
Sun drenched contemporary lounge 
This lounge has a modern vibe with bright a sun-drenched look. Surrounded by clear glass windows, it allows natural light to illuminate the light palette of the room and creates an interaction with the outside. A modern chandelier makes a stunning center piece of the room in a complimentary colour to the palette. The couches have a printed upholstered fabric and complimentary cushions. The informal seating around a round table has long-back cushioned chairs that lift the ambience of the space. A dark wooden patterned floor and a contrasting carpet create a strong base for the space.
Modern contemporary lounge 
A beautiful light palette forms this contemporary lounge space. A beautiful nook besides a fireplace with marble mantle and blue lounge chairs aesthetically builds the space. The couches in the extended area of the living room is made a plain solid fabric and complimentary cushions.
The carpet in a dark colour compliments the flooring and the furniture and brings the room together while a modern light fixture mounted from the ceiling makes a beautiful center piece. Paintings on the wall break the monotony of the room and lift up the look of the space.
Also read:
https://www.constructionworld.in/latest-construction-news/real-estate-news/interiors/an-elegant-dining-room-by-a-square-designs/31036
https://www.constructionworld.in/latest-construction-news/real-estate-news/interiors/cosy-tv-lounges-by-aparna-kaushik/31001

Related Stories