Global trends in smart homes
01 Sep 2021
Long Read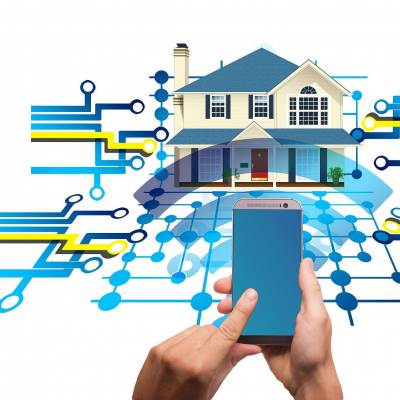 According to Statista, the smart house technology market is growing and is expected to reach around $47 billion by 2025. The emergence of smart homes has opened doors for further technological innovations and making life way simpler for people in the coming years.
With the growth of smart homes, many trends are emerging globally.
Automation and connectivity
Homes get smart by automating routine tasks of the day. Those working on technological aspects of these are constantly looking for solutions to create devices that connect with each other and form a seamless connected user experience for those residing in the homes.
Centralised management and control over chores of the day are achieved by hubs like Wi-Fi, Bluetooth, Z-Wave etc., working on connectivity in homes.
Internet of things
Smart Locks and smart windows also are trends that are soon catching up and are being consumed and appreciated by users across the globe.
"The Internet of Things, or IoT, allows devices around the world to be connected to the internet, collecting and sharing data. It is making the fabric of the world around us smarter and more responsive, merging the digital and physical world. The increased number of smart devices and access to affordable Internet across the country has made the concept of connected living easier, more comfortable and secure. The internet of things connects billions of devices to the internet and involves the use of billions of data points, all of which need to be secured. But low costs in many cases require cutting of corners and due to its expanded attack surface, IoT security and IoT privacy are two major concerns. Anything connected to the internet can potentially be hacked, including your smart TV, home hub and even your Wi-Fi router. Our smart homes are sustainable, and they help to ensure that our homes aren't expending unnecessary energy" says Mitali Aharam, Managing Partner at Crafted Spaces.
While the idea of IoT has been in existence for a long time, a collection of recent advances in a number of different technologies has made it more practical now. Change is inevitable, but by inviting the world in, are we becoming too exposed? Having said that, Technology is constantly being modified to make sure these flaws can be taken care of. The Internet of things is now a way of life, she adds.
Remote control of devices
We use multiple gadgets on a day to day basis. An emerging trend in smart homes is controlling all devices through a remote touch point. Connectivity, automation and the internet have led to devices becoming smart and integrated. To further ease their use, they can be controlled by a remote or app with controls for all of them consolidated in a single place. This enables users to get access to them from any location when connected.
Inclusion of artificial intelligence in home functions
'Siri' and 'Alexa' are names commonly used worldwide. They were the first introductions to artificial intelligence accessible to the common man. Smart homes are now integrated with AI systems that work on creating ease of life for its users. Machines like these study user data and understand their pattern, learn and execute. From creating grocery listings according to the monthly consumption to adjusting the home temperature by reading the outside weather, AI works in the house in all forms.
Home security systems
Smart security, widely used in commercial spaces, has found its way in smart homes as well. From creating home security systems with passcodes and personalisation to controlling them from remote destinations, technology and innovation has advanced the home security game to the next level. Furthermore, it is being embraced by most people globally owing to the current situations and the need to be safe indoors.
"Even though all homeowners do not agree for formal home automation they indirectly choose the smart home system for their day to day activities which largely involve motion sensor lights, remotely operating their home appliances like fridges, washing machine, CCTV cameras etc through their smartphones or any other device. Thus it becomes extremely essential for us to make the necessary provisions during design and execution stages to cater to all the existing and future client requirements" says Gauri Karnani, Principal Architect, A+G Architecture and Project Management
Related Stories