Meenu Agarwal, MADS Creations: Impact of pandemic on luxury lifestyle segment
01 Apr 2021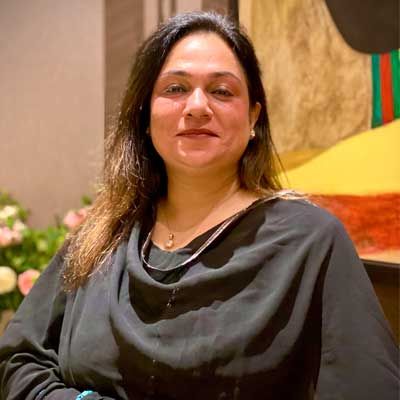 Meenu Agarwal, Founder, MADS Creations, believes in a design intent that's aimed at enhancing the sense of being. In an exclusive interview, she shares her insights into her journey of design with CW DesignBuild.
Unflagging passion and methodical planning are the hallmarks of Meenu Agarwal's work as the Founder of MADS Creations. Based out of Gurgaon, she believes in providing comprehensive designs with global refinement to residences, corporate space, and the hospitality sector, reflecting an elegant way of living. Be it a luxury home or a statement of living, Agarwal delivers designs that live up to the client's expectations and lifestyle.
How has your design philosophy changed over time, especially in the light of the pandemic?
Design and style are ever-evolving, keeping pace with new materials, technology, innovation and aesthetics, as well as trends. Similarly, I would say my design philosophy is also undergoing evolution. It is a constant process of adapting and refining. What remains constant is the desire to introduce comfort, calm and harmony through design. In the light of the pandemic, we are all trying to use technology to ensure the safety of all concerned from design to execution. A lot of human interaction and travel is avoided by using technology.
What changes have you made in your work protocol due to the pandemic?
The safety of our team and all those working with us is of utmost significance. So, we are focused on that aspect. At the office and on-site, we are following all necessary protocols, because work needs to continue to keep the economy ticking. We are holding most of our meetings and presentations through Zoom and other platforms, minimising travel and physical interactions.
What is the state of the current luxury lifestyle segment in India?
The current situation does have a dampening effect on the luxury lifestyle segment everywhere. Even though luxury is considered above all economic stress, there is a notional and emotional strain. Though our hands are full of luxury projects at the moment, I do sense a bit of emotional strain on the luxury segment otherwise.
What does luxury mean to you?
Luxury in its simplest form is exclusivity. When we custom create something for a project that is just right for it and adds unmatched value to it, we are creating luxury. Then luxury is also something that leads to an elevating experience – you walk in and you are enveloped by a refined environment where the colours are both cheerful and calming, the textures are exciting, décor is just perfect and everything comes together into a harmonious whole. It is comforting to the body and soul. That is luxury.
Take us through your design process from conception and design to execution.
The design process for a project starts by talking to the client at length and understanding their lifestyle, their aspirations and dreams for the home. Most clients come to us because they have liked something that we have done, and want the same for their home. But we still try to make sure that it is conducive to their lifestyle and adds value to it. Then we come up with a design scheme that we extensively share with the client to make sure that it is in alignment with their expectations. Once the clients approve of the design scheme, we start the execution process, which strictly follows the set processes and systems that we have put in place for the smooth running of the project. There are no sudden developments/changes that will take clients by surprise, unless in some unexpected rare cases. So, the process goes on seamlessly until finishing touches and day of décor. It's our utmost happiness to reveal a fully completed and styled home to the client and watch the wow expressions on their faces.
What kind of projects do you enjoy working the most on, and why?
Over the years, we have specialised in residential projects of all kinds from apartments to bungalows, villas to farmhouses. And we are enjoying it, though we are open to taking up hospitality and office spaces, too, as we do have experience in that area as well. There is no specific rule, but once you do well in a certain segment, then you tend to take up work in that segment.
What is your vision for MADS Creations?
Our vision is to create spaces that have a deeply personal touch and a customer-friendly emotional approach. That's why we design each piece of furniture as a bespoke addition to the luxury projects we take up. With this unique capability, we have established ourselves as a one-stop solution for all interior related requirements. In addition to this, expanding into new horizons and exploring different types of projects in different cities is what's on the cards for us.
Tell us about the projects you are working on currently?
Since residential projects are our forte, we are currently working on some large projects like farmhouses, bungalows, villas, builder floors, etc.
What advice would you like to give to aspiring designers?
My advice to aspiring designers would be to work towards establishing an individualistic style that stays true to their design philosophy. With that, you will look forward to working every day of your life.
Related Stories