Sans Souci Decorates a Moscow Residence
01 Sep 2021
Long Read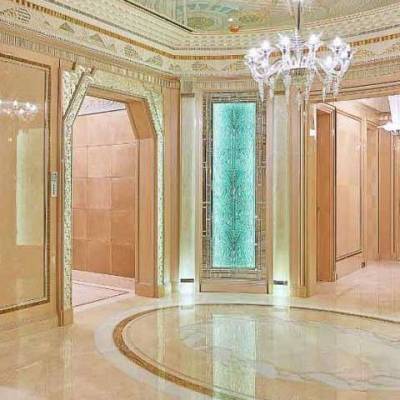 Glass adorns the luxurious private residence from the floor to the ceiling. A wide range of architectural features are made of it, such as handrails, decorative stained glass, feathers in the floor, column capitals, wine racks and a lift cabin.
At this residence, the combination of traditional and modern reaches a new dimension with the interesting interplay of glass. The home is awe-inspiring and striking while still being timeless. Partitions of rooms, table tops, chandeliers and the décor are all made of glass creating a beautiful space that shines with the gleam of glass.
The living room fireplace and mantle is made of tiles and stones with intricate cutwork and design. The muted tone of this space compliments the floor of the house that has designs and patterns adding drama to the room.
At the center of the dining room sits a beautiful wooden dining table with upholstered chairs that offer comfort and style to every diner. The walls of this space are dark in colour that contrast the blue dining table. A chandelier elevated the look of the room. 
Sans Souci draws on the experiences of past generations of glass-makers, with the quality of work defined by the purely Czech origin of their products. The brand masters in creating original architectural features, such as railings, stairways, tables, skylights, columns, and others.
Related Stories