Here is the word from EXCON!
01 Jul 2022
Long Read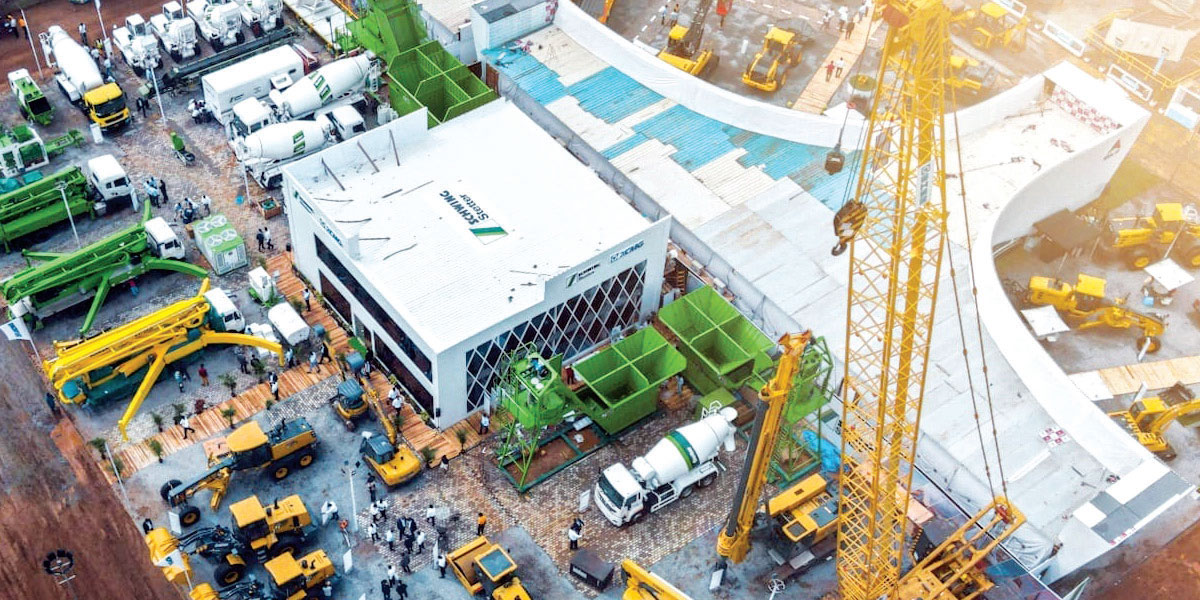 Here's a glimpse of the EXCON. CW speaks with few of the people present at the event in Bengaluru to understand the views on this year's ECON and the state of the equipment industry.
ACE
"We plan to double our production capacity."
Action Construction Equipment (ACE)showcased the new upgraded backhoe loader models in different engine horsepower categories at EXCON along with award-winning products like a special crane for piling, a 360o slew pick-n-carry crane, and a man lift crane. Sorab Agarwal, Executive Director, ACE, tells us more...
At EXCON: We displayed various models including our new and higher tonnage next-gen cranes. Moreover, we commissioned one of the largest crawler and truck crane manufacturing plants, which will double our production capacity. We will add more and bigger products to our portfolio, and follow lean manufacturing processes to improve production and save wastage and undertake continuous upgrades of our products as per market expectations.
In the pipeline: We have ample scope for expansion and are open to JVs. In pick and carry cranes, we will increase capacities from the current 30 tonne to 35-40 tonne, which will be the largest in the world. We will also add to our capacity in the tower cranes and forklifts to 25 tonne and 32 tonne, respectively. We have a range of 49-74 hp backhoes and the only 95 hp 4x4 backhoe in the country. We will introduce a butterfly-type outrigger backhoe model for the international market in the next two to three months and are also developing 100 to 160-tonne crawler cranes, which will be launched in the first half of 2023.
Addressing customer needs: We believe that every market evolves as per customer requirements. When there was a demand for 8 to 20-tonne pick and carry cranes with a longer boom, we provided it. The new generation 360o, platform and telehandler cranes, which can do multiple tasks, have been developed as per customer requirements. So, our R&D focuses on what the customer wants and is willing to pay for it. Automation and IoT will add value to machines provided they are of practical use.
Skill development: ACE is offering attractive schemes for small contractors and operator training on its new machines. For small contractors, it offers various schemes related to finance, buyback and refurbishment. We also provide operator training on all our new series. For every new model or type of machine that we supply, experienced operators offer 15 days' training. We also ensure onsite training for operating our high-end machines. Simulator and hands-on training are provided at our facility in Faridabad on all types of machines, along with troubleshooting and preventive maintenance.
Areas of opportunity: The government clearly understands that investing in building infrastructure is going to help improve the economy, hence its strongly focusing on the construction industry. This year, it has announced investments in building roads, bridges, airports, pipelines, and industries, which will help grow the country's economy, create employment, and drive the growth of related industries like steel and cement.
Demand drivers: We are catering to many sectors with our products. We have started working with the Indian Defense, where we are providing some special machines, cranes, and 4x4 tractors. Most of these machines were being imported at three times the price. We have also designed missile and torpedo handling cranes mounted on special 10x10 and 8x8 Tata and Leyland vehicles. Our target is to achieve 15-20 per cent of our total revenue from exports. We have expanded our reach to the Middle East, African, South American, and Southeast Asian markets, and we have plans to explore Central Asia and East European markets.
Ammann India
"India offers a huge opportunity for the growth of the construction equipment industry."


Ammann is a world-leading supplier of mixing plants, machines and services to the construction industry with core expertise in road building and transportation infrastructure.
Anand Sundaresan, Managing Director, Ammann India,
speaks on the various technological displays during EXCON.
At EXCON: We are displaying all our latest products and have invited every customer from all the parts of the country. In the pipeline: Ammann Schweiz AG has invested about Rs. 2 billion and has set up a state-of-the-art manufacturing facility in Mehsana, near Ahmedabad. The old production halls have been replaced with newer buildings, additional structures, and production halls. The investments included a state-of-the-art fabrication facility with modern cutting and welding machines, and robotic welding machines.
Areas of opportunity: Undoubtedly, India offers a huge opportunity for the growth of the construction equipment industry, due to the government's focus and thrust on infrastructure development. The recent Budget has been quite encouraging for the industry. It is an investment-oriented one with over a 35 per cent increase in CAPEX outlay for infrastructure development covering road, river linking, railways, and affordable housing, amongst others. The Gati Shakti master plan will spur road construction activity.
Axle Shaft India
"Our focus is on digitisation."
Axle Shaft India is one of the leading manufacturers, suppliers, and exporters of a wide range of industrial products. Vikrant Soni, CEO, Axle Shaft India, shares more on the company's plans.
On display: We are displaying excavator pins and bushes. They are high-wearing parts. We are also displaying rock breaker chisels. Our products have two times better life compared to our competitors. The product, which one of our customers is using right now, has been in use for over 2,000 hours and is still working fine. So, it is actually the combination of the right raw material and heat treatment, which we look after. Every single item displayed at the expo is Made in India.
The price rise challenge: We don't see the increase in raw material prices as a challenge; however, the price-conscious market is. The market keeps fluctuating. Earlier there used to be a difference of only Rs. 5 to Rs. 7. Else, selling our product has never been a challenge.
Demand drivers: South India has always been my focus. People in North India are price conscious. We are not directly exporting, but are planning to. We do supply materials to some of the export members.
In the pipeline: Expansion has always been something that we at Axle Shaft look forward to. Recently, we have shifted to the new plant that is supported with a new set of machines. We are focusing on digitisation. We are already working on a new ERP software for our complete system.
BKT
"Automation is the top priority in all our plants."

India has done a marvelous job in road building and irrigation, which is opening new doors for infrastructure equipment.
Ashok Chhajer, Senior General Manager, OE Sales, Balkrishna Industries (BKT),
shares how all these initiatives have been boosting sales.
At EXCON: It is an excellent platform to connect with customers – both current and prospective. We hope the young generation from the college come and develop curiosity about these types of equipment and end up taking up careers that help in building and boosting skilled human resources for the future.
On display: This time, we have showcased some of its finest tires for construction and earthmoving equipment namely the E4 EARTHMAX SR468 TL and L5 EARTHMAX SR53 TL. Along with the newly introduced rubber tracks for the compact track loaders. BKT is the first company in India to have designed and indigenously developed rubber tracks for agricultural applications, which we introduced in the year 2021, and for construction equipment, introduced recently in 2022.
Addressing customer needs: Being a global company, we do not look at what is going to be beneficial for either our Indian or global clients – we cater to everyone. We foresee the rubber tracks business to grow multifold and hence, have entered into agriculture and construction, simultaneously.
Harnessing technology: Automation is top priority in all our plants, which emphasises technological upgradation of existing equipment and installation of automated material handling systems. It improves efficiency and product quality, and in the long term, it pays off.
Areas of opportunity: Gati Shakti and Make in India are some fantastic initiatives by the Government of India. We are already doing well in the mining sector allowing us to keep expanding our range – such as the 240-tonne giant dump truck, the largest dump truck available in India.
The price rise challenge: Price rise is a challenge not only from the raw material cost perspective but also in inbound logistics as well as outbound logistics. It has impacted us too and has forced us to increase our prices.
Case Construction Equipment
"We are leaders in compaction equipment."

In the business of earthmoving for 180 years, CASE sells and supports a full line of construction equipment around the world, including the first ever factory integrated backhoe loader right through to today's excavators, motor graders, wheel loaders, vibratory compaction rollers, crawler dozers, skid steers, compact track loaders and rough-terrain forklifts.
Alok Jha, Director-Sales and Marketing, India and SAARC, CASE Construction Equipment,
shares his views.
At EXCON: We are optimistic that the construction industry in India is entering a sustained demand phase. We are taking this momentum by introducing next-generation machines to our range of designed, developed, and manufactured products in India. We are confident that CASE with new and existing products has a solid potential to be a trusted supplier of construction equipment to the world.
On display: CASE India displayed 10 models at the exhibition from its existing range of equipment, including 952 EX and 450 DX vibratory compactors, and a 2050M dozer. Addressing customer needs: We have two unique programmes – the CASE Care, which talks about annual service contracts, and CASE Protect, which talks about maintenance contracts. Today, buying equipment is not as important as maintaining equipment. We at CASE believe that during the lifecycle of the equipment, we must be engaged and ensure that the customer benefits from low cost of operation.
Market scenario: In backhoe loaders, we have a market share of 7 per cent. We are leaders in compaction equipment with a market share of 28 per cent. We are spread all across the country and have more than 200 touchpoints, 66 dealers, one factory, and a couple of retail offices.
Caterpillar India
"We are targeting aggressively to be gender inclusive."

At a point in time, India had been a market to test waters for Caterpillar with a limited product line.
Vivekanand Vanmeeganathan, Director, Caterpillar India,
shares that now it is turning out to be one of the significant markets, both in terms of production as well as opportunity.
Areas of opportunity: The flagship programmes rolled out by the Government of India such as the Gati Shakti, the Master Plan and the National Infrastructure Pipeline are the major areas of opportunity. The quantum of investment that the Government is planning is going to directly translate into equipment demand in the coming years. In terms of numbers, the IEC mark projects that the industry will have doubled in the next 10 years potentially making India the second-largest equipment market globally. Skill development: Safety is the number one priority for Caterpillar globally – not just for the people working at the plant but also for our products – and safety starts with training. Training involves equipping people with the right amount of knowledge, understanding of processes and constant reinforcement.
Embracing diversity: An important aspect we intentionally focus on is embracing diversity. We ensure diversity across the whole workforce, from grassroots levels to senior management. We are still a long way from achieving gender balance, but we are targeting aggressively to be gender inclusive. We have vendors and operators that are women and processes that are gender-neutral.
Epiroc Mining India
"We are planning to have more production lines in India."

Epiroc provides sustainable and safe equipment like drill rigs, rock excavation and construction equipment, and tools for surface and underground applications with world-class service support. They are known to be the productivity partner for mining, infrastructure and natural resources industries.
Mandy Che, Managing Director, Epiroc Mining India,
tells us briefly about the company culture.
At EXCON: It is really exciting to meet with so many customers, partners and it was great interacting together.
On display: Considering the space constraints, we have come up with an efficient design that gloriously highlights our numerous hydraulic attachment tools and some rock drilling tools. These offerings are high on productivity and performance.
Demand drivers: Now is the right time for our business to reach new heights with the Indian policies and government supporting the infrastructure and mining segments. Addressing customer needs: Service is one of the greatest strengths of our company. We strive to provide a superior service experience to all our customers – either through our offices or through our partners' offices.
In the pipeline: We are planning to have more production lines in India apart from the existing ones in Nashik and Hyderabad, and have an R&D centre in Hyderabad with 385 people working there. It is a big facility that supports not only requirements in India but globally as well.
Sustainability: Epiroc group has announced our sustainability goals for 2030 – we are aiming to halve CO2 emissions by 2030, from our own operations, and also from our customer's operations who are using our machine. We also aim to use 90 per cent renewable energy in own operations. Epiroc Group is strongly committed to achieving the sustainability goals for people and planet.
Embracing diversity: We strongly promote inclusion and diversity and aim to double the women employees in operational roles by 2030. I see a great female talent pool from India with exorbitant potential, which will bring more productivity in the company.
GS Caltex
"Over the last five years, our CAGR has been 23-24 per cent."

GS Caltex India was established in 2010 and have partnered with global and Indian OEMs to develop and launch innovative products that keep up with technological advancements and requirements.
Rajesh Nagar, CEO & Managing Director, GS Caltex,
shares more.
On display: In the last two years, we have launched a number of new products, which include a fully synthetic range of products for gear oils and compressor oils. Among other products, we have also launched the latest CK-4 engine oil meeting the latest BS6 norms. EXCON is an excellent platform where we get an opportunity to interact with our customers and showcase all the latest products we have and the new technologies we are working on at a global level. In our 'Future-Ready Corner' we have displayed products launched in South Korea, demonstrating the technological capabilities we are ready with for the fast-upgrading automobile market. Additionally, as a responsible corporate we are continuously working on technology that is sustainable and products that are biodegradable like the Kixx Bio1 fully synthetic engine oil made with 100 per cent plant-based base oil.
Smart lubricants: We term our product portfolio smart because they have been developed with our proprietary technologies and our own Group II plus and Group III base oils, imported from our refinery in Yeosu, South Korea. These base oils improve the overall efficiency and performance of the products. Most of our products are long-drain ones such that less oil may be used for a longer duration.
Demand drivers: Our products are used in the energy sector. We have two products for the windmill segment – normal gear oil and anti-micro pitting gear oil. We launched a new full synthetic product called Kixx Gear EP S Wind 320.
Harnessing technology: The last two years have forced the world to go digital whether it is interacting with customers, selling propositions, or training them. Although it is still work in progress, we will be investing more towards the use of artificial intelligence, digitisation, and technology in our business to add value to our products and services. We have so far launched several apps that have made the interface between customers and the sales team almost instantaneous. All our processes are integrated with the SAP system. From a B2B perspective, we have a presence on platforms such as IndiaMart to meet our customers online and make our products available. In the pipeline: Over the last five years, our CAGR has been 23-24 per cent. In future, our aim is to have a sustainable business both in terms of product and customers. We hope to add more customers who would appreciate the bio-friendly and long drain products that we have to offer them. The market has the potential since the customers are looking for quality and getting better efficiency in their products.
Hyundai Construction Equipment India
Localisation is one of the key priorities for the company

Hyundai Construction Equipment India has come a long way since the time it started operations in 2008, when it started manufacturing operations in Chakan, Pune. The company has always strived to build Smart, Sustainable and Safer solutions in line with its mission.
Rajiv Chaturvedi, Vice President-Sales & Marketing, After Service & Parts
, points out to one way the company has achieved this is by building a smart factory that is developed with futuristic manufacturing technologies and processes. Its state-of-the-art R&D centre at Hinjewadi is a testimony to its commitment to developing products that can be promoted globally apart from India.
Smart technology: Hyundai is incorporating the latest technologies in its Smart Plus series of Excavators, such as the CAC system (Charged Air Cooled system), which ensures to give higher productivity coupled with 10-15 per cent saving in fuel over competition machines, dual SIM telematics for better connectivity, multi-lingual cluster in the cabin for operators ease of understanding, forged swing ring body and reinforced bucket links, heavy duty undercarriage and superstructure for excellent durability and reliability of its machines in diverse applications.
The new Global Green Grey SMART Plus series excavators launched in January 2021, have all been built-in with advanced research and technologies, digitally smart features to ensure best in class production and fuel economy, and most importantly offer the lowest operating cost over the life cycle of the equipment as compared to any competition in its class. We will keep innovating solutions for enhancing customers' profitability and will strive to be the market leader in the served market.
Localisation: Localisation is one of the key priorities for the company. Currently, it imports nearly 50 per cent of its major hydraulic components and other parts but it expects to increase localisation to 70-80 per cent levels in times ahead.
Customer centric approach: The company not only believes in offering smart products but also smart services that have made them the most popular choice of customers. Prompt service is given through its Customer First App, wherein the customer can log in and seek prompt service at the touch of a button on their mobile phone, howsoever remote the location may be. Customers can log a call and can close the service call. By Customer First App in its Service Management, Hyundai has clearly demonstrated that it is a customer driven organisation. Interestingly, Hyundai CE is one of the leading companies, to create unique deals for all its customers, wherein it offers to take back their old equipment and replace it with an advanced new one, at a much more attractive price.
Sustainability: It also offers its customers to rebuild their Hyundai old excavator and enhance its life to make customers much more profitable and competitive in their business. For this purpose, it has built a modern state-of-the-art XL (Extended Life) rebuilding centre, within the Chakan plant premises. The company is also increasing the capacity of XL rebuilding centre from 7-8 machines to 12-15 machines per month this year. The XL rebuilding centres will also come up in several other parts of the country at Hyundai Authorised Dealerships, so as to give faster response and solutions to customers located in far-flung geographies. There will be at least One XL rebuild centre in each region (East, West, Central, North, South) to start with.
JCB India
"Our machines are getting smarter."

Innovation and sustainability have always remained critical to JCB's operations.
Deepak Shetty, CEO & Managing Director, JCB India,
shares more.
On display: At EXCON, JCB India introduced the industry's first fully-electric excavator, the JCB 19C-1E. It is a zero-emission machine and has four lithium-ion batteries that power the machine for a full day on a single charge. With a significant focus on safety and productivity, JCB's 2GO system safely isolates all controls as a secondary safety system. Its auto-idle and auto kick-up redistribute power to preserve battery life. The machine has been introduced after rigorous testing and validation.
In addition to the JCB 19C-1E electric mini excavator, the company also launched two more mini excavators, the 35Z HD, and the 37C HD. Both machines come with heavy-duty structures and have easy manoeuvrability due to their compact size. The 5-tonne mini excavator range comprises the 50Z and the 55Z, which were also on display. These machines are designed for higher adaptability to work in confined areas, with high-strength heavy-duty booms and excellent operator comfort features like a full-suspension seat, smooth joystick operations, and electronic engine speed control with mode selection.
Sustainability: We continue to introduce products that significantly limit their impact on the environment. The JCB 19C-1E is the industry's first fully-electric excavator in India and is integral to JCB's 'Road to Zero' initiative, a programme that we have been working on for the past few years. The machine has been tested extensively and has various built-in features that enhance safety and performance. With zero emissions and low noise, this is ideal for infrastructure development in urban areas and indoor working.
With sustainability being a key attribute at JCB, the company also launched its first Natural Gas Genset, the G125 NG – 125KVA Genset powered by Natural Gas. Along with the Genset having best-in-class aesthetics, it is also designed to work in extreme environments. This Natural Gas Genset has a compact size and reduces CO2 emissions significantly. The carbon footprint is lesser by up to 6 tonne per annum. Infrastructure development and commercial activities today operate round the clock, due to which the requirement of generators is also expected to remain strong. This range will be manufactured in India and will also be exported around the world.
Demand drivers: JCB machines are getting smarter. These are used to build roads in urban and rural India, schools, hospitals, and airports. An embodiment of the vision of Atmanirbhar Bharat, our Made in India products are at par with the rest of the world and are used in over 110 countries. Our products are designed to consume lesser fuel and have lower maintenance costs, thereby improving the profitability of our customers.
Harnessing technology: We have integrated digital technology such as Telematics and Parts App into our products and services. Additionally, our network of over 60 dealers, over 6,500 dealer service engineers, and almost 700 outlets mean that our customers are never far away from professional product support.
Komatsu India
"We have launched four new models."


With mega launches of new models by Komatsu India during EXCON, it is expecting the expansion of product range by end of this fiscal in India. Komatsu is doing R&D continuously on the technologies and product development.
Yasunori Fujii, Managing Director, Komatsu India,
informed on what has been offered so far to the construction equipment industry from their Oragadam manufacturing facility.
On display: Komatsu India launched four new environment-friendly B20 Biodiesel ready models introducing – Komatsu PC205-10M0 Hydraulic Excavator, Komatsu PC500LC-10R Hydraulic Excavator, Komatsu PC210LC-10M0 Super Long Front and Komatsu GD535-6 Motor Grader. These Hydraulic Excavator models are manufactured in India. Usually, we only release about two new models in any exhibitions, However, this time, we had launched more number of new products in EXCON.
Demand drivers: The government policies for infra investment and increased production in the mining sector has made strong demand for equipment.
Areas of opportunity: General construction is driving the market for the newly launched products due to the investments done by the Indian government. We can meet India's demand growth by offering quality and technological products to boost the infrastructure and also support mining industry largely.
Increasing telematics: Komatsu is one of the most advanced manufacturers of products with telematics in the world. Using drones, we can monitor the scale of the design and the procedures for any construction along with automation. Most of our equipment are installed with data transmitter and GPS along which we can track the performance of the machine. Based on the data gathered, we can inform the customer about the performance and which area needs to be improved for better operation and production.
Mahindra Construction Equipment
"A machine is only as good as the operator."


Mahindra has been working towards introducing products for the construction sites and other segments like road grading and trucking.
Jalaj Gupta, Business Head, Commercial Vehicles Business Unit, Mahindra Construction Equipment,
shares more...
At EXCON: It's a good opportunity to see these machines in person. Because of the kind of machines these are, you cannot comprehend them on the website or any other virtual medium. Seeing the machines in self is a good personal experience.
On display: This is for a categoric creator. A lot of work is happening on highways. Forty-eight per cent of Indian roads are rural and plenty of work is needed on those. Our grader allows small grade contractors to carry out that work in an organised manner – irrespective of the type of work. The operating cost of this grader is about 17 per cent lesser and we have a 13 per cent market share presently.
R&D to market: For completely new products, it takes about a couple of years. But for products like these graders, it takes about 24 months. Testing and validation, however, is the bigger aspect than creating. To run these in real-life conditions, we need constant feedback to keep improving.
Skill development: Bad operators can lead to low productivity even with good machines. So, we consider the skill development of operators and customers important. We have training centres across the country as well as mobile service vans. Additionally, we focus on providing repeatable training done by our service teams along with a one-time training which is formally offered via the service vans. We also have specialised training programmes offered at our training centres.
Sany Heavy Industry India
"Our products are biofuel compatible"


With new launches expected by the end of this year to expand their product range, Sany is continually expanding.
Deepak Garg, Managing Director, Sany India & South Asia,
tells us in detail what they have to offer so far.
On display: The products are compatible with biofuels. The excavators that we have launched here are much more economical in terms of fuel consumption and backed with advanced technology. Their cost per cubic unit stands to be 10-12 per cent better than before. These excavators have inbuilt AI features that improve the productivity and economies of customer operations and also have launched three new excavator attachments namely pile driver, pile breaker and ripper. On the other equipment front, we have launched 173 hp and 250 hp motor grader. We also launched a 160-tonne all-terrain crane and different truck cranes, and for mining, we have launched a new 580 excavator with a 3.6 cu m bucket and a new 105 truck with a 70-tonne loading capacity. Additionally, we have launched a range of piling rigs which had not been available before. Now, to cater to the rising demand, we have two models of small rigs and a diaphragm wall attachment for special projects like metro systems.
Harnessing technology: Digitalisation is the need of the hour. Everybody has server connectivity for excavators. We are the first to have that connectivity for cranes, rigs and other equipment and powered with AI. At the next level, we are working on driverless machines and looking at entire projects being controlled by AI.
Demand drivers: The road sector, railways sector, metro projects and port development activities under the Sagarmala project will drive demand. Another area is the mining sector which has been booming due to demand for coal and iron ore.
Schwing Stetter India
"We have launched 14 new products."

Being a pioneer in the construction equipment manufacturing industry, Schwing Stetter India has been growing exponentially during the pandemic. The company strongly believes in being customer-first. Over the past few years,
VG Sakthikumar, Managing Director, Schwing Stetter India
, informs us that the company has observed a growing need to become increasingly cost-effective for customers.
On display: We have launched 14 new products during EXCON. These include: batching plant M45Z, Boom pump S 47, SLM (Mahindra) 4600 SV (CEV-IV), mobile service van, conveyor on wheels, wheel loader ZL33FV (CEV-IV), wheel loader ZL55GV (CEV-IV), motor grader GR 1705, piling rig XR 330 I, crawler crane Xgc150-1, truck crane XCT150 Y, excavator XE 38U, excavator XE 215-I LC, and bricks and blocks plant SSI-154-E.
The pandemic challenge: At Schwing, we used this period for research and to recalibrate ourselves for the new normal. In fact, what we have displayed at EXCON, is a true testimony of our hard work during the pandemic. Schwing Stetter India has been growing exponentially and is still focusing on quality and innovation. Our customer's trust in us helps us continue to make machines that are technologically superior, efficient, and cost-effective.
The price rise challenge: The fluctuating steel prices are dampeners in our ambitious sales projections. Also the availability of chip-based control systems hampers the supply chain functioning. The price increase to these factors and the CEV IV engine adaption is a challenge for the customers. Schwing Stetter's strategic management team has come up with a slew of measures to tackle these issues.
Market scenario: Schwing Stetter India has appointed close to 26 dealers for our excavator market and is continuously expanding the dealership network for our SLM sales. The product portfolio encompasses the complete range of concreting, road construction, earthmoving, and mining applications. We foresee a 53 per cent increase in sales for 2022.
Titan Crushing Equipment
"The crushing equipment industry has reached its peak."
Titan Crushing Equipment designs and manufactures equipment under the brand name – Diamond Crushers. The company specialises in producing jaw crusher, which is widely used in mining, quarry, and material handling.
Vishvaroop Anand, Managing Director, Titan Crushing Equipment,
shares...
Market scenario: The crushing industry has probably reached its peak in terms of products that were manufactured. The need of the hour is to create more plaster sand. However, it is quite challenging for any company to manufacture machines that create this. We are planning to make cost-effective solutions because ultimately India is a price-sensitive market. The new solution should be available in the next three to four months. It's a screening solution rather than a crushing solution. The market for this screening solution has quadrupled in the last year or two.
Harnessing technology: We have introduced a lot of PLCs or sensor-based machines, and temperature control machines in our sand machines. So, it has to be simple to understand and service.
In the pipeline: We set up three new units in Hyderabad and one in Bengaluru. So, we are predominantly a home base company but we found manufacturing in Hyderabad more cost-effective, shifted our entire unit to Hyderabad.
thyssenkrupp Industries India
"During the pandemic, we focused on digitalisation."

With customers getting smarter, creating value is the focus for thyssenkrupp Industries India.
Vivek Bhatia, Managing Director & CEO, thyssenkrupp Industries India
, tells us more about how technology and equipment performance are the keys to achieving this.
At EXCON: It is great to personally interact with customers again. In a setting like EXCON, you get feedback in a broader sense after interacting with people from the supply chain, customers and the industry.
On display: We launched a new cone crusher RBC 4000 at EXCON 2019 which was a much higher capacity crusher compared to our existing range. This product has been well received in the industry due to its versatility. During the pandemic, we focused on digitalisation and have engaged with customers even in remote locations and have understood their needs. We have also relied on it to monitor equipment from its settings and operations point of view, as well as to help us to better manage our inventory base ensuring that spares are available in advance and even sending them ahead of time.
Harnessing technology: We use technology at a basic level to gain a clear line of sight into the equipment performance. The second layer is to track what is unusual using parameters like vibration or abnormal settings. The final layer is gaining insights into the equipment based on all the data collected. Additionally, customers can reduce their downtime and we can demonstrate equipment performance in a more transparent way.
Addressing customer needs: We focus on customer fulfilment in a combination of sales and after-sales. So, we know how the equipment is performing, its on-site working conditions and also when it fails. This helps us explain to the customer why this happens and how to avoid these. We have an engineering team working on product development, product engineering and system engineering, and an R&D team working on other perspectives such as how to optimise, and become leaner and superior.
Related Stories