Connected Construction
01 Dec 2020
Long Read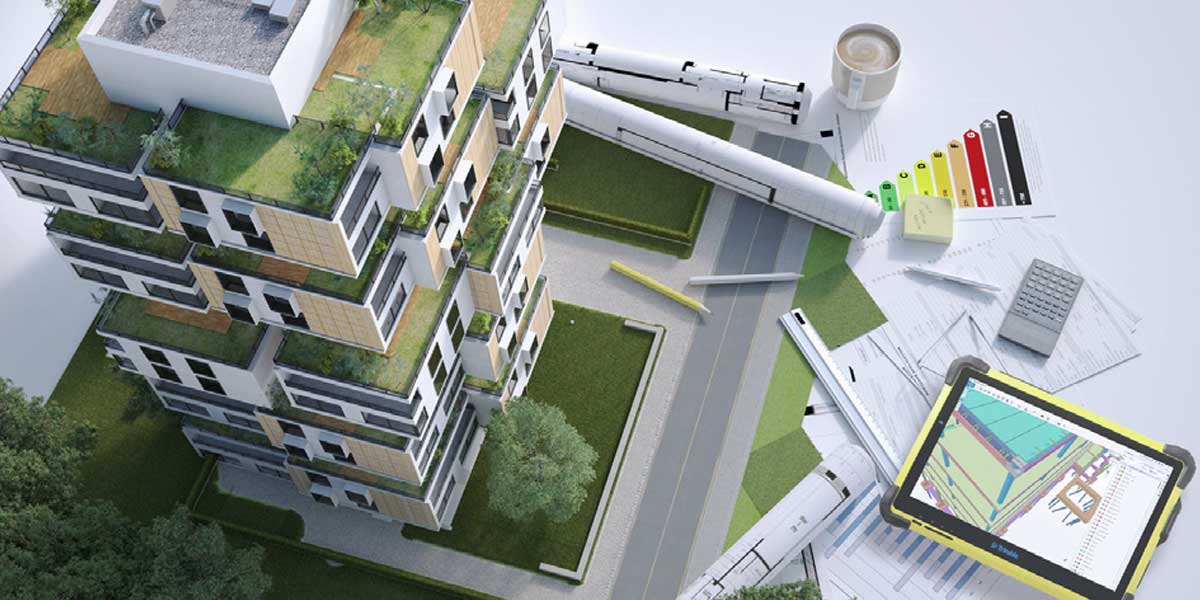 The use of technology such as BIM will hasten the adoption of sustainable buildings in India, writes PAUL WALLETT.
India is undergoing urbanisation at a pace seldom seen before in history. Our country already has the world's second highest urban population at over 410 million and is further projected to double its size and add 416 million new people to its urban population by 2050.
Clearly, we need to add new urban infrastructure at a breakthrough, unprecedented pace if we are to accommodate this massive urban expansion. As a McKinsey report said about a decade ago, 70-80 per cent of India of 2030 is yet to be built, and we still have a long way to go.
Given that 40 per cent of the country's population will eventually be urban and, therefore, dependent on its urban infrastructure in the next 10 years, we have both a rare opportunity and an obligation to plan and design our upcoming cities and buildings keeping sustainability as a principal goal, in order to provide occupants with a superior quality of life.
Given this background, the need to design and build sustainable habitats that ensure efficient use of materials, water, energy and other resources has never been as pronounced as it is now. A sustainable habitat would also minimise the depletion of nature and the generation of non-degradable waste. In fact, India should attach greater importance to constructing high-performing green buildings, as certified green buildings can deliver energy savings between 20-30 per cent and water savings of up to 30-50 per cent. This assumes further significance in light of India's stated commitment to reduce its greenhouse emissions by 33-35 per cent by 2030, as part of the Paris Agreement.
The change is not possible without digitalisation
Our country's response to the challenges of rapid urbanisation is being closely watched around the world, as it is likely to provide a blueprint for similar challenges other developing countries will face in the years to come. In September 2020, the International Finance Corporation announced its intention to provide $2 trillion to India to develop green buildings among other infrastructure projects, which will provide the needed impetus to drive change.
The Government, at both the central and state level, has made an equally concerted push in recent years to develop new urban infrastructure, with initiatives like the smart cities mission, Pradhan Mantri Awas Yojana (PMAY) and AMRUT. What we need now are structural and policy-level changes, including incentives for the development of high-performing green buildings at the domestic level to kickstart the green revolution in the construction sector, with technology underpinning this change.
A study conducted by Ireland-based Johnson Controls Building Technologies and Solutions suggests that only 4 per cent of buildings in India are 'green', and that lack of technical expertise to execute projects and technology adoption remains a barrier to growth. To hasten our journey towards a sustainable future, radical measures need to be taken. And the change can only happen by embracing modern and sustainable construction techniques such as connected construction, which make use of digital tools that optimise workflows at every stage of construction.
Sustainable building at every stage
The first goal of sustainable construction is to minimise the usage and eventual wastage of resources across the project lifecycle. Using sustainable construction technologies, construction engineers are today able to design and create smart and self-sustainable urban ecosystems in much lesser timeframes, besides optimising the use of precious resources. However, to reap the maximum benefit of these technologies, the entire design and construction process needs to undergo a paradigm shift.
At Trimble, we believe the sustainability vision needs to be embedded throughout the construction workflow to really make an impact by the time a project is completed. Every single stakeholder of a project—from the building's owner to its architects, structural engineers, general or MEP contractors—can and must contribute to achieving the project's sustainability targets.
One of the most effective ways to achieve sustainable workflows is through adoption of data-driven construction and connected construction, with an information-rich (constructible) building information model (BIM) acting as the core blueprint for the project. Connected construction gives all stakeholders the necessary levels of visibility to collaborate more efficiently across the project lifecycle, leading to increased productivity across the supply chain by streamlining operations and preventing delays.
Constructible BIM improves workflows and saves money; its practices also reduce the burden on our environment. Individual solutions, in fact, are not quite enough; sustainability needs to saturate the entire construction process and that can be achieved with BIM-enabled connected construction.
For example, during the design phase, BIM allows for a highly transparent process from Day 1: as design data is added to a shared model each stakeholder in a project can quickly and easily access a full, real-time summary of what products and materials are being proposed, how they will be installed, and even the expectation of their performance after construction. This ensures the usage of most environmentally responsible materials and methods, while minimising waste and excesses through better planning.
During the design and construction phase, BIM results in 3D virtual prototypes that can be easily shared and used for real-time collaboration and simulation to test both the logic and sequence of construction. From estimating and take-off to layout and ongoing project management, every step in the design and construction workflow is reviewed and enhanced to the extent that BIM technology is integrated. Even once the project is completed and being occupied, BIM offers a wealth of operational data and information that can be passed along to the building owner and manager, improving their ability to run the building at its maximum potential.
By providing a single information database on the entire construction cycle, BIM allows all stakeholders to stay fully on top of the ecological impact and address pain points to avoid an unnecessary ecological footprint. Every step of the process where BIM saves time, improves efficiency, enhances design and reduces errors provides a quantifiable opportunity for the building's lifelong environmental impact to be reduced. In this respect, BIM thoroughly supports the entire philosophy behind sustainable construction.
About the author:
Paul Wallett, Regional Director, Middle East and India, Trimble, is responsible for business operations and management of the overall strategy for the UAE and SAARC regions. He aims to build upon Trimble Solutions' double-digit growth and the expansion of Trimble Buildings' businesses.
Related Stories