Vinita Singhania, Vice Chairperson and MD, JK Lakshmi Cement
01 Aug 2021
Long Read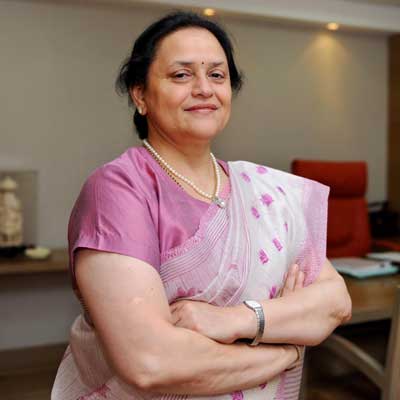 Vinita Singhania, Vice Chairperson and Managing Director, JK Lakshmi Cement Ltd, shares her views on how CSR adds value to the overall sustainability performance of the organisation.
1.Why is CSR important for the economy and what impact does it have in your business?
India is a developing country and out of 1.4 billion people, a large part of the population is below poverty line. Combined with this India has huge burden in terms of unequal social economic development and human development deficits and as a country we are facing challenges like skewed sex ratio, gender inequality, hunger, high infant and maternal mortality, lack of access to quality education, lack of drinking water and sanitation, lack of infrastructure in rural area, malnutrition, environmental degradation and other issues. Despite various Government initiatives to address these problems, they remain a challenge for the country. In this background, multi-stakeholder collaborative efforts are required to address them and to realise growth potentials of our country. Indian corporates have the resources and the core competencies like project management, innovations, capacity to scale up, entrepreneurship through which they can play critical role towards addressing of such issues. They have the talent and know how to ensure maximum impact at minimum cost. CSR Programs bring out changes at the grass root level by harnessing this operational efficacy. CSR also helps in building goodwill and trust with various stakeholders including communities around the business operation. It creates a harmonious coexistence between business and the community, which gives business the social license to operate. Therefore, on the one hand, CSR is good for inclusive development and on the other it brings values to the business.
2. CSR also helps in building a positive image of the brand and hence gaining customer loyalty. Do you agree? Please explain.
In the Indian context, CSR aims at inclusive development through implementing various social and community development projects in the thematic areas defined under Schedule VII of Section 135 of Companies Act, 2013. A well-managed CSR program helps increase brand equity, awareness and resonate with customer and stakeholder which attach strong values to socially responsible business. Various research suggests that people appreciate the company not only for its high-quality products but also for the activities that they do for greater good of the people. For such business and products, customers feel a sense of pride when buying and are more likely to recommend it. Loyal customers are the best marketing a company gets through its CSR activities.
3. Do you think a socially conscious image is important to remain in the competition today? Does it give your business a competitive edge?
Yes, I strongly believe that a socially conscious image is important to remain in the competition today, as it works as a differentiator for the customer. In an increasingly connected world through various technology and social media platforms, customers care about the business responsible behaviour, and they will be loyal to corporations, they believe, that they are aligned with their value. That means, corporations that cater to these customers have a competitive edge over companies that do not. They might offer the same products and services, but the fact that they are making social responsibility a priority for the corporate makes them more appealing. Global research on responsible business had revealed that more than half of the surveyed customers were willing to pay more if the company is committed to corporate responsibility and social causes. CSR helps in brand building, goodwill & image creation, creating a peaceful community around the plant and the business, employee retention, creating socially responsible manager and a sustainable organisation. The benefits of CSR are both tangible and intangible.
4. More cement companies are doing CSR activities around energy efficiency. What are your plans on this?
In my opinion the impact of lack of energy access on various human development drivers such as education, livelihoods, health & sanitation, and safety have a direct bearing on the inclusiveness of economic development and the quality of human capital. We are promoting this by fuel-efficient chulhas, biogas plants, solar lighting systems like lanterns, streetlights, study lamps and home and community facilities lighting. These solutions also have a positive impact on women health and empowerment. Our company has installed state-of-the- art technology equipment and has progressively implemented various innovations, process modifications, etc. to maximise resource efficiencies. Some of the major initiatives are: Installation of Waste heat recovery systems of 15 MW and 7.50 MW at Sirohi and Durg Manufacturing units respectively which mitigates GHG Emission to the tune of 136235 Tons CO2 eq per year. Further, the Company has also installed around 36 MW solar and wind power generation plants at various locations, with potential to mitigate about total 13245 tons of Carbon Emissions annually.
5. What Was Your Csr Spending for Fy 20. Could You Brief Us on What Kind of CSR Activities Do You Conduct?
During the FY 20-21, JK Lakshmi Cement Ltd. spent Rs. 339.67 Lakh on various CSR projects.
The major CSR thrust areas of the organisation are health; water & sanitation; education; skill development and livelihoods; environment sustainability and community development. We are directly implementing our CSR projects around our plants in the states of Rajasthan, Gujarat, Haryana, Chhattisgarh and Orissa.
While on the one hand, company put resources to fight the pandemic, on the other, it took several CSR initiatives to reduce maternal and infant mortality; organised number of medical camps, supported government schools for improvement of physical and classroom infrastructure and facilities; provided various kinds of support to students and their families.
On the livelihoods front, the company undertook multiple on-farm and off-farm initiatives and skills trainings to improve family's income. Other initiatives included setting up water facilities for domestic use; provision for food kits for Multi-Drug Resistant TB patients; plantation; recharging of water bodies, among others. The Company also strategically endeavored towards facilitating "last-mile-connectivity" for the poor to access various State and National Govt Schemes aimed at poverty alleviation.
One of the key impacts has been empowerment of women due to improvement in their income resulting into their higher familial and societal status.
6. What is your CSR budget for the fy21? Please tell us about various partnership/ committee you are associated with. At JK Lakshmi Cement Ltd, our CSR Budget for FY 2021-22 is Rs. 613.76 Lakh.
JK Lakshmi Cement Ltd. is directly implementing its CSR projects around its plants in the states of Rajasthan, Gujarat, Haryana, Chhattisgarh and Orissa. We are impacting the lives of more than 2 lakh people through our various need based and impactful CSR projects. These projects are designed and implemented in partnership with the local communities. There are concerted efforts to work in close collaboration and synergy with local government departments like health, education, animal husbandry, and others as well as local Panchayat Institutions. As per the need and requirements, the projects have synergy with local NGOs working in the area in terms of knowledge sharing and resource leveraging.
8. Research shows that employees of businesses that prioritise CSR are happier and more fulfilled. What are your views on this?
Managers are by very nature of their work allowed to take decisions that affect not only their companies but societies at large. Once the manager is either given some kind of social project or they are involved into the community, they get sensitised to the needs and expectations of the society so that they understand how their decisions impact the various stakeholders in the value chain particularly the society / community because organisations are operating in social sanctions and drawing resources from the very society that they intend to serve.
With the employee working under the Socially Responsible Managers tend to understand and appreciate over the period the value of business decisions that are aligned to social values and greater good for the mankind. This culminates into imbibing of social values in the context of business amongst the employees and over the period it becomes an essential construct of the organisational culture.
9. During pandemic what csr activities did you carry out and how has it helped you in sustaining and remaining competitive?
As the beginning of Financial Year saw outbreak of Covid 19 Pandemic, the Company responded to this unprecedented crisis, taking several initiatives for the local communities and migrants' workers in collaboration with local panchayats and district administration across its plant locations as well as in the marketing zones. Large number of food kits, sanitisers, cotton masks and hand wash were distributed to the needy families as well as sessions and meetings were organised to create awareness on COVID-19. Number of temperature guns, sanitisers, masks, and hand gloves were provided to frontline "Corona Warriors"- Govt. ANMs & ASHA Workers. Regular sanitisation of village common places Panchayat Bhavans, Banks, Post Offices, E-Mitra Centers, Ration Shops helped in containing spread of virus in the communities around the plants. In addition, the Company also pro-actively responded to this national emergency and donated to the "Prime Minister's Citizen Assistance and Relief in Emergency Situations Fund" (PM CARES Fund) to support GOI initiatives to fight pandemic.
10. Please tell us about your future plans in CSR?
For us, the most important thing is to bring transformative changes in the lives of the needy and marginalised people around our plant locations. Based on our experience, our focus in the future would be on education; skill development and livelihoods including employability, in addition to our existing efforts in the areas of Health, Education, Water & Sanitation. We will also continue to work in the field of environment and natural resource management. CSR which is integrated into business strategy of an organisation adds value to the overall sustainability performance of the organisation. Therefore, we would also conceptualise and deliver CSR projects for the inclusive development of the bottom-of-the-pyramid in the product value chain. Our future also includes higher use of technology in delivering projects in the community.
Related Stories