Finance Minister Sitharaman's Rs 2.65 Trillion Diwali Bonanza
01 Nov 2020
Long Read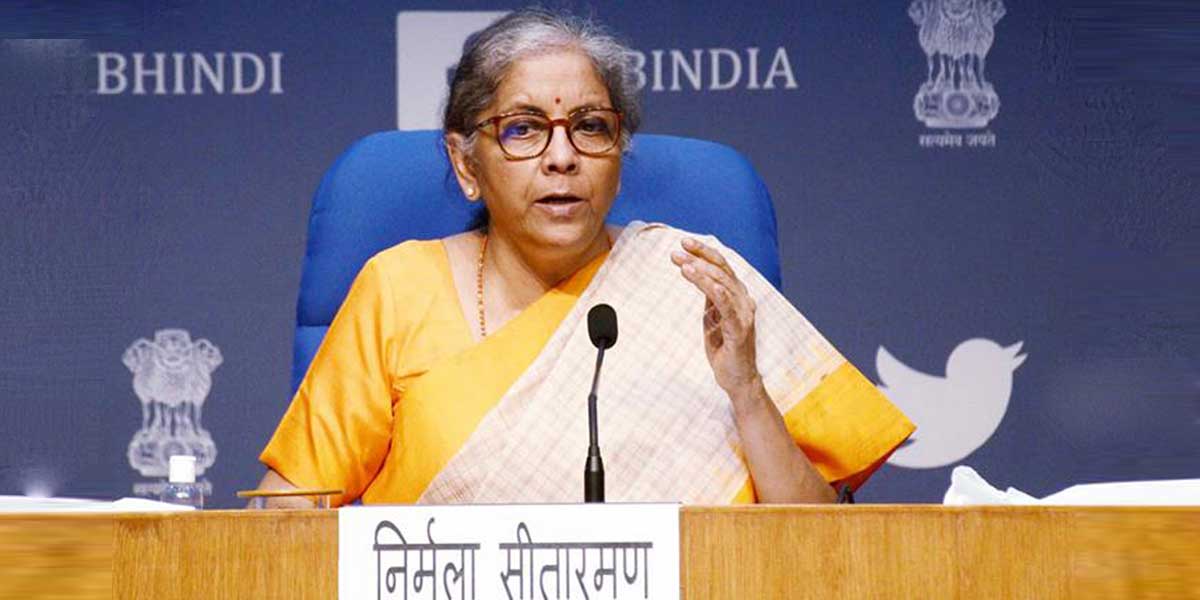 Union Finance Minister Nirmala Sitharaman has announced 12 key measures as part of the Central Government's stimulus to the economy under Aatmanirbhar Bharat 3.0. The net stimulus announced by the country's full-time woman finance minister on November 12 amounts to Rs 2.65 trillion.
Addressing the media in New Delhi, Sitharaman also informed that the total stimulus announced by the government and Reserve Bank of India (RBI) to date to help the nation tide over the COVID-19 pandemic induced recession worked out to Rs 29.87 trillion, which is 15 per cent of the country's GDP. Out of this, a stimulus worth 9 per cent of GDP has been provided by the government.
Following the announcement, Prime Minister Narendra Modi tweeted from his official handle, "Today's Aatmanirbhar Bharat Package continues our efforts to help all sections of society. These initiatives will help in creating jobs, alleviate stressed sectors, ensure liquidity, boost manufacturing, energise real-estate sector & support farmers."
Finance Minister's 12 Key Announcements
1. Aatmanirbhar Bharat Rozgar Yojana
A new scheme will be launched to incentivise job creation during the COVID-19 recovery period. If the Employees' Provident Fund Organisation (EPFO)-registered establishments take in new employees without EPFO numbers or those who lost their jobs earlier, the scheme will benefit those employees. The scheme will be retrospectively effective from October 1, 2020.
2. Emergency Credit Line Guarantee Scheme Extended
The Emergency Credit Line Guarantee Scheme for micro, small and medium enterprises (MSMEs), businesses, MUDRA borrowers and individuals who have taken loans for business purposes, has been extended till March 31, 2021. A credit guarantee support scheme is being launched for healthcare and 26 other sectors under stress due to the COVID-19 pandemic. Entities will get additional credit up to 20 per cent of outstanding credit, where repayments can be done in five years, with a one-year moratorium and four years repayment.
3. Production Linked Incentives Worth Rs 1.46 Trillion for 10 Champion Sectors
This scheme will likely help boost the competitiveness of the domestic manufacturing sector to especially help it compete with China. It will give a big boost to the economy, investment, exports and job creation. A total amount of nearly Rs 1.5 trillion has been earmarked across sectors for the next five years.
4. Rs 180 billion Additional Outlay for Pradhan Mantri Awas Yojana-Urban (PMAY-U)
This is over and above Rs 80 billion already allocated this year and will help ground 1.2 million houses and complete 1.8 million houses. It will create additional 7.8 million jobs and improve the production and sale of steel and cement, resulting in a multiplier effect on the economy.
5. Support for Construction & Infrastructure
To provide ease of doing business and relief to contractors whose money otherwise remains locked up, performance security on contracts will be reduced to 3 per cent. Earnest Money Deposit (EMD) for tenders will be replaced by bid security self-declaration. The relaxations will be effective till December 31, 2021.
6. Income Tax relief for Developers & Home Buyers
The differential between circle rate and agreement value in real estate income tax is being hiked from 10 to 20 per cent. This is for the primary sale of residential units of up to Rs 20 million from the date of announcement of this scheme till June 30, 2021. The income tax relief will provide an incentive for the middle class to buy homes.
7. Platform for Infra Debt Financing
The Central Government will make Rs 60 billion equity investment in the debt platform of the National Investment and Infrastructure Fund (NIIF), which will help the infrastructure specific investor fund to raise Rs 1.10 trillion by 2025 for financing infrastructure projects.
8. Support for Agriculture
With fertiliser consumption is going up significantly, an increased supply of the commodity will ensure that the forthcoming crop seasons are not hit by shortages.
9. Boost for Rural Employment
An additional outlay of Rs 100 billion is being provided for the Pradhan Mantri Garib Kalyan Rozgar Yojana. Funds can be used for the Mahatma Gandhi National Rural Employment Guarantee Act (MGNREGA) or for the Gram Sadak Yojana to help accelerate the rural economy.
10. Boost for Project Exports
A Rs 30 billion boost to be given for project exports through assistance extended by India to developing countries under the Indian Development and Economic Assistance (IDEAS) Scheme. This will help EXIM Bank facilitate these lines of credit development assistance activities and promote exports from India.
11. Capital and Industrial Stimulus
A Rs 102 billion additional budget stimulus will be provided for capital and industrial expenditure on defence equipment, industrial infrastructure and green energy.
12. R&D Grant for COVID-19 Vaccine
Rs 9 billion is being provided to the Department of Biotechnology for research activities related to COVID-19 vaccine development. This does not include the cost of the vaccine or logistics for its distribution, which will be provided separately.
A Powerful Multi-Sector Booster!
India Inc. was unanimous in welcoming the announcements made under Aatmanirbhar Bharat 3.0. The industry especially lauded the measures to uplift the manufacturing and construction sectors.
Dr. Sangita Reddy, President, Federation of Indian Chambers of Commerce & Industry (FICCI) & Joint Managing Director, Apollo Hospitals, declared Aatanirbhar Bharat 3.0 to be "a powerful multi-sectoral boost".
"The clear focus on housing, infrastructure and construction show that the government wants to leverage the huge multiplier impact these sectors have to rev up the economy that is already showing multiple signs of recovery," she said.
Complimenting Finance Minister Sitharaman for the Diwali bonanza, Dr. Reddy said that the announcements for the stressed sectors, sunrise sectors and other important areas of concern would help revive growth, employment, exports and make India part of the global value chains. She especially singled out the measures announced under the production linked incentive (PLI) scheme wherein 10 new champion sectors have been added with a Rs 1.46 trillion crore outlay.
"Building a manufacturing ecosystem, especially in areas where we have a large dependence on imports, requires a long-term strategy. The government and industry are working in tandem towards developing that strategy and implementing it and the PLI scheme is a great example of that, averred Dr. Reddy.
Dr. Niranjan Hiranandani, President, Associated Chambers of Commerce of India (ASSOCHAM) & Managing Director and Co-founder Hiranandani Group, opined that the 12 measures announced by Finance Minister Sitharaman under Aatmanirbhar Bharat 3.0 would boost job creation and result in a stronger economic recovery, providing an effective counter to the impact of the COVID-19 pandemic and the subsequent nationwide-lockdown on the economy and citizens.
"The government's continuous support and the new announcements under the Aatmanirbhar Bharat 3.0 will make the road to recovery post-pandemic stronger and facilitate and incentivise job creation, and provide much relief and impetus to housing and infrastructure sector," said Dr. Hiranandani.
"Strong growth and an increase in demand have propelled the economy on a rebound. The effects of previous announcements Aatmanirbhar Bharat Abhiyaan 1.0 and 2.0 are evident by the RBI's prediction of a strong likelihood of economy returning to positive growth in Q3 rather than Q4 earlier by the quarter," he added.
Hiranandani observed that the infusion of Rs 60 billion equity in the NIIF debt platform will help the fund to raise Rs 1.1 trillion by 2025 for financing infrastructure projects. He also praised the decision to extend the Emergency Credit Line Guarantee Scheme (ECLGS) for MSMEs, businesses, MUDRA borrowers and individuals taking loans for business purposes till March 31, 2021.
"The Production Linked Incentive (PLI) that has been offered to 10 champion sectors and Credit Guarantee Support Scheme for the healthcare sector and other 26 stressed sectors affected by the pandemic will help revive these industries and ensure their survival," he said.
Anuj Puri, Chairman, ANAROCK Property Consultants, termed the increase in the differential between circle rates and agreement value from 10 to 20 per cent under Section 43CA "a good move" as it would provide a major boost to residential demand with the onset of the festive season.
"For home buyers, it is a clear added financial benefit to round off the existing offers and discounts. Additionally, the consequential relief up to 20 per cent to buyers of these units under Section 56(2)(x) of the IT Act for the said period will boost demand, especially in the affordable and mid segments," said Puri.
"For developers, this move will help clear unsold stock. As per ANAROCK Research, there are approximately 545,000 unsold units across the top seven cities priced up to Rs 10.5 million while another 49,290 units priced between Rs 10.5 million to Rs 20.5 million," he added.
Puri welcomed the additional outlay of Rs 180 billion for the Pradhan Mantri Awas Yojana (PMAY-Urban) as a significant step towards fulfilling the Central Government's vision of housing for all by 2022. Pointing out that the additional outlay was over and above Rs 80 billion already spent this year, he said it would help 1.2 million houses to be grounded and 1.8 houses to be completed.
Ashoo Gupta, Partner, Shardul Amarchand Mangaldas and Co., said the announcements reiterated the Central Government's committed focus towards making affordable housing development a widespread reality in India over the next five to seven years.
"The Government's push by way of regulatory support and financial incentives to the key stakeholders such as single-window clearance and fast-tracking approvals, accelerating the pace of development of housing and related infrastructure development, creating rental and ownership housing, improving affordability by offering tax incentives to developers, lower stamp duty, interest subsidies to buyers, are steps in the right direction towards facilitating affordable housing segment to be at the epicentre of the real estate sector and provide housing to all sections of the society at affordable prices."
Arindam Guha, Partner, Leader Government & Public Services, Deloitte India, pointed out, "The total stimulus adds up to around 1.2 per cent of GDP and while some part of the SME liquidity support, etc. would be channelised through banks and NBFCs, there is a fair amount of direct funding support from the Central Government."
Guha suggested that with a significant quantum of support having been proposed through PLIs, this could additionally be funded through the additional taxes and levies collected on the incremental production by concerned companies.
"The design of the incentive schemes needs to keep in mind the differing sizes of manufacturers, ease of application or supporting documentation, facilitating the movement of stand-alone units to industrial clusters where they can leverage common facilities, etc," he said adding a word of caution.
While welcoming the additional equity contribution of Rs 60 billion for NIIF as a welcome step, he said the plan to raise Rs 950 billion of debt to fund the National Infrastructure Pipeline (NIP), including through corporate bonds was quite ambitious.
"This would require the active participation of pension and insurance funds as well as a bond market with adequate liquidity and depth and is likely to need a relook into the investment guidelines for pension and insurance funds as well as streamlining trading and settlement processes on bond trading platforms," surmised Guha.
- MANISH PANT
Related Stories