Pre-Engineered Buildings:Bright Future Ahead
01 Apr 2022
Long Read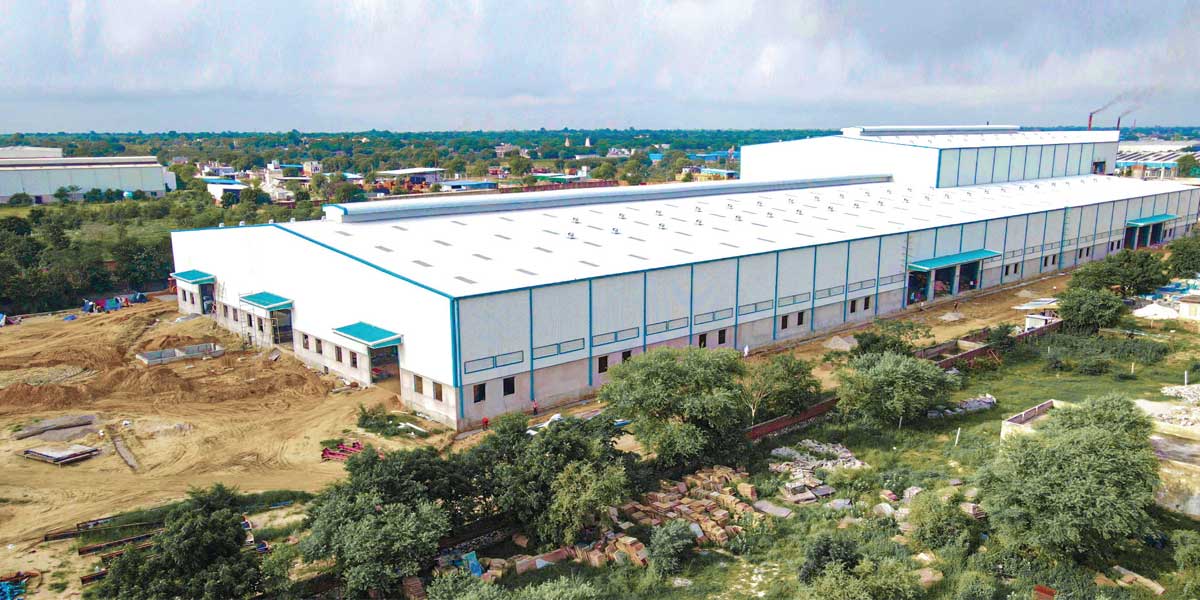 What steel is usually used for PEBs?
PEBs include built-up sections, hot-rolled sections, cold-formed sections and roof and wall sheets, explains Nikhil Bothra, Managing Director, EPACK Prefab.
Bothra elucidates the kind of steel used for each of these sections:
Built-up sections for primary members like columns, rafters, mezzanine beams, joists, crane beams and brackets are usually made in ASTM A 570 (Grade 50) / IS: 2062 or equivalent steel with a minimum yield strength of 345 MPa.
Hot-rolled sections for primary members like bracings, framed openings, tie beams, sag rods, staircase members, handrails, cage ladders and walkway members are usually made in ASTM A 572 (Grade 36) / ASTM A36 / IS 4923 / IS 1161 or equivalent steel with a minimum yield strength of 245 MPa.
Cold-formed sections for secondary members like purlins and girts are usually made in ASTM 653 (Grade 50) / IS 811 or equivalent steel with a minimum yield strength of 345 MPa.
Roof and wall sheets are usually made in ASTM A 792 M / IS 15965 (Grade 550 MPa and 345 MPa) with a minimum yield strength of 550 MPa or 345 Mpa. These are usually pre-painted galvalume steel sheets with different types of top coatings – regular modified polyester, silicone modified polyester, super durable polyester and polyvinylidene difluoride. In many applications, bare galvalume steel sheets of the same grade are also used. These types of sheets are coated with weather protective coatings for its durability and wide acceptance.
"Mainframe members like columns, rafters, beams and joists are made of grade 50, minimum 345 MPa yield strength while cold form members like purlins and girts are made of high tensile 345 MPa minimum yield strength," says Manish Garg, CEO, Interarch Building Products. "The roof and wall cladding is made of cold-rolled, high tensile galvalume steel of grade 80, minimum 550 MPa yield strength."
What change are we seeing in the use of steel for PEBs?
PEBs typically used standard 345 MPa grade steel in the form of hot-rolled plates, coils and cold-rolled steel, says D Raju, Managing Director, Kirby Building Systems & Structures India. "However, the increasing popularity of PEBs across India for a wide range of applications has improved the availability of raw materials being locally manufactured in India by OEMs. The industry is now using higher grade 450 MPa steel for high-rise buildings and other structures as required while 345 MPa grade steel continues to be used for industrial and warehouse buildings. Steel makers are increasingly providing construction materials that enable energy-efficient and low carbon neutral buildings."
What are the biggest challenges facing the PEBs segment in India?
Limited know-how has restricted the adoption of PEBs in India, says Bothra. "People trust traditional construction more than PEBs since the latter concept is still new in India. However, government initiatives and other factors are contributing to the rise in the awareness of the benefits of PEBs, and so, their demand is set to rise. Most public buildings are pre-engineered and made of steel. Besides, traditional construction methods have not been successful in meeting the construction demands from logistics and warehousing sectors."
What factors encourage the use of prefabricated steel buildings?
Nest-In prefab construction is two to three times faster than conventional brick-and-mortar construction, says Ashish Anupam, Managing Director, Tata Steel Long Products. "It cuts down almost 70 per cent of the weight of traditional construction, as it requires less foundation, less waste disposal and redeployment costs. Nest-In structures also have a superior strength-to-weight ratio, which lends them a high tolerance to adverse weather conditions, strong winds, and earthquakes.
Nest-In has collaborated with IIT Hyderabad to provide structural stability certifications for its structures, which are designed for a life up to 50 years." Nest-In offers solutions for large infrastructure projects through HabiNest, a Light Gauge Steel Frame (LGSF) construction technology; modular solutions for sanitation through EzyNest modular toilets, portable cabins through MobiNest; and premium home solutions to retail customers through Nestudio, a premium PUF panel-based housing solution, adds Anupam.
"HabiNest buildings are constructed in almost one-third the time it takes for conventional construction and provide environmental savings in the range of 48-61 per cent over a range of lifecycle categories in comparison to similar brick-and-mortar structures," continues Anupam. "Nest-In has constructed a hostel complex spanning 14,000 sq ft and a medical college campus with G+3 buildings spanning 2.5 lakh sq ft for clients using LGSF technology."
Population explosion and the lack of space in urban areas will spur fast-paced vertical construction, says Bothra. "Constructing a multilevel structure demands the deployment of strong, lightweight materials. Steel allows the construction of large spans and lightweight structures by virtue of its high strength. PEB steel structures can withstand rough weather conditions like wind loads better than structurally rigid concrete. Also, steel is 100 per cent recyclable and therefore, does not deplete the environment."
How does the PEB industry in India compare with the market overseas?
Mature PEB markets in the Middle East and Europe are much ahead of India, opines Raju.
"The PEB industry took root in India in around 2000, while the Middle East saw its first PEBs 30 years prior to India and Europe saw the emergence of the PEB industry in the 1940s.
Mature markets use PEBs more innovatively than India. That said, India is now seeing the construction of not only warehouses but also complex industrial buildings and high-rise structures with PEB technology. Kirby India has ventured into the construction of commercial buildings either completely in steel or in a composite form that is slowly being accepted by developers in major cities across the country.
We are currently implementing a commercial office building of G+20 floors, and expect this trend to continue." Steel buildings engineered, manufactured and supplied by organised PEB players in India meet global standards, opines Garg. "Indian PEB offerings are at par with mature Middle Eastern markets. Europe generally does not utilise pre-engineered buildings and mainly uses steel construction."
What regions in India are ahead in the PEB adoption curve?
As the desire for eco-friendly buildings increases, the usage of pre-fabricated steel structures has become a prominent and most convenient construction method in India, observes VR Sharma, Managing Director, Jindal Steel and Power. "In addition to allowing construction in an eco-friendly manner, the pre-fabricated steel structure provides flexibility in building designs and helps speedy execution with minimal manpower. We have witnessed a shift to structural steel based construction methods in Andhra Pradesh, Telangana, Tamil Nadu, Karnataka, Haryana and Delhi majorly due to a shortage of workers and scarcity of construction materials. We see such trends in Noida also. The rest of India will eventually follow. In the coming decade, I foresee the widespread adoption of steel structures as a major construction material in buildings and housing.