Automation is the top priority in all our plants
01 Jun 2022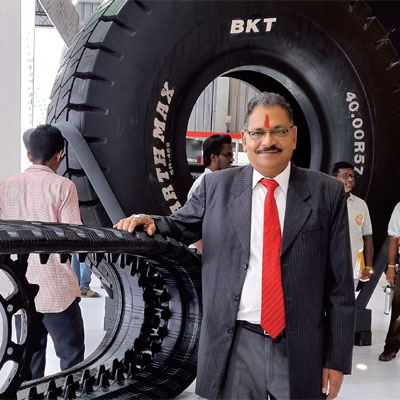 India has done a marvelous job in road building and irrigation, which is opening new doors for infrastructure equipment. Ashok Chhajer, Senior General Manager, OE Sales, Balkrishna Industries (BKT), shares how all these initiatives have been boosting sales.
At EXCON: It is an excellent platform to connect with customers – both current and prospective. We hope the young generation from the college come and develop curiosity about these types of equipment and end up taking up careers that help in building and boosting skilled human resources for the future.
On display: This time, we have showcased some of its finest tires for construction and earthmoving equipment namely the E4 EARTHMAX SR468 TL and L5 EARTHMAX SR53 TL. Along with the newly introduced rubber tracks for the compact track loaders. BKT is the first company in India to have designed and indigenously developed rubber tracks for agricultural applications, which we introduced in the year 2021, and for construction equipment, introduced recently in 2022.
Addressing customer needs: Being a global company, we do not look at what is going to be beneficial for either our Indian or global clients – we cater to everyone. We foresee the rubber tracks business to grow multifold and hence, have entered into agriculture and construction, simultaneously.
Harnessing technology: Automation is top priority in all our plants, which emphasises technological upgradation of existing equipment and installation of automated material handling systems. It improves efficiency and product quality, and in the long term, it pays off.
Areas of opportunity: Gati Shakti and Make in India are some fantastic initiatives by the Government of India. We are already doing well in the mining sector allowing us to keep expanding our range – such as the 240-tonne giant dump truck, the largest dump truck available in India.
The price rise challenge: Price rise is a challenge not only from the raw material cost perspective but also in inbound logistics as well as outbound logistics. It has impacted us too and has forced us to increase our prices.
Related Stories