Exclusive! World's largest passenger elevator is here in India
01 May 2022
Long Read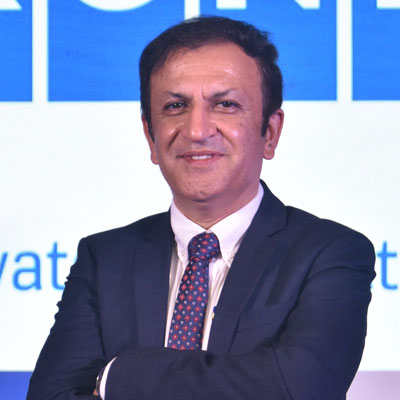 The world's largest passenger elevator has been launched, and it is in India! KONE recently officially announced the launch of this 16-tonne, five stop engineering marvel at the Jio World Centre in Mumbai, India. What's more, the centre is home to 188 world-class elevators and escalators installed by the company. The world's largest was carefully designed, built and tested for the most optimum people flow analysis, with high quality and safety aspects built in. During the launch in Mumbai, SHRIYAL SETHUMADHAVAN in a tête-à-tête with Amit Gossain, Managing Director, KONE Elevators India, delved into the company's focus, key offerings and growth predictions in the coming months.
What is the biggest technology innovation in the largest elevator?
Our customer Reliance wanted to ensure a smooth flow of people and goods at the world-class Jio World Centre. This was going to be a venue for weddings and some major brand launches. The idea was to design an elevator keeping in mind safety as well as the aesthetics. There should be some uniqueness and we created a marvel in this centre. This elevator was primarily designed based on the traffic and goods flow. The machine, designed by KONE and used in this elevator, has the capability to have an absolutely safe, experiential, tried and tested design globally.
How were the touchless elevators, launched during the pandemic, accepted by users?
The biggest launch was the KONE 24/7 Connected Services. Amid the pandemic, people realised that it was best to be safe and opted for this IoT-based, artificial intelligence, cloud connected service, which would enable them to fix problems and errors before they occurred. Our touchless solutions continue to be popular and digitally connected elevators too. There is music, the lights can be changed, and these are digitally automated 24/7, which means these are constantly being monitored and that is important. While the touchless solutions grew popular, the 24/7 Connected Services took off at a greater pace because the bigger question was a solution for the existing equipment. Our service portfolio is huge, which led to immense demand and everybody wanting to pay extra and having it installed.
Tell us about the success of the first digitally connected elevators - the KONE DX Class Elevators.
The demand is evident. But at the moment, this offering is not localised enough for the India market, and this will be achieved in the next two to three months. There is a definite pull from the market for new elevators. However, for the existing elevators, not all features can be added instantly, apart from the 24/7 connected services.
What is the digital technology transformation that the brand is looking forward to in the future?
Sustainability and innovation are our priority. We innovate every day, but what we need to consider is the unique designs that the customer likes. In the larger and taller buildings in India, the preference and demand are for elegant-looking elevators. Also, independent bungalows, which have three to four floors, demand an elevator that is supported by a security system, as that is the first point of entry for the house. To secure the house, a code is built into the elevators, and the door directly opens to the house itself. But to plan all of this, we become a consultant to our customers to identify their requirements.
The increase in commodity prices has pushed up the cost of manufacturing...
The cost of manufacturing has gone up by about 20 per cent or higher. In the last two years, steel has witnessed price rise by about 70 per cent. And steel is one of the primary materials used in the production of elevators in India due to its solid rigidity. With an increase in cost of steel and cement, the cost of real estate properties has witnessed an increase in the cost too. While initially the customer would have been reluctant but they were equally aware of the scenario that has led to the price rise. The impact on our business has not been much. Our focus is on customer success and while we did increase prices, it was marginal and reasonable. Now, the question is do we see this cost coming down in future – I don't think so.
Your views on the need for a Lift Act to be implemented in all the states as a means to ensure basic safety standards.
This is extremely important! A new standard is being introduced to ensure safety and quality of elevators across India. The Lift Act is important, and it has already been outlined in states including Maharashtra, Haryana, and Madhya Pradesh. At the same time, there are several states that do not have a Lift Act and there are no minimum safety standards in elevators. This can result into several safety and quality issues. At KONE elevators, all our offerings are automated to address safety concerns. It is critical that the Government mandates the Lift Act to be adopted by states.
How can companies like KONE India support in bringing in such regulatory measures?
Currently, our technology team is working on the new standards for India. However, its adoption lies in the hands of the Central and the state governments. Bringing in such standards could lead to rise in cost but there would be absolute assurance in terms of safety. While travelling in an elevator, one would be fearless with the confidence that minimum standard has been considered and it is not going to break down.
How do you see metro-rail projects providing a lucrative opportunity for KONE Elevators?
Speaking of metros, the biggest challenge is that the tender specifications are macro-based as well as the costing. Some selective specifications have to be met, and we are not allowed to cut down corners. Globally some countries do it differently – they consider ratings, safety standards, better specifications, followed by the advantage of price. But in India, it comes to L1.
Any specific sector where you see maximum demand coming for KONE Elevators now?
With Housing for All, the residential buildings are our biggest segment. There has been demand from the luxury housing as well. In terms of market share, in the residential sector, we are the leaders. However, most important is that our customers see value. We measure success by our repeat customers. Service becomes important here as well. What the customer wants is the best elevator backed by the best service. We are present across segments and have the widest range of elevators – from small to the largest – is our unique proposition.
Even the most established brands do face challenges. Tell us the KONE story?
We identified one of the biggest challenges during the pandemic. KONE Elevators was among the first companies, at least in our industry, to go virtual. We did it as soon as COVID hit. And the challenge lies in constantly training manpower to ensure world-class offerings and service. Employee well-being is critical and we constantly work towards ensuring good health and safety of the employees.
How did the company perform in the last fiscal?
Our growth dipped about 30 per cent in 2020, but we revived in the pre-pandemic last year. The growth going forward depends on how the pandemic treats us. I am not even predicting what is going to happen next year. All I would say is that even a 10-15 per cent growth for last year is good, which we can achieve, but ultimately it all depends on the current situation and commodity prices.
Any plans to expand the manufacturing plant?
We had a major factory inauguration in 2019 and then were hit by the pandemic. At the moment, we have no plans for plant expansion. Market expansion is set to continue as we aim to only get closer to the customer.
What's coming up next for KONE?
This 16-tonne elevator, for sure, is the biggest that we have got for the year. We are also working on a lot of new products, which will be set for launch by 2022-23.
What's Trending!

Energy efficient solutions for greener buildings: the regenerative drive, standby solutions, and the revolutionary KONE UltraRope high-rise hoisting technology, which can cut the energy consumption of, for example, a 500-m elevator ride, by up to 15 per cent.
Advanced people flow solutions for smart building experience: touchless signalisation, car operating panel and landing call station, QR Code-based elevator call features.
KONE 24/7 Connected Services for intelligent predictive maintenance: connects elevators and escalators to KONE's cloud and uses AI-based analytics to identify any potential issues before they cause problems.
Elevator integrated service robots for smart facility management: KONE is the first in elevator industry to open its digital platform and APIs to the customers. This collaboration creates limitless possibilities such as touchless Elevator Call API, Service Robot API, Equipment Status API, Service Info API and many more.
KONE DX Class Series: the world's first digitally connected elevator series that creates a completely new kind of user experience by adding smart building solutions and services that make life even easier and more convenient for users.
Related Stories