Affordability + Quality
01 Nov 2020
Long Read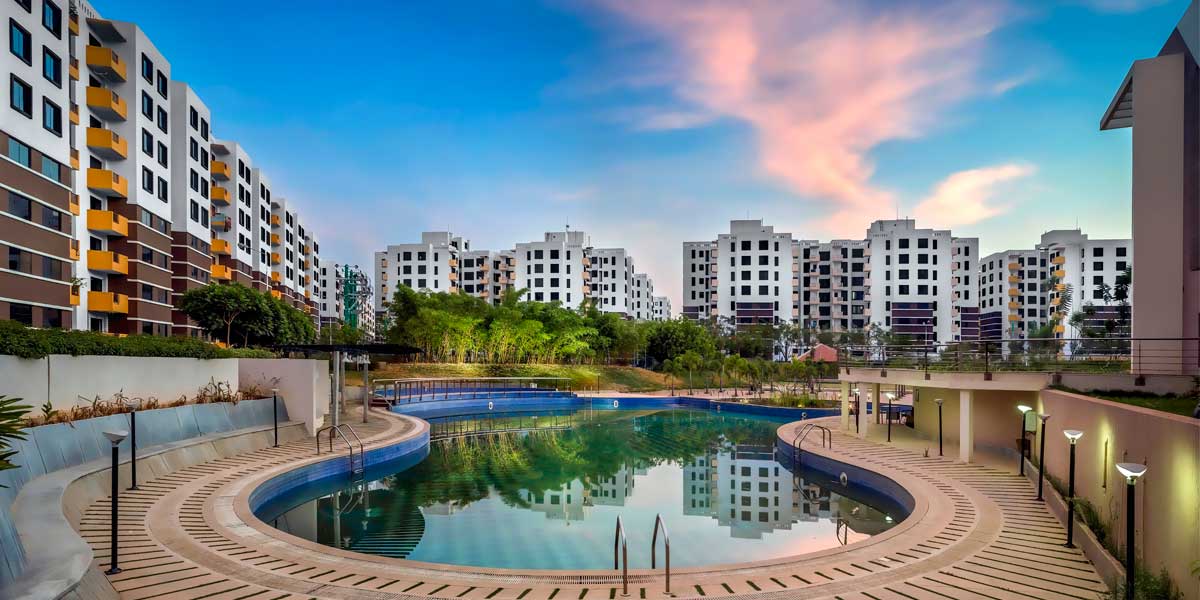 Five years after the implementation of the Housing for All by 2022 scheme, the Pradhan Mantri Awas Yojana (Urban) has made steady progress across states.
As Anuj Puri, Chairman, ANAROCK Property Consultants, tell us, "As in August 2020, a total of 1.06 crore homes had already been sanctioned in the country, of which 33 per cent or about 35.18 lakh homes have been completed while another 66.23 lakh units have been grounded for construction."
A sharp 180 per cent rise in project completions was seen between December 2018 and early August 2020, from 12.58 lakh homes completed in December 2018 to over 35.18 lakh homes in August 2020. "Of the total homes sanctioned, Andhra Pradesh has the highest number (20.16 lakh homes), followed by Uttar Pradesh with over 15.95 lakh homes and Maharashtra with over 12.34 lakh homes," says Puri. In terms of completion, he says Uttar Pradesh tops the list with more than 5.34 lakh homes already completed, followed by Gujarat with 4.22 lakh homes and Maharashtra with 3.44 lakh homes.
Impact 2020!
Like other industries, the Indian real-estate sector was also impacted by the COVID-19 crisis.v Initially, the real-estate purchase cycle hit a near 'pause' button across several markets and segments. "Beginning with initial phases of 'unlocking', we have seen a steady revival in demand," says
Amit Pal, Chief Projects Officer, Mahindra Happinest.
"At Mahindra Lifespace Developers (MLDL), we have witnessed demand from salaried employees, with many customers looking to upgrade to larger apartments." Mahindra Happinest—MLDL's affordable housing brand—has performed well despite the pandemic, with limited inventory left. For instance, over 1,000 units were sold at Mahindra Happinest project in Kalyan within nine months of its launch, of which four months were in lockdown. Similarly, notwithstanding the lockdown, the company sold more than 300 homes entirely digitally within only three weeks of launch at Happinest Palghar in the Mumbai Metropolitan Region (MMR). "The pandemic has accelerated the adoption of technology, be it in construction or sales. We are on track with our plans for project launches and land acquisitions in the fiscal," adds Pal.
"Construction activity was halted during lockdown," says Rishi Jain, Managing Director, Jain Group. "Post lockdown, the cost of steel and cement increased and the availability of construction labour went down. This has not only increased the cost of construction for developers but caused delays in project completions." After the lockdown, Jain Group started seeing positive outcomes with its several lucrative offerings.
"Availability of affordable housing is critical to the real-estate sector's reinvigoration," says Rakesh Reddy, Director, Aparna Constructions & Estates. "With its infrastructure status and the Government's support, this is the most incentivised segment. Attracted by growing job opportunities in Hyderabad, demand for affordable housing has increased."
For Abhishek Kapoor, COO - Residential, Puravankara, "The pandemic gave us ample time to brainstorm and identify key aspects of our practices and designs that would need new interventions.
Once the restrictions were eased, we immediately resumed construction in compliance with all the operating procedures put in place." Despite the hurdles brought upon by the pandemic, Puravankara's projects are running on schedule as per the revised RERA deadlines.
Reducing time and cost of construction
Affordable projects are disproportionately impacted by timeline delays or rise in construction costs. The use of innovative construction technology and building materials and ready-to-fit techniques can enhance quality, improve speed and reduce waste.
The construction area and saleable area ratio is an important aspect to define affordability of a project. The floor plate has to be big enough to ensure utilisation of the available FSI with minimum construction area, says Architect Gaurav Sanghavi, Co-Founder, Pentaspace Design Studio.
"Standardisation of building typologies and modularity in terms of details help reduce cost. An in- house RMC plant and quality check can also control cost. Fly-ash bricks can be used for block work, adding to the green component of the project."
According to Jain, "The basis of sustainable construction should be 'concrete' using a lower amount of cement, more recycled materials, more supplementary cementitious materials, and new-generation ingredients to reduce water ingress and deterioration in concrete." This will ensure sustainable and economical construction by reducing associated repair, maintenance materials and costs. To ensure an eco-friendly environment, Jain Group has introduced 'Miyawaki' in its projects, which is a new- generation, cost-effective method.
Mahindra Happinest has adopted a hybrid approach. "We use aluminium formwork and cellular lightweight block for construction of core structures," says Pal. Cellular lightweight concrete (CLC) is an alternative to conventional bricks and concrete blocks, and facilitates easier handling and transportation. It has a density ranging between 600 kg and 700 kg per cu m and floats on water.
"These blocks are easier to lay and thus enable faster construction, in addition to their thermal insulation properties," he adds. "We also use portable modular or ready-to-fix components for standardisation and faster construction." Additionally, the company's projects are designed to reduce environmental impact and benefit end-user health. The focus is on reducing consumption of non- renewable resources; minimising waste; and developing healthy, productive environments. Also, designs optimise available natural daylight and wind and support the use of locally available materials.
As Aparna Constructions establishes itself in the affordable housing segment, Mivan technology will be put to its strongest test. "The state-of-the-art aluminium wall formwork offers higher efficiency, close to zero wastage, and a massive reduction in the skilled resources required for constructing the shell and core of the building," says Reddy.v Kapoor believes the pandemic has catalysed the adoption of technologies and there is now wider acceptance and reliance on them. "At Provident Housing, the affordable arm of Puravankara, we have constantly strived to revolutionise our construction practices, even before the outbreak," he shares. "We have adopted precast technology, an industrialised method of construction, which helps reduce dependency on labour requirements and increases efficiency to meet the mass demand for housing across India, while ensuring high quality in construction." The company's project Provident Sunworth was completed in 18 months using this technology. In addition, he believes several other tasks will see digitisation and automation. In land mapping, for example, technology has made it possible to survey land using drones. "We will continue to witness newer technologies such as 3-D printing, which are at their nascent stages, yet have the potential to disrupt old construction practices."
Ensuring affordable execution
In the planning, design and construction of affordable housing projects, how can companies ensure affordable execution?
Aparna Constructions has implemented backward integration. This entails vertical integration wherein the company has set up its own building material facilities to ensure a more reliable or cost- effective supply of inputs. Reddy says, "This strategy insulates the company from market cycles. It allows for more efficiency and control of the development ecosystem, and thus shields customers from elevated costs." Backward integration also ensures that projects are built to enhance the environment, not disturb it. The company conserves natural resources by optimising energy- efficiency, generating less waste and providing healthier spaces for residents. With this strategy, Aparna Constructions has established itself in industries including manufacturing of uPVC windows, sanitaryware, ready-mix concrete, brick making and tiles, with a greenfield manufacturing unit. For its part, Mahindra Happinest has adopted a manufacturing approach that involves converting the land (which is a raw material) into a finished product and selling it as soon as possible. The company has deployed digital, AI-powered project lifecycle management (PLM) solutions to streamline key stages in its construction project lifecycle, including budget management, planning, progress monitoring, quality control, safety and handovers. "This helps us ensure safety, environmental compliances and commercial discipline during the construction process, all of which add up to improved project execution efficiency," avers Pal. Also, by ensuring locally sourced construction materials, the company not only delivers projects faster and at lower costs, but also significantly reduces the environmental impact of construction activities.
Expediting the process
Developers are becoming increasingly inclined towards building affordable housing projects. "The recent announcement of an additional outlay of Rs 18,000 crore for the urban housing scheme will boost builder confidence and several projects will be able to resume and reach completion," Kapoor points out. "Moreover, with home loans at their decadal lowest and other incentives such as the reduction on the stamp duty in several states, the segment will witness demand. Real-estate companies are also giving additional benefits through discounts and ease of access to homebuyers through their digital footprint."
However, Reddy says, "The Government must streamline tax rates and minimise administrative barriers. This will ensure surplus funds in the hands of potential homebuyers, which will bolster consumer confidence and increase demand. The real-estate sector will benefit from revised income tax slabs that reduce overall tax expenditure. This will enhance the ability of the salaried class to invest in affordable housing. Expanding the availability of income-tax deductions for homebuyers can incentivise new buyers." He further adds that lowering the GST for affordable housing projects can bring them within the reach of a wider audience. "The Government should also relook at rationalising the GST rates levied on construction materials. This will bring down the burden of construction cost and have a positive impact on overall pricing."
Sanghavi adds, "Providing cheaper land banks for affordable homes and income-tax benefits for developers opting for affordable schemes are key factors that need to be reviewed to achieve the goal."
For his part, Pal recommends, "A fast-tracked approval process for affordable projects; interest subsidies on FSI charges; further rationalisation of stamp duties and registration charges; and rebates on construction materials can add further impetus to growth in the segment."
Affordable update!
The construction timeframe of an affordable housing project depends on its scale. "For optimal profitability and viability, any phase of development should be completed from planning to execution in 24-30 months," says
Architect Gaurav Sanghavi, Co-Founder, Pentaspace Design Studio.
"A detailed market survey to understand the customer profile and requirement should be captured in the design brief on Day 1. If the data is netted correctly, project delays owing to design intervention at a later date can be avoided."
Till date, Puravankara has launched over 20 million sq ft of affordable housing projects, of which close to 10 million sq ft have been completed and delivered to over 26,000 happy and satisfied homeowners. "The average selling price stands at about Rs 4,000 per sq ft," says Abhishek Kapoor, COO - Residential, Puravankara.
Mahindra Happinest has four ongoing projects in India, with three in MMR (Happinest Kalyan, Happinest Palghar and Happinest Boisar), and one in Chennai (Happinest Avadi). "Mahindra Happinest homes are priced between approximately Rs 3,500 and Rs 6,500 per sq ft," says Amit Pal, Chief Projects Officer, Mahindra Happinest.
And Rishi Jain, Managing Director, Jain Group, updates, "The company has delivered 17 affordable housing projects totalling 3.5 million sq ft at an average selling price of Rs 2,500 per sq ft."
Architect's take!
Architect Gaurav Sanghavi, Co-Founder, Pentaspace Design Studio,
elaborates upon how an architect can contribute to making an affordable housing project truly affordable:   Right from the planning stage, one needs to incorporate elevation features and finishing material and identify the areas to be highlighted.
Efficient structural girds should be worked on keeping in mind parking on the ground floor. The structure should be kept as lean as possible to avoid floating of columns to minimise cost of construction.
For natural ventilation, create a design to incorporate ample light and free-flowing breeze. Simply maximising windows in habitable spaces while leaving the non-habitable spaces towards the inside can create a huge impact. To maximise external light and ventilation in all the habitable rooms, non-habitable spaces such as toilets should be taken on the inside with internal ducts. A well-designed open lobby area can allow the building to breathe.
Slight change in designing the facade can help change the complete look of the building. Recessed windows help maximise shade on the opening, bringing in light but cutting off heat.  Affordability means efficient use of resource optimisation of aperture sizes by maintaining the window and wall ratio to 50:50. As the sill heights of the windows are increased, the cost of the aluminium, glass and the railings reduces.
Cutting cost in areas that do not require spending, like using kota in the stairwell from the first floor as well as the lift lobbies of the upper floor, gives an opportunity to reduce cost and increase the spend in areas like the ground floor lobby. Instead of using MS railing on the staircase, RCC pardi can be cast to further reduce cost.
As these projects do not have ground space, we give amenities across the building and on the terrace. We can create activity spaces around the staircase well and landing like a wall library, art wall, chalkboard on the wall and puzzle wall for the children to use and have community sit-out spaces, a gazebo and jogging or walking track on the terrace.
- SHRIYAL SETHUMADHAVAN
Related Stories