Window to a COVID-Contained World
01 Nov 2020
Long Read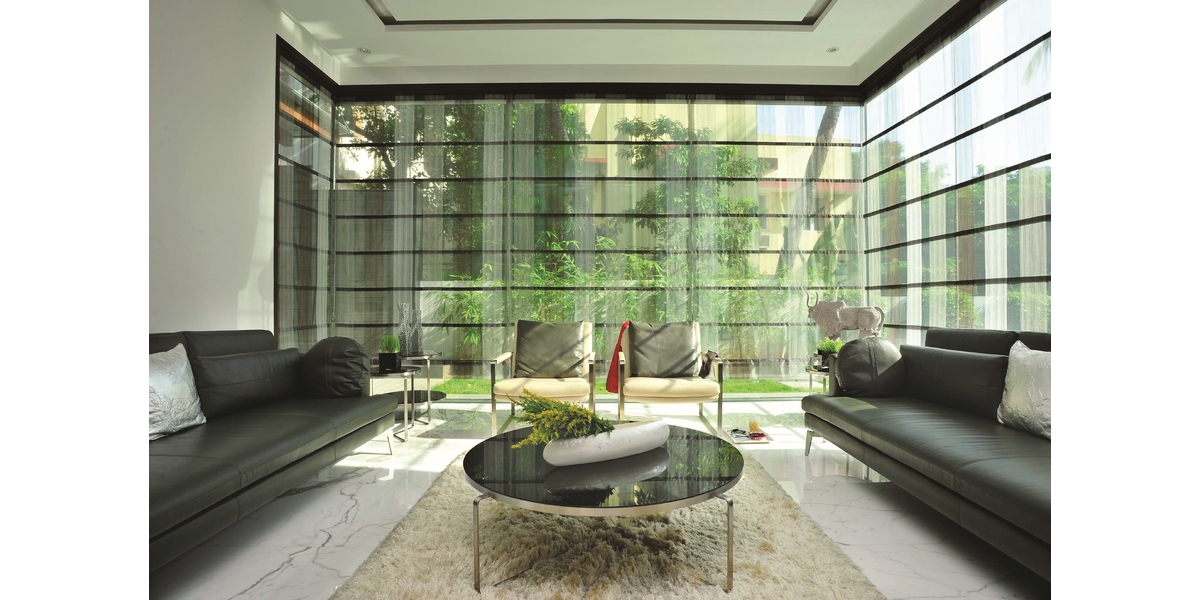 The Indian windows and doors market is worth around Rs 14,000-15,000 crore, according to an estimate cited by Avanish Visen, CEO, DCJ Group. Of this, unplasticized polyvinyl chloride (uPVC) profiles enjoy a market share of 8-10 per cent on the back of strong demand from rapid urbanisation, growth in high and medium-end residential units and hotels in metro cities, and the increased adoption of eco-friendly and energy-conserving products to comply with the Government's espousal of the Energy Conservation Building Code.
Ken Research expects the share of uPVC to grow by 30 per cent over the next 10 to 15 years, driven by new and replacement sales, largely for high-rise apartments in expanding metro cities. In the near term, however, the market is focusing on recovery after the pandemic. While the fenestration industry is yet to regain its pre-lockdown pace, voices across the industry report that it is catching up fast.
The good, the bad
One concern is that having just about rebuilt a smooth supply chain, raw materials, such as uPVC, steel, glass and ethylene propylene diene monomer (EPDM) gaskets, are witnessing a significant price increase at a time when demand is low and consumers expect price cuts, according to
Mario Schmidt, Managing Director, Lingel Windows and Doors Technologies
. "This is a global phenomenon."
The positive is that staying at home during successive lockdowns has put the spotlight on home renovations and doing up and moving into new owned homes.
  So, what products are bouncing back? What's hot?
Of Schueco's wide, versatile product range, its AS 39 SC.NI sliding door and AW 40.NI window, which are designed especially for the tropical climatic conditions seen in India, are in great demand, shares Pratik Doshi, National Manages, Facades, Schueco.
These products are part of Schueco's TropTec™ range of products, a "non-insulated" range compared to the systems designed for the extreme cold climatic conditions seen in the West.
"With TropTec™, users get the dual benefits of American and European standards for challenging heat, dust, smog and rain conditions at an optimised cost," observes Doshi.
Koemmerling's most popular products are casement and sliding windows and doors, says Farid Khan, Director & CEO, profine India Window Technology. "Casement windows and doors offer the best thermal insulation, sound insulation and waterproofing, providing great relief in harsh weather conditions, while sliding doors and windows offer panoramic, unobstructed outside views. Sliding doors can also be used as partitions; they are useful in conservatories and conference rooms and popular in hotels."
Fenesta has seen a rising preference for large-sized sliding doors, especially lift and slide doors with threshold sliders, shares Saket Jain, Business Head, Fenesta. "Sliding doors offer panoramic views, thereby enhancing inner spaciousness and light and offering unhindered access, and they don't take up too much space. Sliders can also be used as an architectural feature as they improve the elevation of the house." 
Doors and windows with better airtightness and sound insulation for pollution-free and noise- proof interiors, which are aesthetically pleasing and have large panes of glass, are becoming popular as people have realised the importance of being connected to the external environment while remaining indoors, says Vikram Khanna, COO – Consumer Glass, COO – Architectural Institutional Business, CMO, CIO, Asahi India Glass (AIS). He expects this trend to continue.
India is traditionally a market of casement doors and windows, wooden and steel doors with windows being the casement type, observes Khanna. "However, with the advent of well- engineered windows, slider windows are becoming a popular type with mass appeal. Where people want to differentiate they are looking for advanced solutions like tall casement doors, doors and windows with minimal profile sightline, lift and slide and slide and fold, pivot window, tilt and turn, etc."
Aluminium on the emergence
Demand for aluminium doors and windows is catching up fast, points out Khanna. He expects aluminium as a substrate to rule in the premium segment and uPVC to limit itself to the essential segment.
"Growing awareness has pushed the trend for premium aluminium," agrees Schmidt. "Lingel ALU 6.0 is gaining popularity after uPVC. ALU 6.0 offers endless options, such as pergolas, awnings, skylights and glass conservatories."
AIS's window product offerings in aluminium include sliding doors, glass to glass joint windows, slide and fold doors, tilt and turn windows and sliding windows with slim interlock top hung windows, in various design and colour options with anodised, powder-coated and wooden finishes.
Fenesta's new product ranges like environment-friendly hybrid polymer internal doors and ultra- luxury aluminium windows and doors are getting a lot of traction in the market. Fenesta aluminium windows and doors come in various styles, ranging from casement and tilt and turn to sliding windows, and feature slimmer frames and bigger sizes with more glass area. Jain reports that the renovation trend has picked up  well and the brand is seeing many return customers.
What's new?
Koemmerling has recently launched a new casement window series, the grill mesh casement system and a burglar-proof window option with a metal grill and mosquito net, for independent houses and apartments. It is available in both white and wood finish shades.
"With more people preferring to stay indoors, safety has assumed greater importance as have proper air circulation and ventilation," opines Jain. Consequently, consumers are more open to purchasing quality windows and doors meeting these needs.
Lingel has introduced security windows involving the right combination of glazing, hardware and locking system. For instance, it offers the LPG 14 Lingel Panzer Glazing 14-mm multilayer security glass or the LPG 18 Lingel Panzer Glazing 18-mm superior performance glass, and the Lingel Safety Box 2, Lingel's highest point of locking security, and additionally, a mortise locking system.
Future trends
In future, Jain expects large windows to trend for offering natural light, natural ventilation and views. He also expects to see a greater variety of windows being used, and for casement windows to gain in popularity for ensuring maximum ventilation, high insulation against noise, dust and outdoor pollutants, and allowing the controlled expulsion of air.
Rupesh Baid, Principal Architect, AND Design Co, expects big windows and openings to be encouraged in collaboration zones for good access to sunlight where viruses do not live as long. In terms of material preferences, he expects to see the greater use of healthy building materials, including fabrics and materials with interwoven antimicrobial properties; improved ventilation systems, including building HVAC systems with heavier filtration or using more external air; and UV lights for sterilising spaces.
Smart windows/windows based on Internet of Things (IOT) are far from being extremely popular but they will start gaining momentum and demand will grow rapidly as the balance between price and functionality is reached, adds Khanna.
Cheers to that!
Digitalisation: The need of the hour
A big learning from the pandemic has been that digitisation is no longer optional; it has become a critical need in a scenario where physical interactions will continue to be extremely limited and remote access will be the order of the day, says
Vikram Khanna, COO – Consumer Glass, COO – Architectural Institutional Business, CMO, CIO, Asahi India Glass (AIS).
"Traditional markets will not prevail for a long time, so holistic e-marketplaces will become an important way for manufacturers to reach out to potential customers."
India's first experience centre for glass and fenestrations by AIS gives visitors an in-depth understanding of AIS's different glazing options, framing materials, and the mechanism behind each that makes it highly functional. A 'Walk the Experience' app lets visitors scan QR codes displayed on door and window models for extensive information about the specific product.
Encraft has developed a virtual showroom using advanced 3D technology and virtual reality to enable customers to see the showroom, colour palettes and window functionality from the comfort of their homes, and supplements this with video calls to better understand their requirements.
Is there any such thing as a healthy building material?
Vikram Khanna, COO – Consumer Glass, COO – Architectural Institutional Business, CMO, CIO, Asahi India Glass (AIS), expects demand for new products with anti-bacterial and/or anti-fungal features to catch up soon, and push the development of products addressing the requirement of containing the risk of infection.
Rupesh Baid, Principal Architect, AND Design Co, expects antimicrobial technology to be seen in interior components like fixtures, window shades, paint and entryway equipment by applying coatings that work to shield them from duplicating bacteria. 
The big question is, how safe are these products?
Akshat Bhatt, Principal Architect, Architecture Discipline, is sceptical about the protective effect of products with surfaces marketed as anti-bacterial, pointing out that there is a difference between bacteria and viruses, and that while no material is more hygienic than copper, steel or brass, surfaces made of these or other materials still need to be cleaned often enough. "A lot of what is being said in the industry about products with surfaces marketed as anti-bacterial is opportunistic," he says. "Architects and professionals must learn to evaluate products for their genuine merit."
A genuinely useful product is the touchless access system. While these have been around for some years as an option for convenience, they have now attracted attention for being a more hygienic option and avoiding the chance of contamination from touching critical components like handles, points out Bhatt.
Baid, too, expects touch-free technology to become increasingly popular to manage the challenges associated with the risk of contagion. He expects entry points to premises, elevators, lobbies, meeting rooms and restrooms to be enabled by smart, contactless access systems and, in some cases, facial recognition systems.
Better ventilation
Filtration at doors and windows has always been an option but not been prioritised; this may change now, opines
Akshat Bhatt, Principal Architect, Architecture Discipline.
Mario Schmidt, Managing Director, Lingel Windows and Doors Technologies, recommends the use of fresh air devices allowing a predefined amount of air to enter per hour, and centralised air purifier systems. "A person needs 300 cu ft of fresh air per hour and per room," he says. "In offices, air must circulate at least six times in one hour."
Schueco's VentoFrame is a window ventilator integrated in the outer frame profile, where it is almost fully concealed, for healthy, mould-free interiors, explains Pratik Doshi, National Manages, Facades, Schueco. Its self-regulating outer flap allows it to react independently to changes in wind pressure on and around the building, ensuring a continuous exchange of air without troublesome draughts. It is ideal where the air exchanging through leaks such as joints does not fully meet the building's fresh air requirement. It is a modular and, hence, flexible solution, which may be duplicated across the building to ensure operator-independent, controlled air exchange adapted to the need.
Bhatt sees scope for filtration systems to be produced at scale to lower their cost and spur their adoption. Drop seals for doors and windows will become important; essentially, how we operate them will matter. Double airlock entry doors and windows will reduce the cost of air- conditioning by keeping interior spaces cool.
- CHARU BHARI