Calling all architects to conceptualise smart homes!
01 Aug 2021
Long Read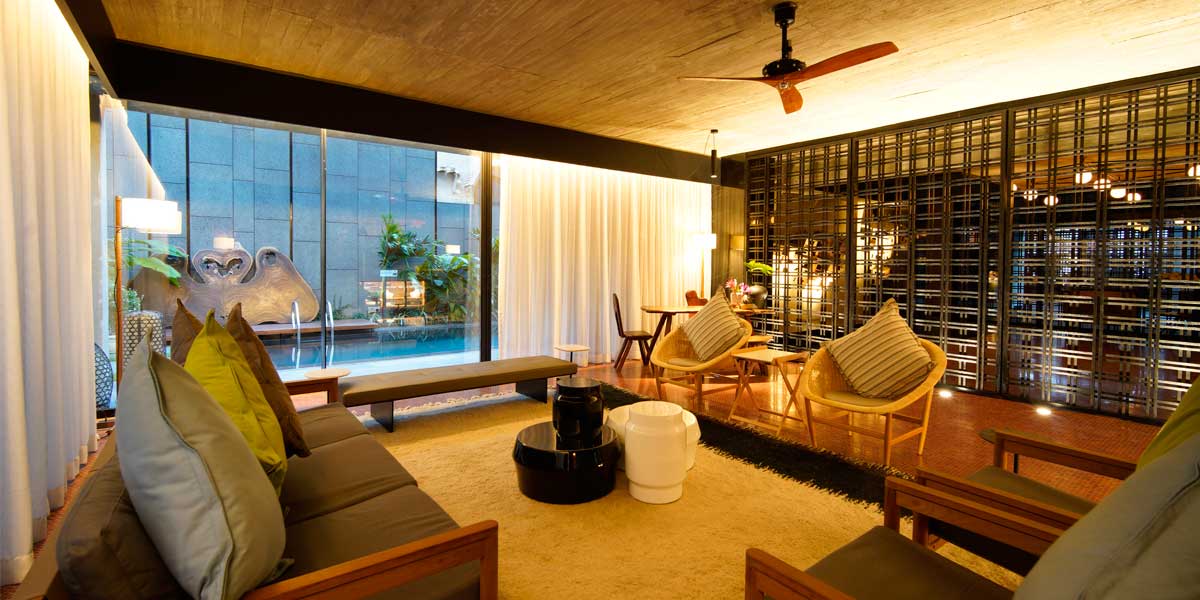 Smartness is a given in the ultra-luxury home segment. But for smart homes to really take off, the concept must make inroads into other segments. What would that take?
"I don't expect smartness to filter down to affordable homes anytime soon," says CN Raghavendran, Partner, CR Narayana Rao Architects. "But its adoption in the mid-range segment is imminent. It is up to architects to educate builders and potential users about the advantages, whether it is the savings on utility bills or the comfort and convenience of living in a smart home. We don't have enough stock for people to experience smart homes; reading about it doesn't help. Until people experience the benefits of smartness, the concept will have limited takers."
The architect can help identify all the activities a smart home user would want to control during the life of the building, according to Rahul Kumar, Principal Architect, Rajinder Kumar & Associates. "Through smart designs, imagining the lifestyle of the user, one can suggest integrated solutions that allow the programming of environments for a more user-friendly experience with technology rather than control individual disciplines."
Creating awareness is followed by planning and conceptualisation, both of which are more broad-based than design, which typically starts with the customer's preferences.
"Home smartness goes beyond the design aspect; creating the perfect smart home necessitates effectively 'marrying' form and function and this is what architects do starting from the project conceptualisation stage," says Dr Niranjan Hiranandani, Managing Dircetor, Hiranandani Group.
This can be challenging because as Abhishek Kapoor, CEO, Puravankara, says, "In design, the component of technology is often veiled." But it is up to architects to "experiment with control panels, manage environmental conditions, play around with light automation and adjust temperature to make buildings intelligent and even responsive, paving the way to improved performance in the building or facility," elucidates Alok Hada, Director, Anusha Technovision.
Hot smart technologies
What smart home technologies are customers looking for?
Santhosh Kumar, Vice Chairman, Anarock Property Consultants, lists high-speed Internet, smart home systems that control heat, humidity, lighting and security via smartphones, and high-tech fitness centres with Fitbit integration and Bluetooth connections. Some other popular digital amenities include digitally enabled security cameras, secure access via keyless entry with special codes for guests and online rent payments and automated maintenance request system.
"Safety solutions, smart surveillance, smart entertainment (voice-driven TVs, speakers and consoles), and voice assistant technology for remote control," lists Harshavardhan Neotia, Chairman, Ambuja Neotia Group. "A lack of entertainment-based features can be a deal-breaker in a smart home. Buyers today prefer Wi-Fi technology for hub-free connectivity as well as Wi-Fi mesh technology to connect multiple IoT [Internet of Things] products."
IoT, artificial intelligence (AI) and machine learning are among the technologies included in smart homes to facilitate automation and access control, and for safety and comfort, says Dr Hiranandani. "Smart home features can be inbuilt or customised as per the buyer's wish. Smartness must be extended to the common spaces in the building."
Some popular technologies are lights with motion sensors, biometric security, voice-controlled assistants and automated thermostats, adds Kapoor.
Communication networks that connect different electronic appliances, lighting, home security systems and thermostats, and allow these to be controlled remotely through a smartphone, a central hub or by voice, are popular home automation technologies, says Hada. "Auto timers, occupancy sensors, etc, help save energy and make life more comfortable and convenient."
Going forward, Raghavendran sees awareness and demand growing for smartness extending beyond home lighting, air-conditioning, security and entertainment, to curtains, water supply and heating and even household gadgets. All these aspects can be programmed and integrated with a smart home controller.
Pandemic impact
COVID-19 has created awareness of hygiene, cleanliness and the luxury of privacy and independence, observes
Spoorthi S Narayan, Associate Architect, Morphogenesis
. "People living in high-density apartments are rethinking building independent resilient 'pandemic-safe' homes. Touch-free, sensor-based appliances/fixtures, technologies enabling the automated sanitisation of frequently touched surfaces and common bathrooms and smart design are in demand. For example, a semi-outdoor foyer could integrate a disinfecting room/clean room containing a glass box for individuals to pass through."
The pandemic has brought into sharp focus the advantages of living in a smart home. It is no longer seen only as a luxury add-on, even buyers of mid-range homes now are opting for smart homes for being safer, opines Dr Hiranandani.
COVID-19 has pushed demand for contactless technology, which is easy to operate and is hygienic, adds Hada. As homes convert from just a comfort shell to entertainment areas, there is an inclination towards learning robots, smart HVAC systems, and lighting and climate control innovations.
The pandemic ushered in work from home, which, in turn, ushered in multitasking, and this desire to do more with your time could spur demand for automation, suggests Raghavendran.
Indeed, things are definitely looking up in the smart home space. On the back of improved lifestyles and a surge in touch-free automation awareness, Neotia believes smart homes will become the default choice of homebuyers in the near future.
"There is a growing awareness that smart homes make smart thinking," concludes Raghavendran. "The next generation will not accept a home that isn't smart!"
Vernacular Smartness
"A smart home need not necessarily be technology-driven and IT/AI integrated," says
Spoorthi S Narayan, Associate Architect, Morphogenesis.
"It starts with the organisational principles of passive design and intelligent strategies that can be inspired from vernacular architecture. Old Indian homes have always been smart in responding to climate, context and culture. Whether it is the use of locally available materials or construction methodologies, there's a lot to learn from old Indian homes. We need to extend this ingenuity by integrating vernacular principles with technology. A secondary layer of home automation would further enhance the smartness of a home."
The price of smartness
A mid-segment smart home could cost anywhere between Rs 6 lakh and Rs 20 lakh more than a home of the same size that isn't smart, says
CN Raghavendran, Partner, CR Narayana Rao Architects.
"It means nothing when you compare it with what you pay and what you experience. And if you plan for smartness in advance, you save on the cost of implementation."
"At Puravankara, intelligent elements are perceived at the design and construction stage of the property, which helps minimise the cost of installation," agrees Abhishek Kapoor, CEO, Puravankara.
"Builders can also gain a cost advantage from implementing volumes," adds Raghavendran.
If you compare a home in a smart project with a similar sized one in an almost similar project in a micro-market with similar price-point trends, the difference works out to between 3 and 5 per cent, estimates Dr Niranjan Hiranandani, Managing Director, Hiranandani Group. "The actual difference depends on the level of 'smart' features. The price-point of a smart home is worked out in the same manner as other homes; the calculation includes all the amenities and features, including those that make it 'smart'."
Home developers levy extra charges for automation technology depending on what's on the plate, the quality of automation, the features being offered, the size of the home, and other factors, according to Alok Hada, Director, Anusha Technovision.
Tech-based amenities come at a price, with the premium largely depending on the facilities being offered, and including both a higher upfront price as well as higher maintenance charges, observes Santhosh Kumar, Vice Chairman, Anarock Property Consultants.
As technology tends to get outdated quite soon making smart gadgets or appliances obsolete, Kumar proposes that real-estate developers ensure that these digital amenities come with an in-built capability to update their technology components.
The biggest smart home market is in…
Smart homes are following conventional real-estate trends, which usually begin in metros, then move into Tier-1 and Tier-2 cities, and then to other segments of micro markets, observes Dr Niranjan Hiranandani, Managing Director, Hiranandani Group.
Pune, Delhi, Mumbai, Hyderabad, Ahmedabad, Bengaluru and Chennai have the largest concentrations of smart homes in India, according to Abhishek Kapoor, CEO, Puravankara. "Pune, with its IT hubs and tech-savvy, smart homebuyers and enhanced tech intensity and affordability, is the biggest market, accounting for close to 15 per cent of the space."
IT-driven cities such as Bengaluru, Pune, Hyderabad and even the Mumbai Metropolitan Region (MMR) are seeing the greatest development of smart homes, mainly because housing demand in those cities is largely driven by tech-savvy individuals, adds Santhosh Kumar, Vice Chairman, Anarock Property Consultants.
"Pune, Delhi, Mumbai, Hyderabad, Ahmedabad, Bengaluru, Chennai, Jaipur, Kolkata and Ludhiana are leading the home automation market because of the availability of budget-friendly home automation solutions at a low cost, and the rise in crime rates, which has propelled demand for video surveillance-based security solutions that are integrated with real-time analytics," explains Alok Hada, Director, Anusha Technovision.
In metro cities, millennials and working couples with dual incomes are driving demand for smart homes, shares Harshavardhan Neotia, Chairman, Ambuja Neotia Group. "Builders get better sales velocity in these segments if they offer smart homes."
In integrated townships, smart home features are "expected" and considered a desirable part of the overall product offering, he adds.
Image: ATPL
- CHARU BAHRI
Related Stories