How elevators for tall buildings can be improved
01 Aug 2022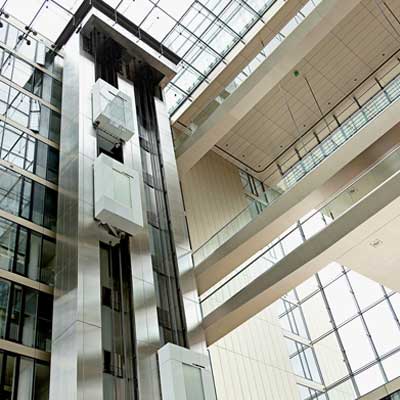 Manish Mehan, Managing Director and CEO, TK Elevators India elaborates on the technical improvements required for elevators in high rises.
India, the second most populated country globally, is presently witnessing a scarcity of land. Continuous migration to metropolitans, insufficient space, and dense cities have resulted in congestion, making high-rises a necessity and a practical way to meet the growing needs of expanding cities. With this rising demand, there has been an equal need for advances in the elevator industry for feasible and hassle-free circulation. However, despite its rapid development, there are also challenges faced frequently. Here they are with technical improvements for the same.
Common challenges
The major impediment in the high-rise elevator segment is that despite being a fastest growing segment, it isn't the most high-tech. The number of high-rises built is relatively small in India, and the elevators they are supplied with generally have low speeds and less sophisticated control systems.
Even though newer societies may install modern lifts, maintenance is lacking. They also change their leadership yearly, which creates continuity problems.
Furthermore, each state has a different agency regulating the elevator segment. Almost two-thirds of the country lacks legislations for proper installation and maintenance of lifts. A uniform Lift Act could push towards improved product safety using new technologies and also optimise on development, manufacturing and installation costs.
CImprovements to tackle the hurdles
High-rise elevator systems demand meticulous and impartial capacity analysis and detailed simulations. The building requirements and its peak demands need to be correctly modelled, with elevator configurations and physical and dynamic zoning pre-determined. Choosing the right group control system, group sizing, elevator capacity and nominal speed all play a vital role.
For instance, TK Elevator's Destination Selection Control (DSC) technology, AGILE, transforms an elevator system into a seamless mobility ecosystem, enhanced to make them intelligent, efficient, and making transportation intuitive. When a destination is chosen at the terminal on the landing, the intelligent dispatching software then analyses the request, gauges traffic demand and groups passengers based on their destinations, which saves waiting and travelling times.
Elevator system logistics and technology is frequently underestimated in high-rises. The elevator core forms the building's load-bearing structure – a factor determined early in the design process. This demands logistical and planning insight, extensive expertise and experience, and the application of correct safety margins.
A variety of additional technical measures are required to ensure safety and comfort within the car at high speeds. High operating demands are placed on the suspension, track and guidance systems, and transmission and control systems. The group control system's quality and effectiveness of its AI algorithms determine transportation efficiency of the elevator system. Issues in these lead to increased costs proportionally.
TK Elevator has launched the industry's first IoT based preventive maintenance solution for high-level availability of vertical mobility systems for tall buildings. MAX is a solution that extends remote monitoring capabilities to dramatically increase availability levels of existing and new elevators. This solution lets an elevator "tell" service technicians its real needs, including real-time operation statuses, component replacements, and proactive system maintenance.
Changing times and needs have made high-rises the preferred and highly viable solution for India. A reliable, high-performing and well-chosen elevator system is necessary for the development of vertical cities in India.
Related Stories