The Road to Safety and Sustainability
01 Aug 2021
Long Read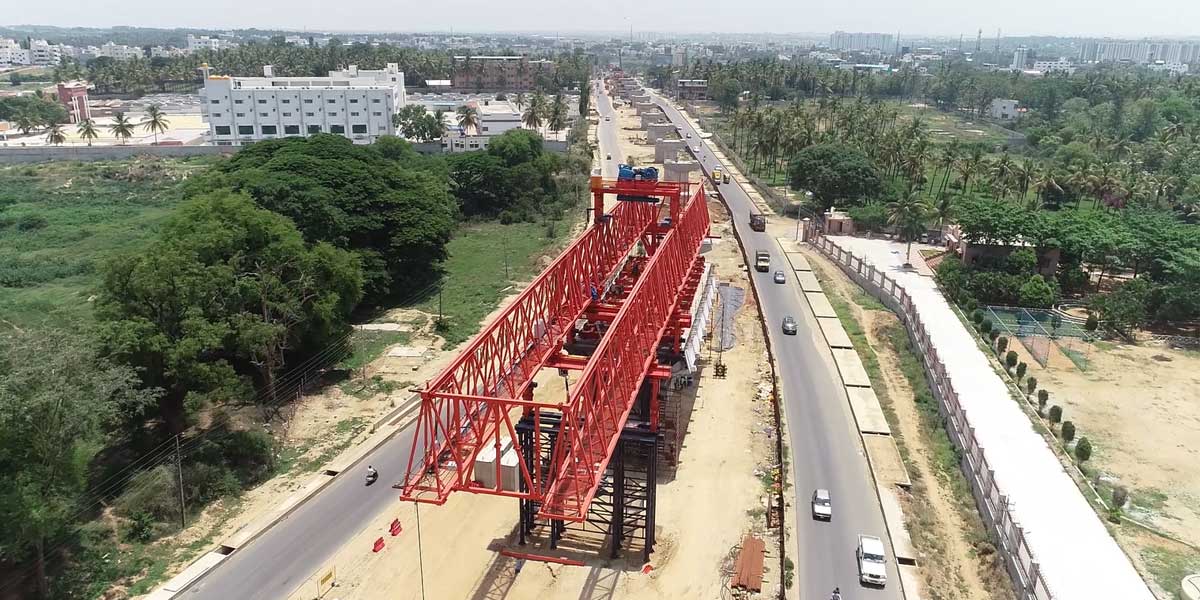 In the CW July cover story, we mentioned the increasing focus of the Ministry of Road Transport and Highways (MoRTH) on promoting the use of alternative materials to cement and steel in the construction of roads. A recent development in this context is the Green National Highways Corridor Project, which essentially involves the construction of highways using local materials, industrial and mining waste, recycled bituminous and granular layers and plastic waste materials, with the aim to conserve energy and natural resources and reduce the country's carbon footprint.
As for construction techniques, green highways will necessitate bio-engineering solutions, water conservation and harvesting techniques, climate resilience techniques, solar lighting, and so on, observes Vishwas Jain, Managing Director, Consulting Engineers Group. On the equipment front, green highway projects will need recyclers, milling machines and stabilisers (the stabilisation of soils reduces the need for crushed stone).
Vishwas Jain points out that as these materials and technologies aren't generally being used in other highway projects, green highways are a great concept.
A green highway is a relatively new concept in roadway design that incorporates transportation functionality as well as promotes sustainability, and delivers various advantages over the conventional method of road construction, points out Abhishek Kumar, Managing Director, Ayoleeza Consultants.
"Local and marginal materials, industrial by-products and other bio-engineering solutions act as natural sinks for air pollutants and arrest soil erosion at embankment slopes," explains Kumar. "Promoting the efficient use of water and construction materials will conserve natural resources and reduce greenhouse gases."
MoRTH and World Bank estimates suggest that green highways will help reduce greenhouse gas emissions by 25 per cent during the construction process compared to normal roads with same set of machinery and equipment, shares A Shankar, Head-Strategic Consulting and Valuation Advisory, India, JLL. "Emissions will further reduce over operations and maintenance as green highways use less cement, bitumen and asphalt, which are more polluting."
"Though some construction methods focusing on environmental conservation were already in place in select projects, the Green National Highway Corridor Project will completely utilise these technologies to make road construction more environment-friendly," says Dhananjay Ketkar, Managing Director-Highways, Feedback Infra. "Now that countries are aiming to cut down greenhouse gas emissions in all sectors, implementing this in the roads sector is definitely welcome."
"Green corridors build on the growing awareness of the need to conserve resources and protect the environment during the design stage," notes Porus Bhatt, Director, Genesis Infra Project Consultants.
In the long run, Shankar believes this government focus will enhance India's institutional capacity to build (green) corridors and safer and less environmentally impactful road transport systems.
"Promoting the greening and development of eco-friendly National Highway corridors across the country will pave the way to sustainable development, with the participation of farmers, the private sector and government institutions, including the Forest Department," adds Indranil Basu, Managing Director, Project Management, South India, Colliers.
YFC Projects is implementing a project under the ambit of the Green National Highways Corridor Project in Rajasthan."We are developing a concrete highway stretch from Ras to Mandal via Beawar," says KK Mutreja, Senior Vice-President (Technical), YFC Projects.
It's been business as usual for the company. "What's worked for us is our in-house expertise in using concrete; otherwise, developers tend to be more skilled in using asphalt," explains Mutreja. "Concrete roads are more eco-friendly to construct [than asphalt roads] and easier to maintain even though they don't offer the best ride. Other than that, the project has been like any other road project for us."
Focus on safety
Of late, the National Highways Authority of India (NHAI)has become more vigilant about road safety and is investing effort to reduce accidents. It's going about this scientifically. Road accident blackspots are being identified based on fatality data from police records (as per guidelines of the Scientific Committee of the Indian Roads Congress (IRC) and permanent long-term measures are being taken to eliminate these, points out Kumar. "A separate cell called Road Safety Cell (Engineering) has been established within MoRTH to deal with road safety improvement through engineering measures on various highways."
For instance, the authority identified 27 blackspots on the Tambaram-Trichy highway (NH-45), which recorded 40 fatal accidents in just 12 months, and nine blackspots where about 350 fatal accidents happened between 2012 and 2015. Following these studies, NHAI has sanctioned Rs 105 crore for the construction of bridges, vehicle underpasses and additional lighting facilities and to improve road alignment.
NHAI has identified 485 blackspots in Tamil Nadu, of which 199 have already been resolved, while remedial measures on the remaining 286 are under various stages of implementation, notes Shankar.
Vishwas Jain believes this will be one of many similar projects, given that India is losing 3 per cent of its GDP to road accidents, with a large percentage happening on National Highways.
"It feels sad to consider the accident scenario in the country a business opportunity, though we do see more such opportunities coming up, and this should be taken up on new and old roads," says Ketkar. "Death by road accident is the single most important cause of unnatural death and now there is a committee appointed by the Supreme Court looking into accident blackspots across the country. There is more focus on safety audits; special bids are being called to suggest remedial measures for blackspots. Many institutions are training engineers in road safety audits; a recognised certification is essential to become a road safety auditor."
Measures to reduce the possibility of accidents on highways will include minor bridges, culverts, major junctions, slip roads, vehicle underpasses with footpaths, embankments with reinforced earth (RE) walls, road furniture, road markings, kerb painting, studs, hazard markers, signboards, high mast lights, etc. Shankar expects such initiatives to also be implemented on other important corridors on a case-to-case basis.
Bhatt expects projects improving highway safety to be replicated in the near future. Highway designers as well as commuters are now more conscious about safety and the preservation of life, the cost implications notwithstanding, and, so, it makes sense for the highway authority to prioritise safety.
Eventually, says Vishwas Jain, "the successful implementation of such projects will give way to specific road safety measures on National Highways."
Insufficient funds could be the only spoke in this wheel. "Finding funds to improve the existing extensive road network could be challenging," says Vishwas Jain.
Punitive action
Site safety is another aspect of the focus on safety. Here, too, NHAI is sticking to guidelines instituted to ensure adherence to site safety procedures. In fact, in July this year, after an accident at the site of the Anakapalli flyover (in Andhra Pradesh), where two girders collapsed killing two people and injuring three others, NHAI has temporarily restrained the contractor involved, road-building giant Dilip Buildcon, and its subsidiary Anandapuram Anakapalli Highways, and other promoter(s) from participating in any NHAI bids directly or in association (JV) with immediate effect until further order on the findings of the investigation of the accident.
Devendra Jain, WholeTime Director & CEO, Dilip Buildcon, points out that the company had launched some 25,000 girders successfully and just that one time, something went wrong. "It was a procedural lapse, very unfortunate but it does happen in the lifetime of many large companies. We take a lot of care to ensure adherence to quality and safety procedures at site. We wouldn't have been able to grow to our current size without that commitment. We will accept whatever punitive action comes our way."
What does the industry think of this order? Is punitive action the best way forward?
"Punitive action may send a message to all stakeholders but will not end mishaps owing to deficiencies in highway planning, design, construction and supervision," says Vishwas Jain. He suggests improving and strengthening the entire system such that capable organisations including design consultants, supervision consultants, contractors and concessionaires are selected.
"Quality and safety can't be sacrificed for speed," adds Vishwas Jain. "To improve the quality of work, the capacity of all these stakeholders also needs to be improved. Staff deputed on site should be experienced and energetic. This will need some systemic change."
For instance, Vishwas Jain points out that the quality of DPRs has always been questionable. Also, NHAI's present selection process for supervision consultants mostly encourages retired government officers.
Action has been taken against many firms, including consultants, by levying penalties or suspending key professionals, says Ketkar. "Unfortunately, the collapse of structures has become more frequent now, even resulting in loss of life in some cases. This directly shows that more focus is required at site from the contractor and consultant during the design, supervision and execution of bridges, including temporary structures. In my view, the action taken in the above case was required only to ensure a fair probe into the causes for the collapse. However, the investigation must be fast-tracked."
Any investigation should happen rapidly and action should be taken only after the final outcome, adds Kumar.
Indeed, speedy outcomes are welcome.
Allied road projects to attract realtors?
Working for NHAI, JLL has identified over 650 properties across 22 states with a combined area of over 3,000 hectare to be developed with private-sector participation in the next five years. These include 94 sites on the Delhi-Mumbai Expressway, 376 sites in new highways/expressways under construction, and close to 180 sites along an existing network of highways in India. Developing these properties promises decent returns.
"We anticipate returns of 15-25 per cent depending on local market demand, highway traffic and other important parameters," says A Shankar, Head - Strategic Consulting and Valuation Advisory, India, JLL.
Interestingly, realtors are expected to be attracted to these opportunities.
"Real-estate developers or companies providing wayside amenities would be most interested in these allied developments," opines Vishwas Jain, Managing Director, Consulting Engineers Group.
Abhishek Kumar, Managing Director, Ayoleeza Consultants, also expects realtors would be interested in such developments, including companies such as Sunteck Realty, Omaxe, Godrej Properties, Phoenix Mills, Oberoi Realty, Brigade Enterprises, Indiabulls Real Estate, Prestige Estates Projects, DLF, etc.
Firms that establish and run warehouses, restaurants, small factories and lodges would definitely be interested, says Dhananjay Ketkar, Managing Director-Highways, Feedback Infra. "As would be companies running wayside amenities for road users, with a fuel pump, restaurant, garage, petty shops, etc, in a localised area. Also, with the new thrust on electric vehicles, charging points or stations could also be established."
Shankar expects the development of wayside amenities to attract developers, restaurant operators, major F&B players, fuel companies looking to set up fuel and gas stations, electric vehicle charging station providers, highway contractors and operators, warehouse and logistics players and automobile companies looking to set up showrooms and service centres, to name a few.
"Corporations engaged in the food business, such as brands like McDonalds, Pizza Hut, etc, would gladly invest, especially when the land is freehold and there is a market for them to sell," opines Porus Bhatt, Director, Genesis Infra Project Consultants. "Retailers would be waiting to get space on this model."
Vishwas Jain suggests that NHAI can set up a company or division to monetise the assets because such pockets of land will need a lot of infrastructure and utility planning, design and implementation before plotted developments can be sold. Depending on the size of the properties and their location, he suggests roadside facilities be developed to create a revenue generation source for NHAI as well as operators. Large plots can be used for commercial or residential development with due care for noise and air pollution.
- CHARU BAHRI
Related Stories