Users identify gaps in the availability of material handling equipment
01 May 2022
Long Read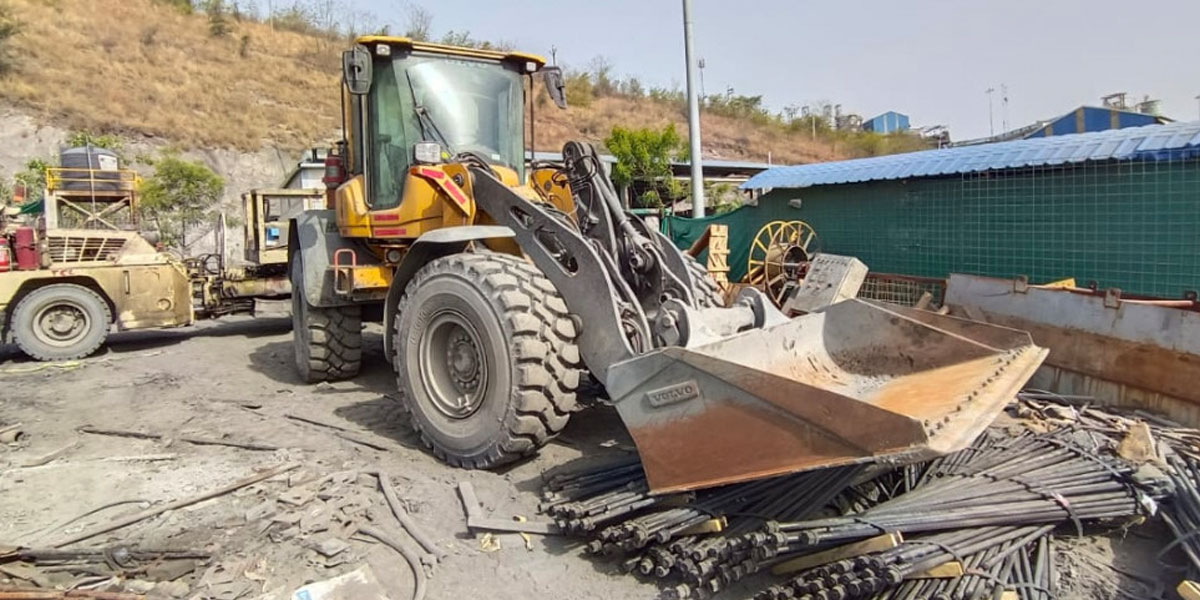 Despite the ups and downs of overall business, a reason for cheer is the stable sales of material handling equipment.
Quoting ICEMA's Annual Data Report 2021-22, Dimitrov Krishnan, President, Indian Construction Equipment Manufacturers Association (ICEMA), and Managing Director, Volvo CE India, points out, "The material handling equipment segment, which accounts for about 9 per cent of the construction equipment industry's sales, remained largely stable during FY 22, witnessing ~2 per cent YoY [year-on-year] growth to about 7,895 units."
Mobile cranes upswing
Mobile cranes are a leading constituent of the material handling equipment segment. From a peak of 11,827 units in 2018, the overall demand for mobile cranes fell through 2019 and 2020, only to recover 34 per cent to 9,549 units in 2021, according to Off Highway Research.
That said, Off Highway Research's outlook for mobile cranes remains optimistic in the long term. Sales are forecast to peak at 12,000 units in 2026.
Pick-'n'-carry domination
"Within the mobile crane category, locally manufactured pick-'n'-carry cranes are the dominant seller," explains
Samir Bansal, General Manager, Off Highway Research
. "Pick-'n'-carry cranes accounted for 93-96 per cent share during 2017-2021 with peak sales of over 11,400 units in 2018 and 8,893 units in 2021."
Pick-'n'-carry cranes, which form the largest segment of the domestic material handling equipment market enjoying about 95 per cent share, saw ~1 per cent YoY growth, adds Krishnan. "Exports contributed ~3 per cent of overall sales and grew ~38 per cent YoY driven by the equivalent increase (~38 per cent YoY) in demand for pick-'n'-carry cranes."
Moving on, sales of conventional cranes, which include truck-mounted, all-terrain, rough-terrain, crawler and industrial cranes, peaked at 656 units in 2021, according to Off Highway Research.
"Telescopic handlers saw ~3 per cent YoY growth," adds Krishnan.
What's missing?
Now that the demand for material handling equipment is gradually increasing, let's evaluate what new products could boost demand still further.
"While we don't see a gap in the availability of cranes applied for material handling, there is a void in the availability of cranes required for foundation duty applications such as diaphragm walls, deep compaction, pile driving, boring, dredging, etc, says Arup Deb, Senior Vice President, Plant Head, ITD Cementation (I). "In the latter category, we rely on imported cranes with long delivery and cost."
Tower cranes of more than 16 t capacity aren't made in India; 16 t, 18 t and 25 t models are mainly imported, which makes them expensive in India, according to Munish Taneja, Executive Director, Store One, Indiabulls. "Manufacturing these models in India would make the prices more reasonable and increase the options available to customers."
Passenger and material hoists were imported until a few years ago, he adds. "While a few Indian manufacturers have entered the segment, the range needs to be increased. We use the 2 t and 3.2 t models. The 3.2 t passenger and material hoist model isn't made in India but demand for it is increasing for super tall and tall building projects and large infrastructure projects."
India needs automated material handling devices to enhance industrial safety and improve viability, believes Suprabhat Sarkar, Vice President, Teknomin Construction. "Battery-operated automated devices would strengthen the Government's carbon emission reduction drive as well as help improve the occupational health of employees."
While Sarkar can't see the dependency on cranes reducing, he sees other conventional material handling methods like diesel tippers being replaced by sophisticated electrical dumpers. Conveyors are eco-friendly but sometimes unable to carry high loads.
Training gaps
Like other parts of the construction industry, the material handling equipment operator segment is suffering from a shortage of skilled manpower.
"We're seeing a shortage of skilled manpower after COVID, both operators as well as maintenance staff, affirms Taneja. He proposes that OEMs or industry organisations should come forward and conduct training camps in Tier-III towns or rural areas to train unemployed youth for a reasonable fee, who can then be employed by the construction industry. "We desperately need such skilling initiatives to create a bench of operating crew who can maximise equipment productivity."
So, don't OEMs conduct training?
Training at the time of commissioning is common but subsequent training isn't uniform across companies, responds Deb. "Only a few reputed companies offer training for middle level technicians and even publish a training schedule. Another challenge is that after COVID-19, training has been pushed online, which doesn't work. Operators must be trained on prototypes to get an understanding of the machine."
Onsite physical training is essential for the operating crew; digital or virtual training doesn't give the operators the feel of the machine and operating conditions onsite, agrees Taneja.
"Train the trainer (coordinators) should be the concept in future, which means we need simple videos that can be used by coordinators to impart training locally," proposes Sachin Chilana, Director, Time Equipment. "Retaining manpower is as much a challenge as is allocating time for training, so local training is the need of the hour."
For his part, Sarkar points out, "Depending on manufacturers for training and after-sales services isn't an intelligent move as they often can't meet industry needs." He recommends developing one's own maintenance team with master trainers to keep the momentum going, emphasising that "being self-sufficient is more sustainable".
After-sales snags
After-sales service is another area where gaps need to be plugged.
Reputed manufacturers were sourcing main components from outside India; such imports pose a concern in the light of supply chain disruptions after COVID-19. Lead times have increased significantly, translating into higher inventory carrying costs and blocked capital; this has led to an increase in the cost of spares, says Taneja. "Greater indigenisation would help reduce prices and overcome such supply chain disruptions."
After-sales service teams must realise that faster, on-time response is essential for any industry to flourish and meet its customer expectations, adds Chilana.
We couldn't agree more.
- CHARU BAHRI
Digitalisation is in but why are some users not opting for it?
Digitalisation is the 'most wanted' tool in the modern global industry today; it eases the process flow and supports optimisation and assessment, which helps to easily implement a business expansion plan, observes
Suprabhat Sarkar, Vice President, Teknomin Construction.
Digitisation helps to know the health of equipment, its utilisation and failure history, and triggers fault alarms, adds Sachin Chilana, Director, Time Equipment.
"We prefer machines that offer data logs, past maintenance history records and fuel consumption rates; and which facilitate remote monitoring and trigger alerts when preventive maintenance is due," says Arup Deb, Senior Vice President, Plant Head, ITD Cementation (I). "Essentially, data must be available at the push of a button without any dependence on the service engineer."
The main challenge associated with digitalisation is the cost of deployment. This acts as an impediment to the wide adoption of digital-enabled models.
Users want digitisation and the benefits that come with it, such as fuel consumption data, productivity data and alerts on the health of equipment. This information helps users to monitor productivity and reduce operational costs. These options are available in some equipment, but customers are not utilising them owing to the additional cost they have to pay for using such software, observes Munish Taneja, Executive Director, Store One, Indiabulls. "Digitalisation of material handling equipment with safety alerts would help make workplaces safer and reduce unfortunate incidents."
Automated machine handling: How far has it made inroads?
In power plants, steel plants and cement plants, automation involves connecting Internet of Things (IoT), artificial intelligence (AI) and machine learning (ML) systems with the logic control systems of material handling equipment such as conveyors, cranes, dozers, lifting elevators, skip hoists, etc, observes
Siva Kumar Bannuru, General Manager, Development, Mining and Bulk Material Handling, Sanghavi Industries.
"Large high-rise building projects and infrastructure such as dams, flyovers and bridges are also increasingly utilising automated material handling methods to adhere to high safety and reliability standards and tight timelines and to give remotely located owners and investors better control on people and processes. But we see a gap in the deployment of automation, especially in smaller construction projects in the residential segment."
Government support to small-scale industries to produce innovative technological handling methods would help further this industry, he adds. "Such support could include special policies and procedures."
Disclaimer: The views expressed by Arup Deb are in his individual capacity and don't represent the perspective of the organisation he works for.
Related Stories