The War Room Concept: An innovative monitoring philosophy
01 Sep 2022
Long Read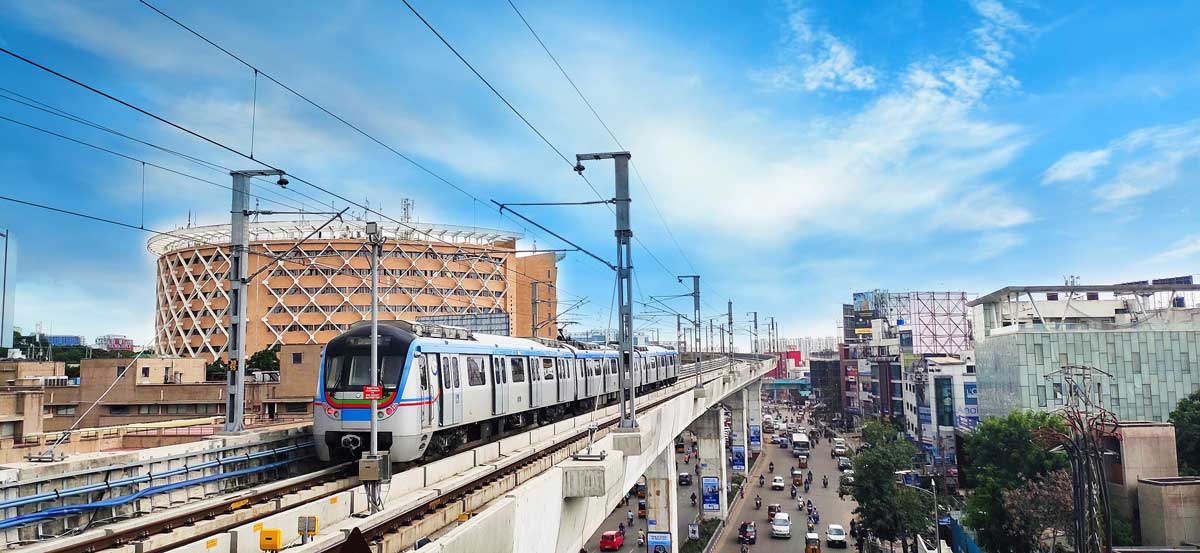 The War Room concept is an innovative monitoring philosophy for effective project management.
Hyderabad Metro Rail is the world's largest elevated metro-rail system developed in the PPP format operating in Hyderabad, the capital of Telangana, the youngest and among the most progressive states of the country. Developed by L&T Metro Rail (Hyderabad) (L&TMRHL), a subsidiary of Larsen & Toubro, it was mandated to implement the project on a design, build, finance, operate and transfer (DBFOT) basis. The company signed the concession agreement with the then Andhra Pradesh government (now Telangana government) on September 4, 2010, through which L&TMRHL has been granted exclusive rights, license and authority to undertake the development of an integrated Hyderabad Metro Rail (HMR) Project comprising a rail system and transit-orient project, developed over 69.2 km across three elevated corridors, with 57 stations and two depots. The metro system was integrated with intramodal and intermodal transport systems, making seamless commuting a reality.
The project was partially commissioned in November 2017 and full commercial operations began in February 2020. It has established industry benchmarks in terms of design, precast construction and technology adoption. The ultimate capacity on Line 1 (Miyapur-LB Nagar) and Line 3 (Nagole-Raidurg) is 50,000 peak hour peak direction trips (PHPDT), and 35,000 PHPDTon Line 2 (JBS Parade Ground-MG bus station).
A peek into the project
An engineering marvel and transformational project, the Hyderabad Metro Rail is also noted for being the longest rapid transit metro line to be opened in one go in India.Construction was completed within city limits with minimal obstruction to moving traffic. This was possible owing to innovative station design as a balanced cantilever on a spine-and-wing concept and the use of significant precast concrete construction to minimise right-of-way (RoW) issues. The cantilever type design has the metro station resting on just 10 central pillars, a spine and wings and no side-pillars– the first such design in India. This design avoids portal structures and tunnel effect on the road under themetro stations and gives a clear, open view of the road below.The largest precast yard in India was established in the project to manage the enormous precast activity of viaduct and station works and to avoid any construction bottlenecks.
Hyderabad Metro Rail has been a highly complicated project with thousands of component suppliers, systems and subsystems. This project involved mobilisation of a huge workforce and resources for construction, which ranged from over 15,000 workers, 1,500 engineers, 30 launching gantries, five concrete plants, 100 cranes and various other machinery all over the city.
Project management
To execute a project of such magnitude, which is spread across the 400-year-old city of Hyderabad with heavy traffic congestion, L&TMRHL followed the core principle of project management; i.e., delivering the project objectives according to the project acceptance criteria within agreed parameters. Following the core principle, project construction was executed and is being operated commercially with a commitment of total customer satisfaction by providing a 'best-in-class'metro system and services. For the magnitude of the construction works and the interface involved among various systems, the given construction period was challenging. This demanded remarkably effective and dynamic project management. To meet this complex requirement, L&TMRHL adopted theWar Room concept –an innovative monitoring philosophy for effective project management. Various software tools were used for planning, monitoring and generation of reports for the War Room.
What is a war room?
As the term indicates, the war room has a military origin, which was first utilised during World War I and World War II. However, this concept now refers to a central area or workspace for collaborating, collecting, managing, controlling and monitoring data for all project activities and tasks that may directly or indirectly have a consequence on the scope, cost or time of the project. A war room is an effective and powerful tool for managing large or complex projects as it always enables focus on the most important aspects of the project.
Enablers for an effective war room, the metro way
The war room facilitiesat Hyderabad Metro Rail includevideo conferencing, teleconferencing and projectors to conduct planning meetings. All planning-related documents aremade available in the war room in soft and hard copies.The various type of documents used in the war room consist of status reports, progress reports or project forecasts, among others.
The war room structure
The war room team comprises an administrator with graphics and MIS specialist skills and a few key project management team members. This team is responsible for collection and updating all project information at regular intervals in a timely manner in coordination with other project management team members and stakeholders. Updates are given to the war room administrator so that all hard copies and soft copies are updated.
It is critical that information should always be current in the war room as the management team and project management personnel shall always have access to the war room.
A project relies heavily on effective communication between all its internal and external stakeholders. The various project stakeholders are provided with distinct levels of access to relevant information generated in the war room. The figures below provide the structure of the war room with various stakeholders.
Applications
All relevant project parameters necessary to track and record work status, resource usage and other progress-related matters and compare them continually with planned progress are maintained in the war room.
The war room plays a key role in planning related functions, as all the critical information like contracts, constrains, resources, RoW and risks are collated in one location. Construction staging, contract key dates, master schedule and catch-up plans are examples of the vital outputs prepared in the war room.
This helps in effective project monitoring as progress graphs, curves, charts and statistics clearly indicate the level of progress and issues with the respective system. This brings clarity in areasto be focused upon and improved to achieve the desired progress.
The war room brings a holistic approach to planning and monitoring complex projects and help visualise and study the effect of one system on the other in a dynamic fashion.
Key planning meetings are held in the war room and issues are resolved at a fast pace and in an effective manner with a focus on timebound deliverables.
The establishment of a war room was a gamechanger for the Hyderabad Metro Rail project. It ensured that the major resource (time) of the planning team was saved by almost 15-20 per cent and used effectively. More advanced war rooms can also be established using graphical implementation tools like interactive progress charts, GIS-based project monitoring, BIM, and Power BI tools. Usage of digital boards, CCTV cameras and digital countdown timers will also aid in higher level of tracking, monitoring and control.
In conclusion
Hyderabad Metro Rail has also utilised project management tools such as Oracle Primavera, TILOS, and Microsoft Excel for scheduling of the project. These tools enabled successful planning and accurate progress tracking. We have also used a graphic representation of the entire project length to understand the hindrances and monitor physical work progress on the available work fronts. This specific analysis helped to establish, visualise and emphasise on the critical path of the project.
The project required the collaborative work of various contractors involving civil, MEP and system works. A detailed interface document was prepared with the responsibilities of LEAD and MATCH contractors. Regular interface meetings were held with the respective contractors to resolve interface issues in a timebound manner.
We have developed a real-time monitoring system (web application) during the critical phase of the project to meet the deadline of the first commissioning of the project in November 2017. The project's progress, resources and issues were monitored on a real-time basis. This identified critical needs and enabled the management to make informed decisions and take necessary actions to propel work progress.
As we say, "time is money." Time saved is money saved. Data coupled with skilled manpower can use project management tools to enable better decision quality and productivity of management teams. This improves the efficiency, productivity and creativity of project teams and provides all stakeholders required information. Considering the largest network being developed in a short span of time and works being executed simultaneously, it was imperative to have skilful resources to handle the enormous data generated and use the refined data in project management tools effectively. In this, project upskilling of workforce was consistently undertaken to enhance capabilities in handling data and the usage of project management tools.
About the author:KVB Reddy, Managing Director & CEO, L&T Metro Rail (Hyderabad), joined the L&T Group effectively from January 1, 2018. Prior to joining L&T, Reddy was the CEO of Essar Power. He brings with him a rich experience of three-and-a-half decades in the areas of procurement, project coordination and development, operations & maintenance, business development, project execution, EPC, project financing, commercial and business strategy, strategic planning and implementation.
Related Stories