Destined to Design: Architect BV Doshi remembered
01 Feb 2023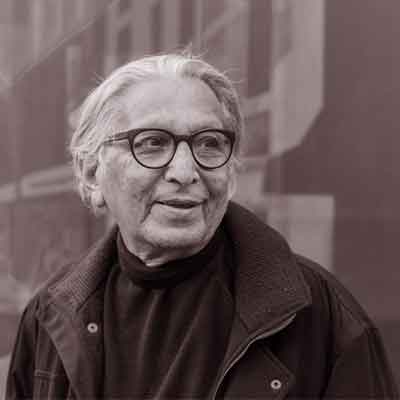 It takes a lot to be a legend – more so because the term defines people who continue to inspire us in a world that is fast changing. If we apply this criterion to the dominion of architecture and design, the moniker becomes rarer. One man who makes the cut is Balkrishna Vithaldas Doshi, often referred to as the 'Father of Indian Architecture'. The architect, who passed away on January 24, 2023, in Ahmedabad was India's first Pritzker laureate. He was also a recipient of the Padma Bhushan and the Royal Gold Medal from the Royal Institute of British Architects (RIBA), among other prestigious awards, for his valuable work and contribution to architecture.
Doshi's projects may not be 'glamorous', as defined currently, but offer us much food for thought. The intellectual minds who line up tomorrow to study architecture will be encouraged to think about the tales of form and function he has drafted in India. Even though he collaborated with Le Corbusier and Louis Kahn, two towering and influential modern architects, his work has an inventive quality that defies a particular style and strikes a deep personal connection with the people who live in the country and their culture. He set important directions for urbanism and architectural practice in a young independent India by attempting to combine modern concepts with indigenous traditions in his works, fusing Indian vernacular styles with European modernism and brutalism, as seen in Tagore Memorial Hall built in 1966 and PremabhaiHall located in the old city of Ahmedabad,among others.
A visionary, Doshi was aware that a developing nation like India would need a reference point of its own in architecture and design; this affirmation ultimately led to the birth of the School of Architecture and Planning (Ahmedabad,1966-2012). Doshi was the founder, former director and chairman of the institute, which was renamed Centre for Environment Planning & Technology (CEPT) University in 2002.
"BV Doshi has been instrumental in the way architecture is being practised in India," says Jaagrut Patel, Principal Architect, Jaagrut Patel and Associates, based in Ahmedabad."Numerous students of CEPT continue to define the built environment of India even today. CEPT, which focuses on understanding, designing, planning, constructing and managing human habitats, is based on his ideology."
Apart from teaching at CEPT, Doshi taught at the Massachusetts Institute of Technology as a visiting professor; Philadelphia, University of Pennsylvania; Champaign, Illinois, University of Illinois; Houston's Rice University; St. Louis' Washington University; and the University of Hong Kong; among others. He also delivered lectures at prestigious educational establishments worldwide and was a member of the international committee that prepared the International Charter on the Education of Architects, which was sponsored by the International Union of Architects and UNESCO in 1995. Further, he was a recipient of honorary doctorates from McGill University in Canada and the University of Pennsylvania in the US in 1990.
Though his professional achievements were larger than life, Doshi was known to be delightful, profound, motivating and rooted. He always said,Anand Karo (celebrate life)! "He had the habit of writing fictional narratives to conjure the right images when he was working on any project," recalls Yatin Pandya, Principal Architect, Footprints E.A.R.T.H."He read one out to the trustees of NIFT at a board meeting. The story had elements like a settlement, a secret spring and sacred water. He made it so believable that one of the trustees, who was completely unaware of his fictional expertise, asked, 'Did you find the sacred water? We could sell it', only to be bewildered by the fact that the narrative was completely imaginary. So that was Mr Doshi. Even in a serious meeting, he was a professional with a playful mind of his own enjoying his work and life to the fullest."
Further, Doshi had the unique ability to help people grow and discover themselves in a new light. "He could extract the best out of you without making you feel uncomfortable," adds Pandya. "As a young architect I had written about architecture in the local language, which Mr Doshi had read. When I met him, he urged me to write more. Being from a vernacular medium, I had a language complex of sorts but he insisted that I should write and discover my hidden talent, and so I did. Later on, I would photograph numerous projects that he had designed. Simply being himself, he could help you discover your innate qualities."
Indeed, in times to come, architects and designers would continue to be thankful to have BV Doshi to fall back on to understand the fundamental concepts of architecture and design through an Indian lens. Recognising his contribution to the world of architecture and design, the Government of India awarded him with the Padma Vibhushan (posthumously)this year. It wouldn't be incorrect to say that what Satyajit Ray is to Indian cinema, Doshi is to Indian architecture. And it will be a herculean task to fill the void he has left.
Related Stories