This solution can tackle the lack of skilled labour
01 Feb 2023
Long Read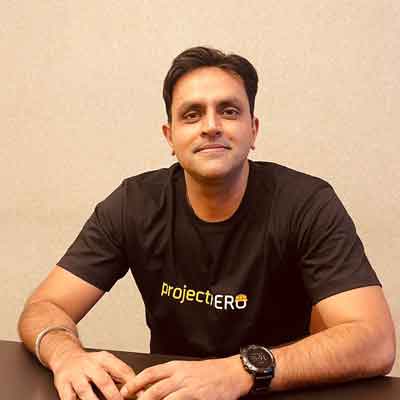 This solution can tackle the lack of skilled labour Satya Vyas, CEO, shares more about ProjectHero's platform.
The shortage of skilled labour in construction has been one of the biggest challenges in the industry. Despite the booming growth, companies are still struggling to fill key roles on the job site and, as a result, are at risk of missing out on jobs or extending project timelines. Construction managers in India complain about the difficulty of getting enough qualified workers.
Tackling this critical issue is a Bengaluru-based startup, ProjectHero that aims to provide a platform for workers from across the country and reduce time and cost overruns owing to the lack of manpower.
The genesis
The idea for ProjectHero came about when its founders were trying to solve their own problems.
Satya Vyas, CEO, ProjectHero,
and the cofounders were running a general contracting business focusing on office interiors and managing about 500 workers at the time. But the business hit a snag as the lockdown came in and people stopped going to offices altogether. At this point, hindsight offered a key realisation. "We realised we were losing an immense amount of money because of selecting the wrong subcontractors or not being able to supply the required manpower onsite," shares Vyas. "We dug deeper only to find that general contractors, subcontractors and workers were operating in silos. There was no common platform for the three entities to coexist." He points out that price and quality discovery for the right contractor and worker was an issue.
In that vein, the construction industry is extremely informal in terms of worker management, order bidding and the discovery of work onsite; these were all done through word of mouth and referrals. "There was no work history or formal portfolios, allowing people to get away with doing sub-par work," he adds. "Along with this, we also saw smartphone penetration and data consumption go through the roof. These were some factors that contributed to us developing ProjectHero; it was the right time for us." What's more, there has been a push from the Government to formalise the sector as well. Though the macroeconomy of the industry is not as conducive for formalising, there are massive tailwinds. The learning curve associated with technology has also shortened considerably, not just with data consumption but conducting transactions as well.
Bridging the gap
The challenge faced by industry in the availability of skilled workers is somewhat paradoxical as the construction sector is the second-largest employer after agriculture. "There are a lot of contractors, builders and developers who complain about projects being delayed due to manpower issues," explainsVyas. "This is nothing but a supply-demand gap as all three entities lack a common platform."
ProjectHero comes into play here. What was previously done through referrals or a labour contractor is now done by one app that cuts out the middleman. It eliminates the pain point of the supply-demand gap by giving tools to contractors and developers to float their worker requirements on the app. "By onboarding everyone onto the same platform, contractors can reach 20-25 times more workers," elaborates Vyas. "Casting a wider net has allowed them to reach workers across the nation."
The app is a network of contractors, subcontractors and workers. As Vyas points out, "From an economic standpoint, a subcontractor is a key player because an app such as this can add the maximum value for them." They can find work for themselves or other workers and assess the types of orders in their area. "From a market perspective, ProjectHero is targeting the maximum number of workers on the platform," he adds. "Once we have workers, the hardest entity on the platform, everything else will fall into place."
To assess the skills of a worker, ProjectHero conducts simple image tests based on their trade and sub-trades, along with KYC verification. This allows contractors to gain insight into the skillsets of a worker. Similarly, workers get an idea of the financial strength of the company they have applied for and the workforce as well. On the training front, the app offers content that users can consume for free. Down the road, Vyas foresees the company also offering skilling solutions.
Generating awareness
Prior experience with the contracting market gave Vyas key insights into which belts the workers come from and the type of their tradework. He emphasises that there will always be an offline channel that cannot be bypassed. Hence, a mix of online and offline strategies was required to onboard people. "Some part of our onboarding process is completely online and product-led. People can create their profiles, get verified and use the app. The other set of activities is on ground where the ProjectHero team goes from place to place to onboard workers." Once the app hit a maximum number of workers, word spread automatically to the subcontracting community. Today, the platform has 500,000 workers and roughly 75,000 contractors.
Vyas states that ProjectHero is primarily "a conduit for communication". When it comes to getting people onboard, especially workers, the problem is not tech or design illiteracy. "It is a communication problem. So, we get people interested through notifications and WhatsApp messages."
Most workers, or even contractors for that matter, would not have experienced interacting with a product such as ProjectHero. That said, a key focus area for the business has been to create trust and a safe environment for all users to interact.
The app currently sees the most demand from Tier-1 cities, especially Maharashtra and Bengaluru. Because of the massive infrastructure push from the Government, the app has also seen jobs being created in Tier-3 and 4 cities in remote parts of Rajasthan, Bihar, Uttar Pradesh and more.
The business model
The app is a membership-driven network. There are a considerable number of free users that eventually convert to paid subscribers. "We are experimenting with various price points, value propositions and tenures of subscriptions," says Vyas. The company is already operating with positive gross margins. "We are completely focused on growing the number of subscribers so that we turn bigger profits just from memberships. Apart from that, we plan to bring in some ancillary services in the future."
The next step
ProjectHero has recently received $3.2 million in seed funding from Ankur Capital and Omidyar Network India. The fund will be utilised for three key aspects. "A lot of the investment will go into developing the product and building a stronger team," reveals Vyas. "We are setting a precedent here, so we have to experiment and find that sweet spot. Simultaneously, we will be exploring various price points and growing subscribers."
Vyas believes India is a big enough market to take on at the moment. "But we are open to opportunities. Because if we are able to tackle this problem in India, the question then arises, where are the workers going from here? Expanding abroad will be in the books for us in eight to 12 months."
On the back of the increased spending on infrastructure, ProjectHero is poised to flourish. "If India has to become a large economy, small towns will need to grow into mid-level towns, which will create more employment opportunities. ProjectHero will play an important role in this. It is a small way for us to contribute towards nation-building."
On the business front, once ProjectHero's network is more robust and self-propagating, the price and quality discovery in the industry would be sharper and more efficient. "Right now, roughly $5-$6 million worth of contracts are live on the app,"elaborates Vyas. "But as we move forward, we are aiming to have 10-15 per cent of the spend go through ProjectHero."
Despite a somewhat bleak current scenario, the way ahead looks promising to Vyas. "This is the time when great companies are born and market leaders are decided," he says. "If you have a problem and you are passionate about solving it, you should jump into it feet first."
- Sneha Iyer
Fact file
Year of establishment: 2021
Employees: 40
Total users: 480,000 workers, 70,000 sub contractors, 25 general contractors
User demographic: Labour as well as contractors
Regions covered: Pan India
Types of jobs covered: 15 trades of the construction industry like electrical, plumbing, HVAC, shuttering
Related Stories