Cool Walls!
01 Aug 2021
Long Read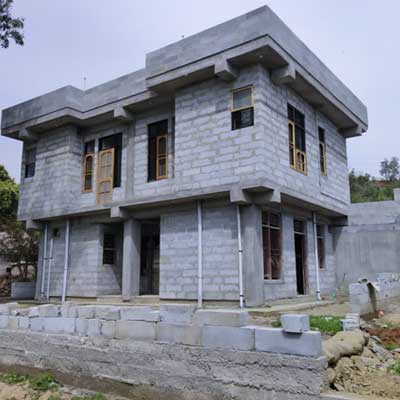 Ambuja Cements, part of the global conglomerate LafargeHolcim and among the leading cement manufacturers in India, has introduced a green solution: Ambuja Cool Walls, a unique block and mortar solution.
These Cool Walls are an innovative solution to the problems posed by clay brick walls. The blocks of Ambuja Cool Walls are made of precast concrete and have a special heat barrier technology that keeps houses 5⁰F cooler in summer and warmer in winter. The solution helps strengthen traditional kiln-fired clay bricks to a factory-made autoclaved aerated concrete. They are uniform in shape and size, and reduce waste. Walls built with this technology are even stronger than brick walls.
"Ambuja Cement has always strived for innovation to provide customers with eco-friendly solutions for a better and a greener future. It is our endeavour to provide world-class solutions to customers in India. Ambuja Cool Walls is a testimony to our commitment to provide sustainable, high-strength and durable solutions to our customers," says Neeraj Akhoury, CEO India LafargeHolcim, Managing Director & CEO, Ambuja Cements, as he shares more on the advantages of using this technology in the construction and building space.
The idea
In India, clay bricks have been widely used in conventional construction for decades. As a product, the clay brick comes with challenges such as non-uniform quality, shape and size. It also scores low on the sustainability aspect. The making of clay bricks consumes large amounts of clay, which leads to the removal of fertile topsoil and land degradation.
Autoclaved aerated concrete (AAC) blocks are better alternative material for construction of walls. And being a responsible cement and building material company, Ambuja explored the other best alternative to clay brick that meets desired product quality and also addresses sustainability issues. With that, we developed the Ambuja Cool Wall solution, which consists of AAC blocks and jointing mortar, manufactured with advanced materials and technology. Further, this is a green, environment-friendly product with various sustainable benefits.
Manufacturing process and raw materials
Ambuja Cool Walls are made of cement with other ingredients and have no natural or added salts or impurities, like in clay brick, and never have the problem of 'shora'. Thus, the plaster retains its strength and helps save recurring painting costs.
The main raw materials used to manufacture Ambuja Cool Wall AAC blocks are fly ash, lime and water, along with performance enhancers. These ingredients are mixed with a specially designed mix, which is then poured into large moulds and precisely cut in required sizes with the help of wires and then baked to speed up the curing process. The blocks are then segregated and stocked for dispatch.
Cools walls vs. conventional clay brick walls
Conventional clay bricks are made using fertile topsoil clay, by mixing it with water and then moulding it into shapes either by hand or machine, followed by burning in the kiln. Cool Wall blocks are manufactured using cement and other industrial by-products, and are precise in shape and size because of their factory-made nature. Largely, Cool Wall blocks are stronger than clay bricks and have comparatively less material wastage. Further, they provide additional heat-barrier technology, which has thermal insulating properties.
Potential for use
Ambuja Cool Walls consist of AAC and Blockol, a jointing mortar used as a masonry application in the superstructure in all types of construction projects. Traditionally, this product is used largely in commercial and mass housing projects but we are now promoting this solution to the individual house builder (IHB) segment in small towns and cities. This is the perfect solution for internal and external walls.
Further advantages
There are several further advantages of using this product in the Indian scenario in the construction and building sector. These include:
Regular availability of the product irrespective of the season, unlike the manufacturing and availability of clay bricks that gets impacted during the monsoon
Uniform and controlled product quality that gives an added advantage
It is lightweight, and hence enhances speed of construction and helps reduce project timelines
Thermal insulation property that helps energy saving and comfort for customers
A green solution with environmental benefits, such as using by-products, energy conservation, preserving fertile soil, and optimising use of natural resource like sand
Strong resistance against efflorescence on walls, which helps reduce repair and maintenance costs.
An environment-friendly method
The solution imparts thermal insulation and reduces temperature inside the room by ~5°C, resulting in reduction of energy consumption in the longer run. As mentioned earlier, the Cool Wall blocks are manufactured using waste materials like fly-ash, which helps preserve natural fertile soil. Traditionally, clay brick walls need to be cured, whereas, Ambuja Cool Wall masonry does not require any curing, thereby saving large quantities of water used during the construction process.
Optimal use of resources
Ambuja Cool Wall Solution comes with Blockol, the readymade jointing mortar used for jointing blocks in the wall, which replaces natural river sand, which is used conventionally. Owing to its uniform shape and size, the material requirement for plastering is also optimised. The product delivers quality and ensures less material wastage while enhancing the speed of construction, resulting in optimisation of labour man-hours.
Cost factor
The construction cost of any application varies from region to region, based on raw material and labour costs. Additionally, the cost of bricks is season-specific.
Having said that, the overall cost of application is comparable because of benefits like less wastage, less thickness of plaster, no curing cost, and enhanced speed of construction and saving time. Further, there is significant saving in energy cost owing to its thermal insulation feature as well as lower repair and maintenance costs because of low or no chances of efflorescence.
Wide reach
AAC blocks are widely accepted and already in use in large mass housing and commercial projects across the country.
The success of any product or solution depends upon its value proposition to customers. By promoting this product to IHBs in small towns and cities, penetration will further increase, which will make a significant difference in the conventional practice of masonry in the next five years.
- SERAPHINA D'SOUZA
Related Stories