Our turnover in FY2019-20 and FY2020-21 exceeded projected turnover by 5% and 20%.
01 Nov 2021
Long Read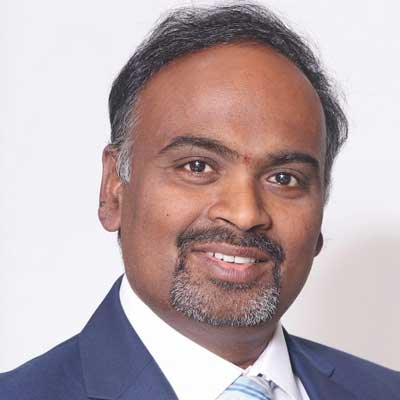 SECTOR: Construction & Contracting
KNR Constructions
KNR Constructions is a multidomain infrastructure development organisation with over two-and-a-half decades of experience. It executes the construction of technically complex and high-value projects across segments such as expressways, national highways, flyovers, bridges and viaducts, irrigation projects such as dams, reservoirs and canals and urban development, including civic amenities and water infrastructure.K Jalandhar Reddy, Executive Director, KNR Constructions Ltd (KNRCL), shares more....
Strategies to overcome COVID-19 and other challenges in FY2020-21: Our response to the pandemic was prompt and decisive in the following sphere of activities to exemplify that systematic planning in execution could sustain growth with robust cash generation:
- Staff care
- Communication network: We leveraged project management platforms to facilitate remote working and make digital capital products and Cloud collaboration the standard for projects.
- Disruption remedies: KNRCL issued COVID-19-related notices claiming extension of time (force majeure) and cost consequences, potential relief under the contract, notifications to lenders under information covenants in finance documents, consideration of efficacy of time limits on claims notification and review of termination rights.
- Supply chain management: We considered delaying certain procurement activities (commodities, fuel, service providers and subcontractors) to yield more competitive pricing.
- Rescheduling working methodologies: Works involving major construction equipment were given preference over works where more labour was required.
These strategies ensured prudent capital allocation towards fixed block and working capital, thus reflecting low leverage and resulting in efficient project management. With this, KNRCL could excel in all parameters and its turnover in FY2019-20 and FY2020-21 exceeded projected turnover by 5 per cent and 20 per cent to Rs 23 billion and Rs 27.52 billion, respectively.
Major contributor to growth in FY2020-21: The company's policy to monetise BOT and HAM projects ensured most value from assets on monetisation and maximised profits, reduced costs, optimised new opportunities and enriched the intrinsic value of shares. For instance, the KNR Walayar Tollway, a BOT (toll) four-laning of the Walayar-Vadakkancherry section in Kerala, was completed ahead of schedule and awarded for this. The proceeds have been recycled in the new HAM projects awarded and given the company liquidity for further growth. Further, a decision has been made not to attempt monopolistic core infrastructure projects with different characteristics in income generation, low returns and that entail huge investments. The philosophy to quote all projects with reasonable EBITDA and not to aggressively quote and accumulate projects helps monitor a feasible number of projects at the same time.
Decision avoided/made that helped maintain topline and bottomline: The decision to adhere to construction timeliness and cost-cutting exercises. Also, the decision not to draw HAM term loans and avail surplus cash in the system till the achievement of PCOD has resulted in savings in interest during construction, and consequently improved the valuation of the asset.
Plans for growth in FY2021-22 and beyond: With Rs 11,620 million (gross block) of advanced modern machinery, KNRCL could navigate timely project execution cycles. Besides, robust collection mechanisms and prudent financial planning have ensured near-zero debt levels. KNRCL is poised to complete three NHAI HAM projects in 2021-22 and monetise them. The proceeds will be utilised for three new HAM projects of Rs 55.50 billion bid project cost. With Rs 120 billion of orders on hand, KNRCL is poised for exponential growth in all parameters.
Related Stories