We did not stop executing our strategic plans in focus countries
01 Nov 2021
Long Read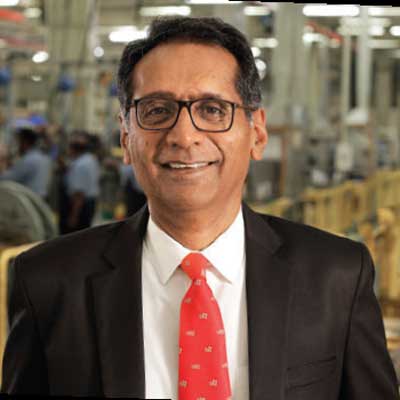 SECTOR: Compressors
ELGI Equipments
Elgi Equipments was founded as a reciprocating air compressor and garage equipment manufacturing company in 1960. Over 60 years, it has transformed into a global air compressor manufacturer with a broad line of innovative and technologically superior compressed air systems, ranging from oil-lubricated and oil-free rotary screw compressors, oil-lubricated and oil-free reciprocating compressors and centrifugal compressors to dryers, filters and downstream accessories. Its portfolio of over 400 products has found wide application across industries. Dr Jairam Varadaraj, Managing Director, Elgi Equipments Ltd, shares more….
Strategies to overcome COVID-19 and other challenges in FY2020-21: The COVID-19 pandemic was quite unprecedented. We took appropriate measures to ensure business continuity and serve our customers while protecting the well-being of our employees. During the pandemic-induced lockdowns, all our teams across the world remained operational; it was business asusual for our sales and service teams. All employees adhered to social distancing protocols and remote working where and when possible. For those whose work required them to be onsite, policies and practices following guidance from the CDC, WHO, and local public health authorities were institutionalised immediately. The combined strength and resilience of our employees saw us through these testing times.
Major contributor to growth in FY2020-21: We remained committed to protecting employment and our stakeholders' interests while ensuring that we emerged strong to leverage future opportunities. We spent significant time in the second part of the year in creating a robust strategic business plan for the mid-term. The result of our short-term focused efforts can be seen in the increased profits and reduced net debt position at the end of FY2020-21. The benefits of long-term focused efforts will be visible as we are poised to deliver consistent topline and profitable growth in the next five years.
Decision avoided/made that helped maintain top-line and bottom-line: We did not stop executing our strategic plans in focus countries. Let me explain this in light of one of our focus countries, the US. We made significant progress by entering into key strategic distributor-served areas. Besides expanding our independent distributor base, we also launched three new JVs with local partners as part of our 'Go-To-Market' programme. Our initiative to develop new channels and penetrate target market segments with the portable compressor portfolio created new opportunities for this business. As we continue to develop new channel partners and expand our market coverage, we will make consistent progress towards achieving our growth aspirations.
Plans for growth in FY2021-22 and beyond: Last year, we wanted to take stock of what is going on and see how we can use this time a little more productively to bring sharper alignment with our long-term plans. We decided to break our plan into smaller milestones that are more visible. So, we looked at building a strategic business plan with a revenue target of $400 million, 16 per cent EBITDA and 30 per cent ROCE – to be achieved by FY2026. We are quite confident we will achieve these as we are heading in that direction.
Related Stories