A Sustainable Tomorrow
01 Nov 2021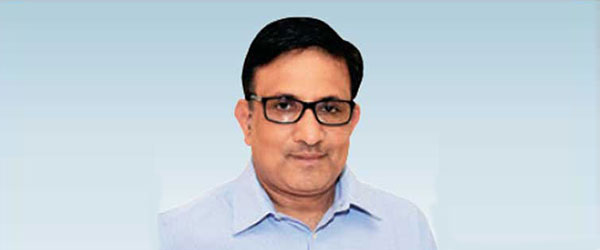 SHARAD THUSSU writes on embracing consumer centricity and innovation to build value in the new normal.
Today, the business landscape for the construction sector is rapidly evolving and while the opportunities are immense, it demands a higher sense of agility. At Voltas, we progress towards a sustainable tomorrow, constantly converting challenges into opportunities. We are prioritising innovation today knowing it is the key to unlocking growth for tomorrow.

A transformation
In line with this belief, we shifted our focus on redefining our offerings by concentrating on customer needs and comfort to bring about a transformational change. Thus, adapting and harnessing the potential that the industry has to offer. Leveraging the power of automation coupled with convenience, we are weaving our larger vision of sustainable development into our long-term goals. We are confidently stepping forward and swiftly adapting to the significant changes shaping our industry. As we prepare to offer innovative and superior products and solutions, our emphasis is on providing convenience and comfort in the most sustainable way. 
At Voltas, innovation is one of the key pillars of our long-term value creation journey. It is an ongoing process of discovering new ideas every day as we prepare for the challenges posed by the 'new normal'. Futuristic innovations drive our endeavours to cater to the needs of tomorrow. This approach helps us move closer to our goal of adding convenience and comfort through our products and services. At mining and construction sites, Voltas is focusing on providing smart and sustainable product support offerings for the industry. As part of the engineering products and services, Voltas has been servicing the customers through the provision of Operations and Maintenance services as well as Capital Equipment with unwavering client support. Voltas' products like rear and bottom dump trucks, bulldozers, and electric power shovels, among others, help make our customers' mining and construction operations smoother.
Value creation
The corporate culture at Voltas fosters innovation to support value creation. Using cutting-edge technology, we persistently provide products and services that are engineered for higher efficiencies. Voltas' differentiated positioning is propelled by intelligent design and innovative solutions providing cost-effectiveness.
Our major focus is on providing after-sales service to the customers for their mining equipment fleet. We have developed an agile, responsive and highly skilled workforce that offers our key accounts the most reliable and round-the-clock service support. We work as the extended arm of the customer and in many cases, replace their service team.
Apart from its Indian Business, M&CE caters to and supports Vale's mining operations in Mozambique. Activities at Mozambique largely remained insulated from the pandemic. The team successfully negotiated and extended equipment under annual maintenance contracts, much in line with its future plans. However, the domestic business took a hit due to the pandemic. It caused delays in infrastructure projects and restricted running of mining sites, thus impacting the crushing and screening equipment and parts sales. However, subsequent easing of lockdown and the government's push on infrastructure projects revived the demand for the same. The crushing and screening business thus witnessed a spurt in equipment demand in the second half of 2020-21, as both iron ore and road infrastructure segments registered a growth. We received the single largest order from Rungta mines in Barbil, Odisha, for supplying 55 units of Powerscreen made crushing and screening equipment, which has been a major success for us this year. Going forward, Coal India is expected to remain the biggest purchaser of mining equipment and services in the next few years. 
In Mozambique, there are immense opportunities for servicing Hitachi Equipment and Epiroc drills. The same is currently being serviced by their respective OEMs. For India's mining sector, the divisions' cost-effective proposition for multi-brand equipment service for upcoming Coal India tenders holds promise. The existing service set-up, coupled with decades-long experience and strong customer relationships, will enable M&CE to execute contracts directly with Coal India. With respect to crushing and screening, the service set-up in the iron ore belt of Barbil or Joda will be a significant factor driving customer preference for Powerscreen machines. 
Growth story
One of the biggest contributors to the country's economic growth, the construction sector in India has been witnessing exponential growth in the past few years. The rebuilding of roadways, railways, waterways, smart cities, metros, mining from coal and iron ore are great opportunities across the country. All these rebuilding activities contribute to growth in demand for equipment used in mining, construction, crushing and screening, and as a Tata Group company, we are proud to contribute to India's incredible growth story.
About the author: 
Sharad Thussu, Head-Mining & Construction Equipment Division, Voltas and the Profit Centre Head for complete operations in India and Africa, has over 24 years of experience. He has played a key role in expanding Voltas' Mining & Construction Equipment business across continents and driving revenue for the company. 
Related Stories