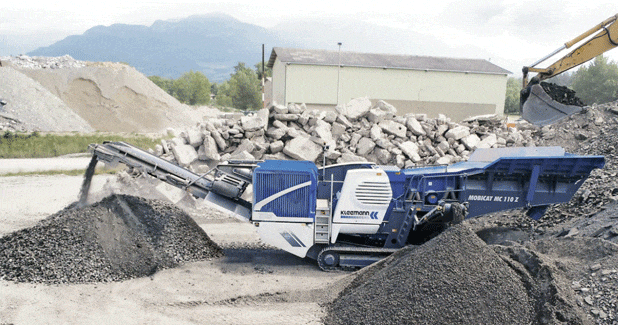 Cutting Crushing Costs
02 Dec 2014 CW Staff
Current demand veers towards machines that can optimise crushing operations, discovers CW.
Is the crushing and screening equipment market up or down? Vendor voices differ. ´We are seeing demand only from operators in Uttarakhand,´ says Kallol Mahalanabis, CEO, Taurian Engineering Pvt Ltd. ´Otherwise, the market is as dull as it has been over the past two years. Track-mounted machine vendors have been hit harder than static plant vendors. And there are no signs of a revival yet. It does not help that when the downturn in iron ore mining started some years ago, the market got flooded with old crushers and screens that were made redundant. These machines can be procured very cheaply.´
On the other hand, Rajen Khoda, Director of Sales-Asia & Middle East, Powerscreen, tells us, ´Demand is strong across almost all geographical areas. While the mining sector still has a way to go to recover to the strength of a few years ago, we have seen increased business in the roads sector, especially around state highways works.´
Salient trends
What sort of crushers and screens are most in demand nowadays?
´At present, major demand is for semi-mobile crushing and screening plants,´ says Sanjay Jadhav, Deputy General Manager-Crushing & Screening Business, Voltas Ltd. Ramesh Palagiri, Managing Director & CEO, Wirtgen India Pvt Ltd, agrees, saying, ´Track mobile crushing plants are gaining popularity at the cost of fixed or wheel plants, both globally and in India.´
´We have noticed a requirement for the smaller and more compact models of crushers and screens in our range,´ points out Khoda. ´One example is the Metrotrak which is a compact, high performance track mobile jaw crushing plant. Small to medium-sized operators in the mining, quarrying and recycling industries can appreciate its aggressive crushing action and a high output even at tight settings.´ And RS Raghavan, Managing Director, Proman Infrastructure Services Pvt Ltd, remarks, ´The current demand is for solutions to produce high-quality sand and aggregates. In recent times, our products have also been deployed for crushing and grinding tough and abrasive materials such as tabular alumina, quartz, granite and slag.´
Another clear market and government trend, according to Khoda, is the preference for more environment-friendly technologies. ´Powerscreen has seen an increase in the demand for alternative power solutions,´ he says. ´To meet this demand, we have designed dual power options for our screen range. Once positioned onsite and connected to an external electricity source, the unit can be switched to operate on electricity, zero emissions mode, while retaining all the benefits of a mobile machine. Powerscreen dual power mobile screens can reduce diesel fuel oil consumption, operating costs and, depending on the set-up, may also reduce machine downtime owing to reduced refuelling and engine servicing.´
Key opportunities
Now, positive sentiment is being expressed about future growth. ´We understand that the current annual market is 150 numbers. This could grow at 30 per cent per annum. We expect demand to grow substantially in the near term as demand for aggregates increases and the mining industry picks up,´ says Palagiri.
For his part, Jadhav explains, ´Road and infra projects will drive demand in the near future and mid-term. We expect NHAI, state highway and Gramin Sadak Yojana projects to take off in Madhya Pradesh, Chhattisgarh and Jharkhand. Wherever projects are on hold for lack of approvals, contractors are likely to prefer track plants because they can be started up sooner, in less than two hours, and easily relocated to different stone quarry sites.´ Voltas has got into the business of crushing plant rentals, serving constructions companies who are not willing to invest in these and want to concentrate on their core activity of road building. ´Renting crushers makes sense if you do not have the resources to buy and operate the machine, or need it for a small project,´ opines Dinesh Jain, Executive Director, ABL Infrastructure Pvt Ltd.
Meanwhile, some vendors are focusing on becoming end-to-end solution providers. ´We are focusing on offering turnkey crushing and screening solutions to basic industries such as aggregates and sand, iron ore, dolomite, limestone, bauxite and steel slag abrasive,´ says Raghavan. ´We are also looking at working with customers in niche areas such as industrial minerals, fine aggregates and sand.´
Populous market
The Indian crushing and screening equipment segment is well populated by both Indian and overseas players. Atlas Copco, Sandvik, Powerscreen and Kobelco are some established overseas brands, while Taurian Engineering, Proman, Nawa and Puzzolana are reputed Indian brands.
What with Puzzolana entering into a JV with Austrian company MFL to jointly develop a track-mounted mobile plant and Wirtgen India recently launching its Kleemaann range of EVO crushing plants in India, there is evidently scope for newer players and new technologies. Palagiri is banking on the characteristics of the Wirtgen range to make inroads in the competitive Indian market. ´It is compact and hence mobile; offers lower operating cost with world-class German technology, diesel electric drive and environment-friendly features; and ensures optimum material flow which, in turn, maximises productivity and plant availability,´ he elaborates. ´Our established pan-India sales and service network will also give us an edge.´
Getting a competitive edge
Buyers place great importance on providers offering them accurate and timely after-sales service. Jain of ABL Infrastructure Pvt Ltd has bought three sets of the Powerscreen jaw crusher, cone crusher and screen in the past 14 months and deployed them in Maharashtra, Jharkhand and Madhya Pradesh. ´It makes a huge difference that Powerscreen (a Terex brand) has tied up with Voltas for the sale, and servicing of its crushing and screening equipment,´ he says. ´Theirs is a synergistic partnership. Powerscreen brings good technology to India but Voltas´s extensive network ensures that the users get the sort of after-sales service they require. Crusher breakdowns can be expensive and this is made worse if spares are not readily available. Voltas´s presence made us buy the Powerscreen.´
Offering new technology is also a means to gain an edge over the competition. In collaboration with its technical partner REMCO of the US, last year Proman launched a vertical shaft grinder to cater to the fine grinding, plaster sand and industrial minerals segment. It has also brought out a new series of vertical shaft impactors featuring an oil lubrication-bearing cartridge and new-generation, multiport rotors. ´This launch coincides with the global release of this series by our principals,´ says Raghavan.
In the past year, Powerscreen has released several new machines: the Premiertrak 300 jaw crusher; the Trakpactor 320SR impact crusher along with the brand new Warrior 2100 heavy-duty screen; the Powertrak 750 scalper; and the 1150 Maxtrak cone crusher. Fully integrated control systems that drive more intuitive and instinctive operator interfaces, control system-based fuel-saving innovations and energy-efficient direct drive transmission strategies are some features of these latest models. According to Khoda, ´The features allow complete crusher interplant linking for more effective material flow through the entire process and faster operator training and greater operator control over the operating characteristics of the plant for differing applications and machine throughput, thus maximising plant productivity.´ On the anvil: A new range of Powerscreen models built for India, in India.
Clearly, the influx of global technologies as well as the development of indigenous ones promises something for every user of crushers and screens in India.
Quick Bytes
Current annual market: About 150 units; expected to grow at 30% per annum.
In demand:
Alternative power solutions, eco-friendly technologies.
Demand driver:
Vendor focus:
To become end-to-end solution providers.
Tips to become more productive
How can you make crushing and screening operations more effective?
Shankar N Srivastava, Director, Engineer Pro Consultants, shares some tips:
Maintain operational settings and clearances of different parts like jaw crusher, cone crusher, vertical shaft impactor, conveyors, chutes, vibrating screens, etc, to minimise the generation of dust (0-5 mm aggregate size). Dust percentage is usually high during crushing; it goes waste and is a loss for the user. Besides dust is a pollutant and creates a hazardous working environment.
Scientifically calculate the wear parts replacement cycle for the sort of material you are dealing with and hence the cost of wear and tear per tonne of aggregate being crushed at the particular site and decide on the most appropriate plant.
Get the aggregate tested for impact value, abrasive index and other properties before deciding on the configuration of a plant.
Install the plant at an optimum distance from the aggregate quarry ´ the closer the better.
Orient the plant to ensure your ability to choke-feed the crusher and facilitate maintenance and smooth disposal of the finished aggregate (avoid undue choking of the plant area).
Acquire the manpower you need.
Provide adequate power backup for smooth operations.
Adhere to statutory pollution control measures and avail statutorypermissions to avoid confrontation with authorities and undue stoppages.
Buying a crusher and screen?
A three-stage 200 TPH unit procured from companies like Metso or Sandvik could cost upwards of Rs 6 crore. An Indian brand like Puzzolana or Nawa would cost 30-40 per cent less. The cost of wear parts from these respective companies will also differ by the same cost percentage. Also, a static 200 TPH crushing plant will cost less to acquire as well as run, provided the project is significantly large (say requiring aggregates more than 10 lakh mt) and hence of long duration. Mobile track-mounted plants are better suited for deployments where flexibility is required. Here is a buyer´s perspective. ´It is important to match your need to the available plant options,´ says Amarpal Singh, Owner, Meera Mines & Minerals, a company with river gravel crushing operations in Paunta Sahib. ´We have bought two 200 TPH mobile crusher-screens from Taurian; one two years ago and one more recently. We could have purchased an overseas plant but it would have been much more costly. And we have experienced no difficulty in operating the plants nor any delay in service visits for the replacement of worn out wear and tear parts. So why spend more?´
That said, two years ago, Singh was a first-time user of a branded crusher, albeit an Indian machine. Prior to that, his company was using even less expensive ælocal´ unbranded crushers. With regard to the difference between those unbranded plants and his Taurian plants, he says, ´There is no comparison. You can work two shifts with a high quality plant. Such continuous operations are impossible with locally manufactured unbranded plants.´