India's Top Architects and India's Top Builders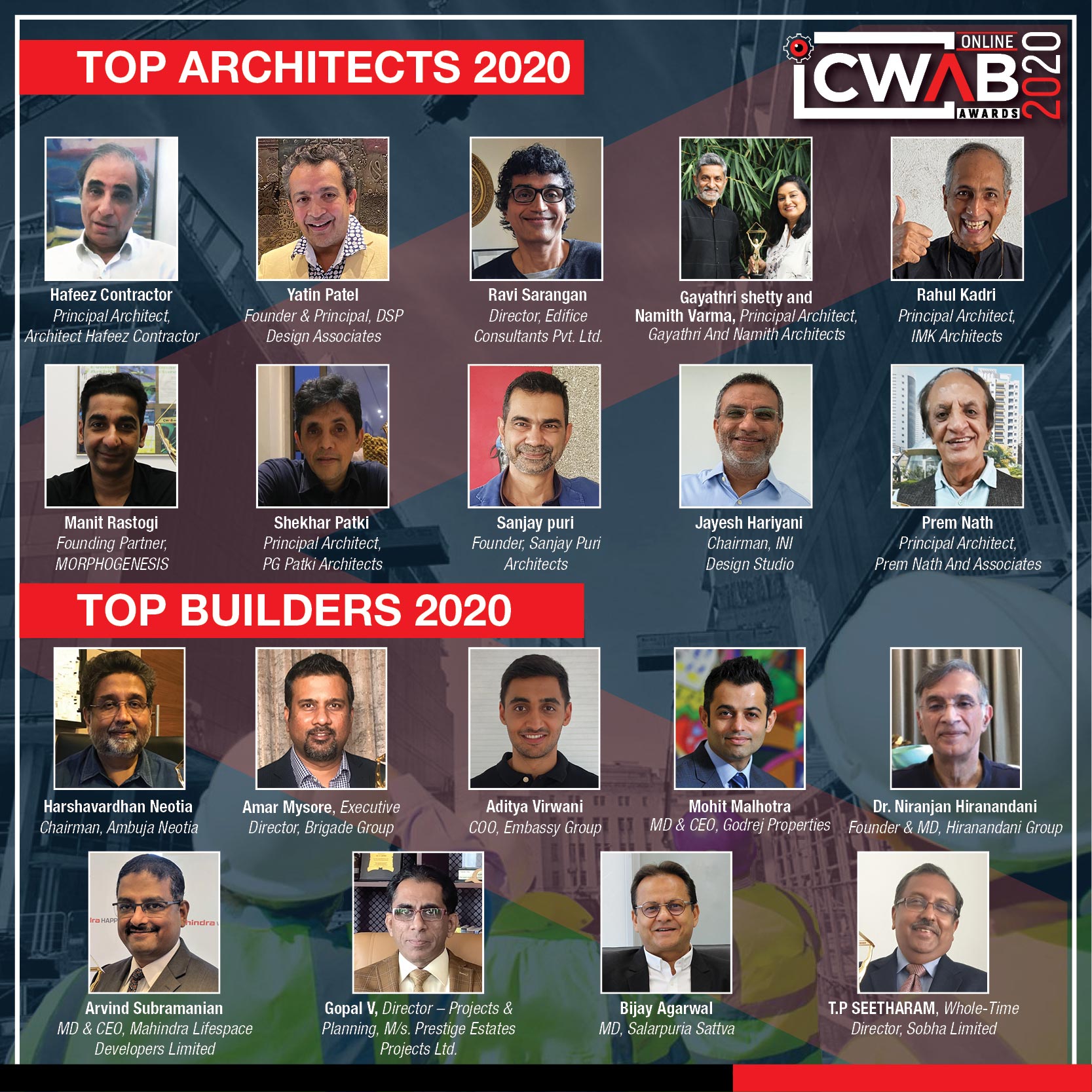 India's Top Architects and India's Top Builders
Walt Disney once said "You can dream, create, design, and build the most wonderful place in the world. But it requires people to make the dream a reality." And these people are none other than the one's building the nation – India's Architects and Builders!
India has been a land of architectural and building marvels, and in recent times, the growing population, urban housing shortage and the ugly-stricken pandemic has laid even more emphasis on building safe, efficient and suitable structures based on the country's requirement. The architectural and built genius of India's best architects and India's best builders has been successfully reflected in the edifices that they have erected and has also influenced the architectural and building industry worldwide.
While we salute all the architects and builders striving to build the nation efficiently, Construction World in its yearly endeavor, awards India's Top Architects and India's Top Builders year-on-year. This year marked the 15th edition of the Construction World Architect & Builder (CWAB) Awards, which recognised and awarded over 40 leading architects and builders in India this year. Fifteen years ago, the CWAB Awards were initiated to recognise and award excellence in process and execution. And ever since, they are known to be the Oscars of the design and building industry! Year-on-year, the CWAB Awards have followed a painstaking process of recognising excellence.
Here's our list of India's Top Architects and India's Top Builders of 2020.
India's Top 10 Architects (in no order of ranking):
ARCHITECT HAFEEZ CONTRACTOR
DSP DESIGN ASSOCIATES
EDIFICE CONSULTANTS
GAYATHRI AND NAMITH ARCHITECTS
IMK ARCHITECTS
MORPHOGENESIS
PG PATKI ARCHITECTS
SANJAY PURI ARCHITECTS
INI DESIGN STUDIO
PREM NATH AND ASSOCIATES
India's Top 9 Builders (in no order of ranking):
AMBUJA NEOTIA
BRIGADE GROUP
EMBASSY GROUP
GODREJ PROPERTIES
HIRANANDANI GROUP
MAHINDRA LIFESPACE DEVELOPERS
PRESTIGE ESTATES PROJECTS
SALARPURIA SATTVA
SOBHA
Read on to know how these firms have achieved the name, fame and why they feature in our Top Architects and Builders list!

India's Top Architects
ARCHITECT HAFEEZ CONTRACTOR
Architect Hafeez Contractor (AHC) is the leading architectural design consultancy firm in India. Hafeez Contractor's architectural footprints are indelibly stamped across the Indian built environment. The company has grown from a modest three-person firm in 1982 to having a team strength of over 550 plus people. Some of the firm's major works include the New Delhi airport modernisation, Mumbai airport, Turbhe Railway station, ONGC's green building, among others. The sheer breadth and variety of these projects are certainly surprising! But what is even more startling, is the unlimited range of architectural style and character these buildings possess.
As renowned architect and Padma Bhushan awardee Mr Hafeez Contractor said at the virtually held CWAB Awards this year, "The whole world has virtually stopped, but FIRST Construction Council's CWAB awards and functions are still going on. I really congratulate you and thank you for the positive work you are doing for our building industry."
DSP DESIGN ASSOCIATES
DSP Design is an international architecture and design practice catering to an array of verticals within architecture, interior design and smart building solutions across domains like high-density residential, corporate and commercial spaces, hospitality, industrial, retail and education, mapping an extended presence across the US, Canada, Mexico, Europe, India, Singapore, Indonesia, and Australia. DSP credits a major part of its three-decade strong legacy to an exceptional client frequenting ratio. In addition to having delivered award-winning master plan developments for Ascendas India, Bagmane Group, Salarpuria Sattva multinational corporations like Microsoft, Google, Amazon, Swiss Re, JP Morgan Chase, MasterCard, Vodafone, among others, have considered the practice consistently inventive in delivering intelligent commercial campuses and workspace interiors for their business needs. Smart building technology and sustainability form an embedded part of the entrepreneurial work culture at DSP ensuring the practice delivers designs that cut across multi-generational spatial expectations.
EDIFICE CONSULTANTS
Founded in 1989, Edifice Consultants is one of India's premier design consultancies. Delivering high quality and high-performance design solutions through a team of over 180 motivated professionals and operations based out of eight regional branches around India, the global portfolio of Edifice spans more than 10 countries. The practice has, in its own small way, participated in propelling the growth stories of such organizations as Infosys, Tata Consultancy Services, Cap Gemini, Taj Group of Hotels, and JSW, of which it has been associated with many for close to 2 decades of its 30-year-old existence.
GAYATHRI & NAMITH ARCHITECTS
Gayathri & Namith Architects has always aimed to curate the perfect blend of the past's grounded richness and the future's ambitious sense of utility. The firm has designed and supported the execution of a variety of projects across India, ranging from designer private residences to apartments, industrial facilities, corporate offices, malls, technology parks, institutions, healthcare facilities, leisure and hospitality resorts. GNA's solutions have drawn inspiration from a spectrum of subjects, ranging from traditions deeply rooted in history, as showcased in the Vedic Pathshala at Sringeri, to the latest advancements in technology, as seen in the Global Headquarters of Jaquar at Manesar.
IMK ARCHITECTS
Founded in 1957, IMK Architects is an architecture and urban design practice headquartered in Mumbai with offices in Bengaluru and Muscat. The practice's early journey is intrinsically tied to that of independent India, and more specifically, to that of the country's financial capital of Mumbai, it's diverse work is a reflection of changing times and imaginations as a young nation and its first metropolis navigated questions of tradition and modernity and business and politics on its way to a self-sufficient and economically-secure future. What remained constant, however, is IMK Architects' focus on exploring the potential of architecture within the paradigms of culture and civilization to serve the needs and aspirations of the communities it serves. The firm's unique, collaborative SCRUM design process – which involves intense workshops with all project stakeholders to question briefs and prioritise requirements – ensures the effective and efficient delivery of holistic design solutions that don't just meet initial expectations but transcend them.
INI DESIGN STUDIO
INI Design Studio is a multidisciplinary design firm having a diverse portfolio offering professional consulting services in architecture, engineering, planning, urban design, landscape, sustainability, interiors, research, and art. It supports public and private sector clients in a diverse range of markets at every stage, from the initial conceptualisation and financial feasibility study to project completion and beyond. INI operates out of 6 offices in Ahmedabad, Mumbai, Pune, Kolkata, London, and Atlanta. Besides these, they have employees stationed at various Project/site offices throughout India in places like Bengaluru, Hyderabad, Bhubaneshwar, etc.
MORPHOGENESIS
Established in 1996, Morphogenesis is globally recognised for its diverse work that encompasses a range of specialised practice areas. The firm reinterprets India's architectural roots and consistently employs passive design solutions for a unique contextual language. Morphogenesis is one of the few firms in the WA100 list of the world's largest architecture firms which is gender neutral, with over 50 per cent women across all levels. With projects in 8 countries, 110 plus International and National Awards and 850+ publications globally, it is the first Indian Firm to be awarded the Singapore Institute of Architects Getz Award for their vision and commitment in making a significant contribution in shaping the changing landscape of Asia.
PG PATKI ARCHITECTS
PG Patki Architects has consistently built landmark projects with a reputation for excellence over the last 45 years, and this legacy of distinction is carried forward by Shekhar Patki. The Late PG Patki, the founder of the company, was among the foremost practicing architects of the country with several prestigious projects to his design credit. They have a varied portfolio that ranges from Luxury Hotels, Residential Enclaves, Multi-speciality Hospitals, Corporate Offices, IT Complexes, Retail and Entertainment Centres and SEZ and Township developments. PGP believes that a prominent identity & visual appeal of the building together with efficient functional utilization from within is the key to designing successful landmark architecture. "It is great that technology has progressed to a point that allows us to congregate in the virtual space this evening to celebrate this grand occasion. Coming especially in these trying times, this award – which is the most coveted in the construction industry – is certainly an immense morale booster to us. I express my gratitude for recognising our talent and our contribution to quality architecture", quoted SP Patki Principal Architect, PG Patki Architects.
PREM NATH & ASSOCIATES
Prem Nath & Associates is a Mumbai based complete design organisation established in 1967, offering project management consultancy services all over India for nearly 50 years. The firm is proficiently equipped to handle jobs of various types and magnitude covering architectural and interior design projects of residential and commercial, IT / ITE Complexes / Malls Multiplex, Corporate Offices, Institutional / Industrial / SEZ Projects; Hospitality Projects; Health Club, 3 to 5 Star Hotels, Holiday Resorts & Amusement Parks & fast track I.T. / I.T.E. projects. The Firm Handles Total Design Services for Architectural and Interior Design, M & E, Structural including associated services and Project Management and is familiar with local and International codes, regulations, the financial pattern of Institutional projects, liaison work and seeking approvals from statutory authorities.
SANJAY PURI ARCHITECTS
With 150 international and over 100 national awards, the Sanjay Puri Architects have won architectural projects in Spain, Montenegro, Mauritius, Abu Dhabi, Dubai, Montreal, Oman and Dallas in addition to projects in 40 Indian cities. With a firm strength of 72, and a diverse portfolio of townships, schools, hotels, retail and office buildings, it continues its quest for creating innovative design solutions that are sustainable on a large scale. Winning the World Architecture Festival's Best Housing Project of the Year 2018 in Amsterdam and the World's Best Residential Building in the LEAF Awards, London, the firm has won over 225 awards including 150 international and 80 National awards.
INDIA'S TOP BUILDERS
AMBUJA NEOTIA GROUP
Headquartered in Kolkata, the company has a strong forte in real estate, hospitality, healthcare, education and start-up incubation under the leadership of Harshavardhan Neotia, who has been responsible for landmark projects in and around Kolkata. The unprecedented success of its maiden project Udayan, Kolkata's first Condoville built on the PPP model, drew great attention and eventually earned Neotia the honor of being bestowed with the Padma Shri award in 1999. They are known to pay special emphasis to design and aesthetics in a way that their projects are enduring and appealing as well as sustainable and viable for the future. In their pursuit of creating delight through spaces, it has also partnered with a bouquet of ace architects like Charles Correa, Balkrishna Doshi, Kapil Bhalla, Channa Daswatte to name a few. In the words of Mr Harshavardhan Neotia, "Thank you CW for building industry for bestowing this award on our company. The future vision for our company is to focus more on sustainability. We have always been a company that practised green technologies and tried to incorporate various sustainable practices."
BRIGADE GROUP
Since its inception in 1986, the Brigade Group has completed over 250 buildings amounting to 70 million sq ft of developed space in residential, offices, retail, and hospitality sectors across the cities it operates. It has transformed the city skylines of Bengaluru, Mysuru, Hyderabad, Chennai, Kochi and Ahmedabad with its developments across residential, offices, retail, hospitality, and education sectors. They are the license owners of the World Trade Center across South India and their commercial spaces have top international clients operating out of them. Brigade's retail projects include Orion Mall, Orion Avenues, and Orion Uptown. Brigade's hospitality offerings include star hotels, recreational clubs and convention centres, Celebrations Catering & Events, and The Baking Company.
EMBASSY GROUP
Established in 1993, Embassy Group has developed over 62 million sq ft of commercial, residential, industrial and warehousing, hospitality, education, and retail spaces, and holds an extensive land bank of over 1,000 acre across the country. Its operations span across the Indian and international markets that include Bengaluru, Chennai, Hyderabad, Trivandrum, Mumbai, Pune, Delhi-NCR, Serbia in Eastern Europe, and Malaysia. Over the last three decades, Embassy Group has developed residential assets 30 million sq. ft. of ongoing and proposed residential developments across Bangalore and Chennai. The Group is diversifying its interests across the real estate space with leading hospitality brands like Hilton and Four Seasons to drive its expansion plans.
GODREJ PROPERTIES
Having received over 250 awards and recognitions, each of Godrej Properties' development combines a 123-year legacy of excellence and trust with a commitment to cutting-edge design, technology, and sustainability. The firm has delivered a CAGR growth of over 40 per cent in market capitalisation and become the largest listed real estate Company in India by sales. In recent years, Godrej Properties has received over 250 awards and recognitions.
HIRANANDANI GROUP
Since its inception in 1978, Hiranandani Group has been one of the most premium real estate developers in India with more than 40 years of experience in this business. With over 10,000 plus employees, the firm specialises in mixed-use integrated townships and commercial projects. The group has set the benchmark in reference to quality construction, precision engineering, technology and innovation, timely delivery, and holistic development. It has a diversified portfolio with setting up a new business unit for data centre (Yotta) and logistics and industrial parks green base), apart from their presence in commercial real estate, education, healthcare, hospitality, infrastructure, and organised retail.
At the virtual awards this year, Dr Niranjan Hiranandani, Founder & Managing Director, Hiranandani Group, thanked CONSTRUCTION WORLD for once again recognising his firm as among India's Top Builders 2020. "Even in these COVID times, it is wonderful to know that CONSTRUCTION WORLD continues to hold award ceremonies. The COVID situation is difficult and yet many of us can continue with construction activities even in this difficult time. Thank you, CONSTRUCTION WORLD, for recognising this activity of the construction industry, the developers, and the building industry."
PRESTIGE ESTATES PROJECTS
Prestige Estates Projects has diversified business models across the residential, office, retail and hospitality segments with operations in 12 key locations in India. The group has completed 244 projects with a developable area of 132 million sq ft and has 44 ongoing projects across segments, with a total developable area of 48 million sq ft. They have been graded CRISIL DA1 by CRISIL and also enjoys a credit rating of ICRA A+. The Prestige Group is currently one of the biggest mall-owners in India with 9 operational malls across South India and Udaipur, comprising of 4.1 million sq ft of gross leasable area and 1500 stores.
MAHINDRA LIFESPACE DEVELOPERS
Established in 1994, the firm's development footprint spans 25.3 million sq ft of completed, ongoing and forthcoming residential projects across seven Indian cities; and over 5,000 acre of ongoing and forthcoming projects under development or management at its integrated developments and industrial clusters across four locations. A pioneer of the green homes movement, Mahindra Lifespaces is one of the first real estate companies in India to have committed to the global Science Based Targets initiative (SBTi). The Company's developments are characterized by thoughtful design and a welcoming environment that enhances the overall quality of life for both individuals and industries.
SALARPURIA SATTVA
With three decades of unwavering commitment to quality constructions across eight cities in India, Salarpuria Sattva has completed 48 million sq ft of construction with 36 million sq ft under construction and 32 million sq ft in the pipeline. It has marquee projects spread across Bengaluru, Hyderabad, Kolkata, Pune, Coimbatore and Goa, and is soon foraying into Mumbai.By further expanding into various ventures such as Co-living, Co-working, Education, Aerospace, Hotels, Facilities Management, D&B Solutions, and Warehousing, Salarpuria Sattva Group today, stands tall as a frontrunner, shaping India's growth story.
SOBHA
Founded by PNC Menon, a well- known entrepreneur in 1995, SOBHA has a clear vision to transform the way people perceive quality. The company has a footprint in 27 cities and 14 states across India and an overall 106.80 million sq ft of developable area. Its primary focus lies in residential and contractual projects. As one of the well-respected brands in the real estate sector, SOBHA has many distinctions to its credit, mainly its impeccable execution and on-time delivery track record. The company has a real estate presence in 10 cities, viz. Bengaluru, Gurugram, Chennai, Pune, Coimbatore, Thrissur, Kozhikode, Kochi, Gujarat (Gift City), and Mysore.
Although the list of Top Architects and Top Builders do not specify which among them is the best architect or best builder, but these are the best architects and best builders of the country today.
What's more, along with recognising India's Top Architects and Builders, three years ago, CW also added a new category of awards – the Noteworthy Projects, thus reaching out pan-India to award projects that have excelled and are a landmark in themselves. And in a bid to unearth even more talent across the country, two years ago, CW introduced yet another category of awards – The Regional Awards – which are presented to a Top Architect, a Top Builder and a Top Interior Designer in each of the regions – North, South, East and West.
REGIONAL AWARDS
CWAB Regional-North
Top Architect
ANA DESIGN STUDIO
Top Interior Designer
RUCHI AND SHASHANK DESIGN STUDIO
Top Builder
OMAXE


CWAB Regional-South
Top Architect (Tie)
MASONS INK
CREST ARCHITECTS
Top Interior Designer
URBAN ZEN
Top Builder
PURAVANKARA
CWAB Regional-East
Top Architect
PACE CONSULTANTS
Top Builder
PS GROUP
CWAB Regional-West
Top Architect
MORPHLAB
Top Interior Designer
INFINITTI DESIGN STUDIO
NOTEWORTHY PROJECTS
Residential-Building/Apartment
EMBASSY GROVE
Residential-Independent Home
PIXEL HOUSE
Commercial
THE CO-OURTYARD
Institutional(Tie)
THE LALIT SURI HOSPITALITY SCHOOL
RANE VIDYALAYA
Hospitality
THINK OF IT! BOTH. CAFE AND RESTRO.
Retail
TIMES SQUARE MALL
Interiors-Residential
AXIS HOUSE
Interiors-Commercial
VISAGE BEAUTY AND HEALTH CARE
Interiors-Institutional
AMERICAN EMBASSY SCHOOL
Interiors-Hospitality
FONTEIRA VADDO A
Interiors-Retail(Tie)
DLH - HEADMASTERS SALON
VURVE ECR
What's more, this year, the CWAB Awards 2020 was graced by Chief Guest Shri Bhagat Singh Koshyari, Governor of Maharashtra and Governor of Goa, and Guest of Honour Shri Ved Parkash Dudeja, Vice Chairman, Rail Land Development Authority (RLDA).
In his keynote address, Chief Guest Shri Bhagat Singh Koshyari, Governor of Maharashtra, and Governor of Goa, said "During these times of COVID-19, I congratulate CONSTRUCTION WORLD for conducting this virtual event. CONSTRUCTION WORLD, under the leadership of Mr Pratap Padode, among all others, is important in the construction group. This event is quite useful, and I hope that post this event, the construction group, all architects and those concerned will hopefully give a new initiative to the Indian construction industry. I am also happy that CONSTRUCTION WORLD awards firms and projects in each region of India. Today, construction and all other such activities has become very important, and I hope that under the leadership of MrPadode, the persons involved in construction and other such related activities will be encouraged and get new inspiration from such events. I wish you success in your magazines as well."
"I am delighted to be the Guest of Honour at the 15th edition of the Construction World Architect and Builder Awards and would like to thank ASAPP Info Global Group for giving me an opportunity to interact with some of the brightest minds in India," averred Guest of Honour Shri Ved Parkash Dudeja, Vice Chairman, Rail Land Development Authority (RLDA). "For over 20 years, ASAPP Info Global Group, with Mr Pratap Padode at the helm, has drastically transformed the B2B media with its dynamic offerings in print, web and the event space. The holistic information experience provided by the group through its bouquet of awards such as the CONSTRUCTION WORLD ANNUAL AWARDS for construction equipment and building material companies, the CONSTRUCTION WORLD ARCHITECT & BUILDER AWARDS for top architects and builders and several others like EQUIPMENT INDIA AWARDS and SMART PROJECT AWARDS have set a benchmark for the industry. The CONSTRUCTION WORLD ARCHITECT & BUILDER Awards have emerged as a flagship event and a one-stop platform for the construction and architecture industry for the past 14 years. This event is an opportunity for developers, investors, consumers and the real estate eco-system. It provides greater prospect for them to converge on a common platform and it recognises their exemplary contribution in building a futuristic India." Shri Dudeja further added that the real estate players and leading architects have a great responsibility in shaping India's development story. "They have done commendable work in this direction and their efforts must be recognised and valued. Events such as the CONSTRUCTION WORLD ARCHITECT & BUILDER AWARDS play a pivotal role in sensitising the stakeholders on the role of real estate players and leading architects in modern India and augmenting the government efforts in this direction."
While CW salutes the ones who design and build our nation, with the 2020 list for India's Top Architects and India's Top Builders out, stay tuned until the winners for the 2021 are unveiled!