All about the world's tallest modular building!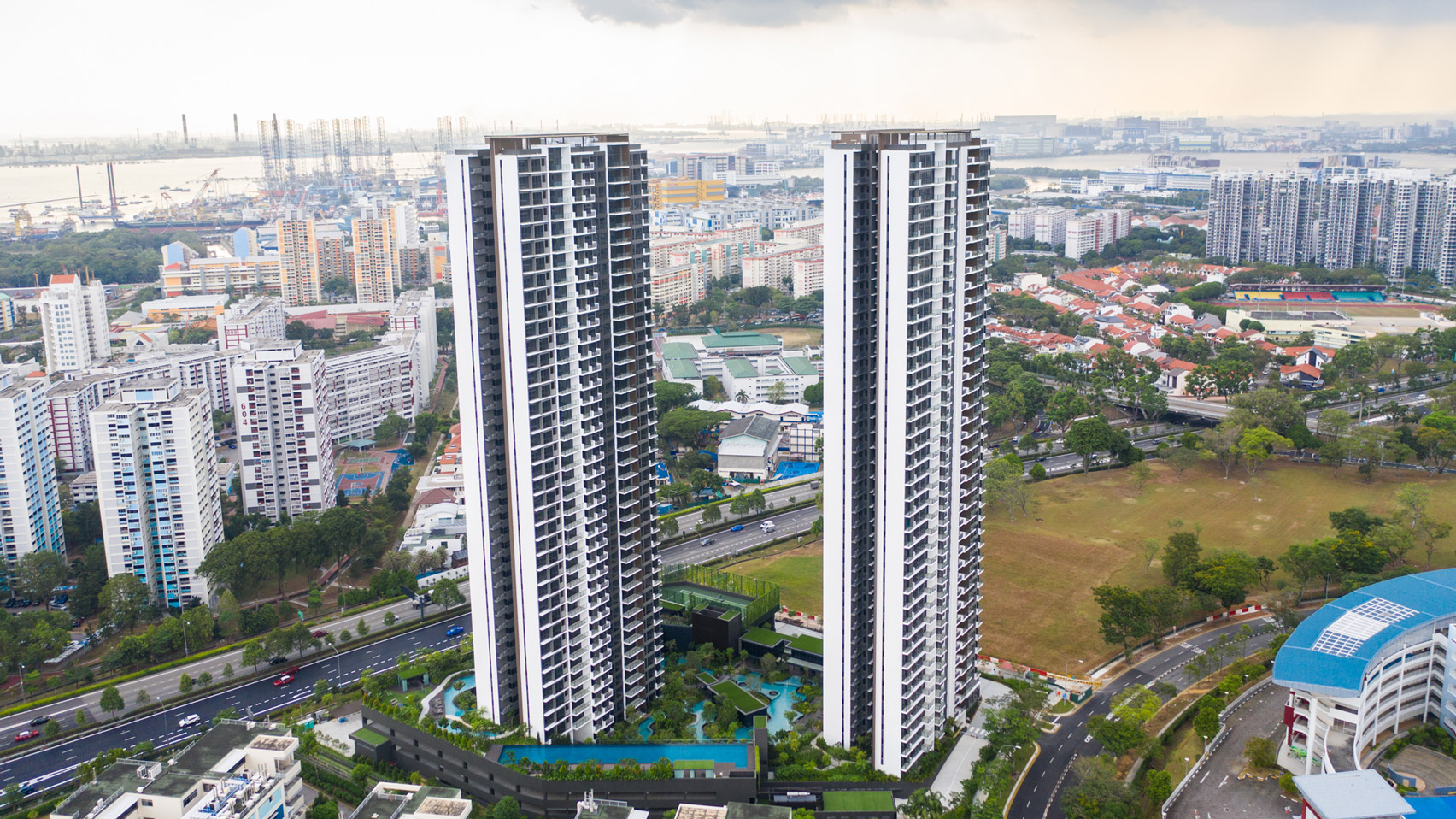 All about the world's tallest modular building!
Construction company Bouygues Bâtiment International has built the Clement Canopy, a pair of 140-m-high towers made of prefabricated concrete modules. The company claims that the development in Singapore has set a new record for the tallest modular buildings. Previously the title had been held by 101 George Street, a 135-m tower built in Croydon, England, by Tide Construction. Notably, the first high-rise modular tower was built in New York in 2016 by SHoP Architects. 
The specs 
Clement Canopy is a residential condominium located along Clementi Avenue. The development has a gross floor area of 50,200 sq m, consisting of 505 dwelling units spread over two 40-storey blocks and a multi storey car park with one basement floor. The basement floor, multi-storey car park and first floor of the blocks are of conventional construction, while the typical floors from level 2 to 40 have adopted prefabricated prefinished volumetric construction (PPVC). The PPVC modules were designed as six-sided concrete PPVC modules. The weight of the modules range from 26 tonne to 31 tonne and have been installed using two 48-tonne capacity tower cranes. 
Clement Canopy's 1,899 prefabricated and pre-finished modules were built off-site whose weight ranged from 37,000 to 64,000 lbs. Each module is around 85 per cent finished off-site, before then being assembled onsite. The main contractor was able to install 10 to 12 modules per day with a floor cycle time of 7 days. The entire project was completed in 30 months, six months ahead of the scheduled date.
The architecture has been designed by ADDP Architects LLP, structural engineering by TW-Asia Consultants Pte Ltd and main contractor being Dragages Singapore Pte Ltd. The construction of the skyscraper started in 2016 and was completed in 2019.
Fast, reliable, flexible
The pioneer technique developed by MCT Italy to cast 3D modules in a fast, reliable, and flexible way thanks to the joint action of high-speed flying bucket and automatic casting machines increase the benefits of modular and prefabrication processes whereby:
●
Construction time can be reduced up to 50 per cent
●
On site labour can be reduced by 30 per cent
●
Reduction of jobsite noise, pollution and neighbourhood disruption
●
Improvements in jobsite safety and the quality of the finished product.
The module's structures are cast from concrete in a yard in Senai, Malaysia; then a factory in Tuas, West Singapore, carries out the fit-out in 15-days to a nearly finished stage. This includes, the painting, windows frame and glazing, doors, wardrobes, and MEP (mechanical, electrical and plumbing) including water and sanitary pipes, electrical conduits and ducting, which are all totally finished before the modules arrive on site. Clement Canopy's concrete core was built at the same time as the modules were stacked and installed, in a carefully choreographed sequence. This method helped reduce the time of construction and was more eco-friendly as the modules were built off-site in an eco-friendly environment. By industrialising and building 50 per cent of the project offsite, loss of time due to poor on-site weather conditions was mitigated. 
PPVC benefits
The adoption of PPVC at The Clement Canopy brought about many learning points in design, production and site works. While quality of workmanship was improved as the bulk of architectural works were carried out in a factory-controlled environment, strict site control and discipline had to be maintained to ensure minimal damages to the finishes. Early confirmation of drawings and materials represented one of the major hurdles towards ensuring a smooth production cycle. Another important decision to be made was the location of the heavy-duty tower crane to determine the crane's foundation and its tie-back to the main tower. This affected the overall structural design of the residential towers and modules had to be strengthened to cater for this additional loading. The adoption of PPVC has helped all stakeholders of the project in achieving shorter construction duration, higher quality workmanship, safer construction site and lesser disruptions to the surroundings schools.