OurDVE boutique showroom styled by the creative minds of CrimzonOak Design Studio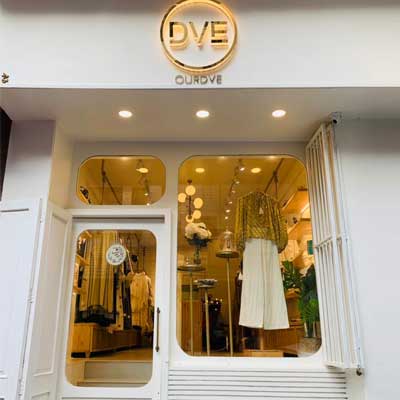 OurDVE boutique showroom styled by the creative minds of CrimzonOak Design Studio
Spread across a modest space of 260 sq.ft., founder of fashion and lifestyle brand OurDVE, Nidhika Shah, envisioned her boutique showroom to be simple, minimalistic and made of sustainable materials that resonates with her brand personality. Anushree Poddar and Shivani Ranawat, founders of the CrimzonOak Design Studio took up this project and designed it in a way that reflects the persona of the brand yet pleases the niche clientele of OurDVE.
Shop Local, Stay Sustainable
Staying in line with the sensibilities of the brand and keeping the theme minimalistic, the interiors of OurDVE store are created using natural materials like pinewood, jute rope, cane and metal.
CrimzonOak designed the storage units with pine wood and cane shutter fronts while the jewellery unit and cash counter were made using a fluted pinewood design. Most accessories were sourced from local markets to uplift the Indian craftsmen and contribute their bit.
Located at Colaba, Mumbai, this outlet has pleasing aesthetics that are functional as well.
Designer Conceptualisation
"This space is an amalgamation of basic geometric forms, shapes, textures and simple materials that represent a sense of order and essential quality. The streamlined furniture and subdued hues focus on space and simplicity. Functionality being key throughout" says Anushree.
About OurDVE


DVE find its charm in traditional skills from India. It is not about fashion, but about pure enjoyment of shapes, colours, materials & crafting techniques. The spirit of DVE takes its shape in soulful Clothing & Jewellery that lives on through individual expression. 'DVE', In Sanskrit Means 'Two', it is the fashion cycle which has two wheels, one represents the basic need for mankind i.e., cloth, and other is to glorify & complete the perfect look i.e., jewellery. The cycle cannot work without any of its wheels. Established with an ideology to depict stories of craftsmanship, beauty of authenticity & charm of nostalgia, we take pride to be originated in India & promote it through our crafting techniques & ethical sourcing of raw materials. Each of the timeless piece curated by at DVE has a story to feel. Its unique aesthetics bridges the east west sensibilities.
Opinion Poll
Question : As we enter FY 2021-22, a report estimates a 11% GDP growth. What is the most critical investment the construction and infrastructure sector needs to make this year?