Rethink Clash Detection – Standardise and Automate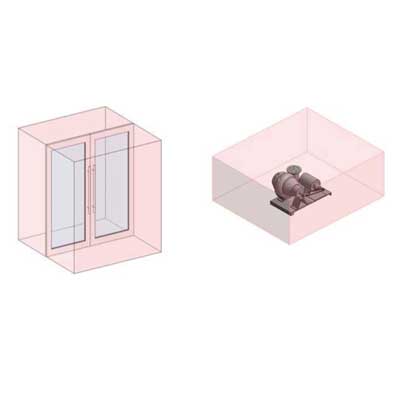 Rethink Clash Detection – Standardise and Automate
Photo: Clash due to clearance issue
Photo courtesy: Autodesk Knowledge Network
Buildings are getting more complex to meet the rising market demands, maximise use of available land and enhance occupant comfort. These results in multiple levels of services packed closely together to function in a seamless manner above an aesthetically designed false ceiling. Ensuring smooth execution and maintenance of these services requires fully coordinated drawings where all prospective clashes among services are resolved upfront. The process to come up with such drawings requires better integration of information, effective communication and smarter use of technology. As per MGI survey , there is a common consensus among owners, contractors and design consultants that the design and planning processes need improvement and require technologically advanced softwares. The main driving force behind this is that the cost of identification of clashes at an early design stage is negligible compared to the exorbitant cost of rectification and correction later during execution or maintenance.
Though the advantages of clash detections are well known in the industry, 3D generation softwares such as Autodesk Revit, MicroStation, Vectorworks Architect, ArchiCAD generate a clash report only between models of different disciplines. Though it serves the purpose to a certain extent, it does not apply any logic beyond identifying straightforward clashes. At the same time, it also flags elements which are actually built-in by design. For example, the fire hydrate in mechanical model could be touching the wall in architecture model, and is a required connect. But the software will identify it as a clash. Due to such a limitation, the BIM manager usually has to spend substantial time to review the clash report manually in order to identify valid findings and assign the tasks. It is an iterative process of identification, communication and rectificationand has to be run a few times for a fully co-ordinated model.
The next generation softwares such as Navisworks and Solibri, 3D Repo not only identify clashes but rather help in addressing the constructibility issues by carrying out advance clash detection, deficiency detection such as egress analysis and matching design (architecture v structure).
This enables the BIM manager to set rules for maintaining safe tolerance among different services within the model. With simple rules, BIM manager can set the minimum distance from a duct to be 900 mm (3 ft) or space around the MEP pipes to be 150 mm.
Similar checks can also be performed by respective disciplines at a frequent interval for quality checks. By setting the rules, architects can define the door clearance, width of staircases and other standard parameters for quality check.
Photo: Clearance Space required for doors and mechanical pump
Photo courtesy: Autodesk Knowledge Network
This adds a level of automated review, acting as an effective quality check tool enhancing the quality of design and drawings. It considerably reduces the manual work performed by the BIM manager. I had a chance to use these softwares for the P&G manufacture facility in Telangana and Jaquar faucet manufacturing plant in Bhiwadi. These softwares are getting widely used for hospital projects, manufacturing facilities for FMCG companies like P&G and Unilever, infrastructure and metro-rail projects.
In the words of Dr Amarnath CB, President, India BIM Association, "Standardisation and automation of design processes is the way forward. It's a win-win situation by providing better quality on one hand and reducing delivery time on the other."
These softwares are very user-friendly and can be used after a training of a few hours. These come with a per-user subscription model, are license-based and can be purchased based on monthly or yearly subscription.
To facilitate the adoption process, the softwares are allowed to be installed on several computers within an organisation but the users working at one time are restricted by the number of purchased licenses. This helps consultancy firms to test the software and train more employees while paying only for a couple of licences before making a big investment.
These tools can also be used by managers and higher management for reviewing the design. The softwares compress the size of original model and generate a lighter version of the model which can be used on any system. Navisworks Freedom is a free software by Autodesk for viewing the model and works well with different file formats.
Other than solving the obvious clash detection problems, these softwares can prove to be a big asset for construction companies or consultancies in the long run. Early adopters of this digitalisation and automation will fetch the benefits of Machine Learning and Artificial Intelligence. The patterns and the trend in data from these softwares specifically can help identify better clashes, define rules and make recommendations for meaningful refinements in design process.
Arunidhi
S, M.Sc
(Construction Law, UK), M.Arch, B.Arch. Engineering head for large industrial EPC projects, is a Founder of a wellness company. She has worked on some of the most complex engineering projects for organisations like Larsen and Toubro, M+W Group GmbH, P&G, GlaxoSmithKline, Kerry and Hareon Solar.