Nitin Gadkari ko gussa kyon aaya!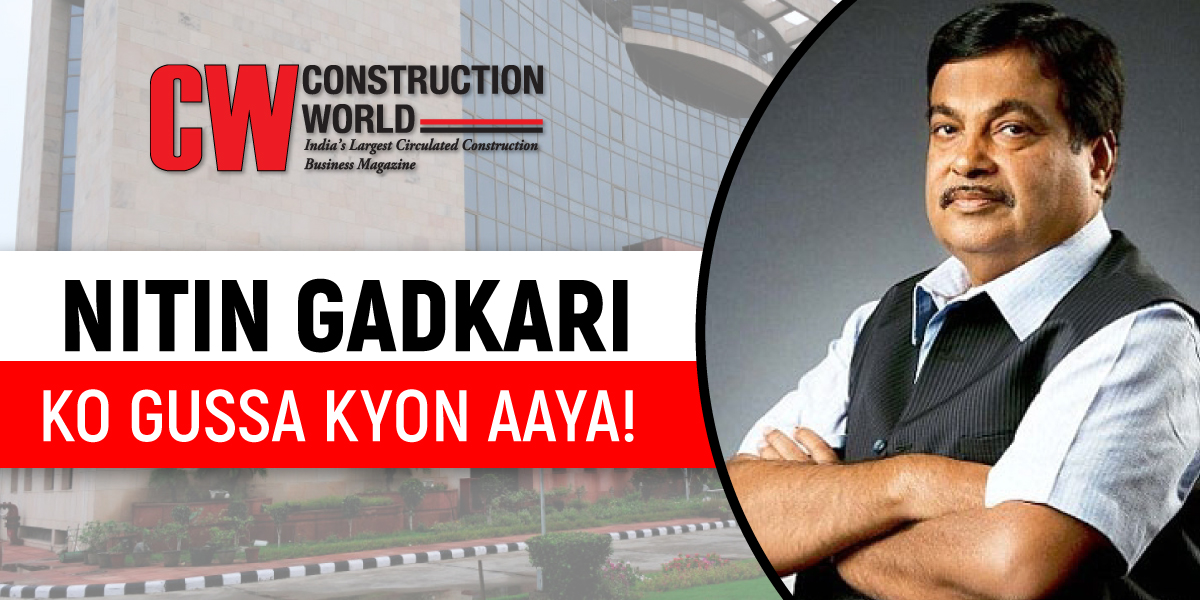 Nitin Gadkari ko gussa kyon aaya!
An investigative backstory of why Roads Minister Gadkari famously slammed NHAI officials recently. Pratap Padode writes.
A video of Union Minister Nitin Gadkari's outburst at the inauguration of NHAI's new building on 26 October 2020 over video conferencing went viral. While a lot is being said about it, one must point out the fact that half of all news on the internet is claiming that the building that has been completed is located in Nagpur. Wrong! This building built on a plot size of 6,086 sq m, costing Rs 135 crores, is located at Dwarka in New Delhi. It has ground plus seven storeys, with two levels of basement. NHAI plans to shift around 400 of its employees to the new building, which is equipped with the latest building management system, computer automation and state-of-the-art facilities for enhanced work performance. It has a floor area of 11,920 sq m, can accommodate its employees, around 225 cars in its multi-level parking space, canteen and recreation facilities for the working staff, and ventilation, lightning, fire system, and a sophisticated security system.
The Minister's outburst included a mention of how NHAI's numerous chairpersons failed to complete a building, delaying it by over 10 years. Some of the chairpersons' tenure dates are shrouded with extensions ranging from contractual employment to a term as short as three months. (See table).
In the list of chairpersons, only Brijeshwar Singh and RP Singh have enjoyed a tenure ranging from two to three years. Brijeshwar Singh had a chequered stint with NHAI. His tenure was marred by allegations of corruption as contracts were awarded to Oriental Structural Engineering unfairly to favour the contractors on his watch. Gadkari mentioned eight chairmen, and we have more names here as some of them have served additional charges while also serving as Secretary at the Ministry of Road Transport & Highways. Given the short tenures that the chairmen have served at NHAI, the continuity, accountability and sense of ownership seems to be missing for a post as important as a Chairman's. When there is no sense of ownership and a term that does not call for accountability, it is not difficult to fathom why the previous chairpersons failed to take stock.

Another example of failed accountability has been failure in filing annual reports in time reportedly for which NHAI has been penalised by Securities & Exchange Board of India (SEBI). According to SEBI's listing obligation and disclosure norms, the half yearly results have to be filed within 45 days from the end of the half year. SEBI observed that NHAI had delayed filing half yearly financial results between FY 2016 and FY 2019. The reason for delay in filing the annual report has been ascribed to non-availability of board members.
So who was the contractor? Why did Gadkari say that if he sought answers from NHAI officials about the contractor, they would respond that the contractor is "in NCLT" (National Company Law Tribunal)? And above all ...
Why did the NHAI building contract take 10 years to complete?
NHAI entered (February 2012) into an agreement with Unity Infraprojects Limited (contractor) for construction of building (Phase I) for NHAI at Dwarka at a cost of Rs 510.9 million with the scheduled date of completion, March 2014. Works related to interiors and furniture, security, IT-related and other allied activities were kept outside the scope of work of the contractor, as these items were to be dealt separately in Phase II. The contractor could achieve only 34 per cent of financial progress until the scheduled completion date of the work, March 2014. A supplementary agreement was then entered in August 2014 between NHAI and Unity Infraprojects for extension of time (EoT) upto 31 March 2015 along with support of a working capital advance of Rs 50 million against bank guarantee (BG) to the contractor and deferment of levy of liquidated damages (LD). However, the contractor still could not complete the work and achieved only 59 per cent of financial progress until January 2016.
Thereafter, in July 2016, the contractor requested foreclosure of the contract through an amicable settlement. Due to failure on part of the contractor to achieve the milestones, as per the agreed terms and conditions, NHAI encashed the bank guarantee (BG) amounting to Rs 47 million, which was furnished by the contractor against the working capital advance in August that year.
In July 2018, NHAI finally foreclosed the principal contract and supplementary contract for construction of building retrospectively, with effect from 1 January 2018 while retaining a performance BG of Rs 51 million of the contractor against the work executed and equipment supplied by it till completion of the project. An amount of Rs 367.6 million was paid to the contractor upto 31 December 2017 against work done. The contractor's full and final settlement, including issues of EoT, LD, defective works, and so on, was yet to be finalised under an amicable settlement process. The contractor, Unity Infraprojects, was admitted for Corporate Insolvency Resolution Process (CIRP) under Insolvency and Bankruptcy Code, 2016 vide NCLT, Mumbai Bench Order dated 20 June 2017.
As it was under CIRP, any amount paid out of Rs 367.6 million to the company after this order seems to be completely out of line and improper. How can NHAI pay any money to a company under insolvency? This part seems to have escaped the Comptroller and Auditor General (CAG), as there does not seem to be any reference to this lapse! On 3 July 2018, NHAI awarded the Phase I left over work and Phase II work to ANJ Turnkey Projects Pvt Ltd at a total cost of Rs 587.5 million with a completion period of one year.
As per the CAG Audit Report, the following observations were made in project management of the building construction by NHAI:

It took more than five years, from date of handing of physical possession of land by DDA, to obtain (February 2011), NOC from DDA for construction of building.
It took more than one year, from date of NOC, to enter into an agreement with the contractor for construction of building.
The agreement entered into with the contractor did not have any "foreclosure clause" or "risk and cost clause" to safeguard the interest of NHAI in spite of the NHAI being in the business of construction activities for so long.
M/s Datta & Datta, the architect/ design consultant (consultant) of the building construction work, repeatedly issued show cause notices to the contractor and pursued NHAI for termination of the agreement, as the contractor was unable to meet the construction milestones because of its financial crunch and lack of knowledge on its part to manage the situation. In fact, the Chairman & Managing Director of M/s Unity Infraprojects Limited admitted the fact that due to shortage of cash flow with them there were problems in mobilisation of manpower and procurement of costly equipment like lifts, Diesel Generating (DG) sets, Heating, Ventilation, and Air Conditioning (HVAC) systems etc. This explanation was reiterated by contractor management many times but still NHAI kept on granting extension to the contractor and that too without levying of LD. NHAI even entered into supplementary agreement with the contractor so as to provide support of Rs 5.00 crore working capital advance. Nonetheless, contractor kept on failing in its promises and no concrete action towards repudiation of contract was initiated by NHAI.
Consultant (M/s Datta & Datta) was removed (January 2018) from its services and M/s D K Associates was made the architect/design consultant (supervision consultant) for remaining work of the construction of building. M/s D K Associates concurred (June 2018) with the request (July 2016) of the contractor for foreclosure of contract by passing the onus of delay in construction of building on NHAI and the consultant. The reasons attributed by supervision consultant and the contractor were: a) there was non-synchronisation of work due to splitting of building work in two phases; b) delay in technical clearances and administrative approvals and c) the ineffective supervision of consultant. Strangely, these reasons were never raised by contractor before nor were pointed out by the consultant (M/s Datta & Datta); while, NHAI accepted these reasons in the foreclosure agreement, the failure on part of contractor in arranging the requisite men and machinery (a dominant reason pointed out throughout by the consultant and admitted by contractor) were not incorporated in the foreclosure agreement. This lopsided foreclosure agreement thus jeopardized the interests of NHAI in the amicable settlement process including the levy of LD, EoT and claims against defective works.
NHAI accepted the suggestions of supervision consultant and the Phase I left over work and Phase II work were synchronized as a single work in spite of the fact that the consultant was of the view that splitting of work was not hampering the work of contractor and in fact it was the other way round as the tender for phase II could not be finalised because of failure on part of contractor to adhere to its work schedule as Phase I and Phase II were interrelated. This was indicative of NHAI's irresolute nature in planning the building construction work as it changed its decisions as per the consultant's views.
In its October 2018 reply, the management accepted that there had been a delay on part of the contractor in construction of the second office building and furnished factual position of chronology of events. Thus, even after a lapse of more than 13 years from the date of NHAI's Board decision to purchase land, the work of building construction for NHAI is still in progress indicating poor planning, execution and management of the project. Besides the time and cost overrun, NHAI's actions reflected undue favours to the contractor, which may compromise its financial interests in the future settlement process. In the meantime, an amount of Rs 436 million (upto October 2018 and including consultancy charges) has been spent on construction of building and avoidable payment of rent of Rs 117.9 million (fromApril 2015 to October 2018) for the MTNL building while the work of building construction is still in progress.
Failure in project management by NHAI resulted in time and cost overruns, besides blockage of fund and avoidable payment of rent of Rs 117.9 million till October 2018. The matter was referred to the Ministry in December 2018. (Source: CAG Report 2019 Report Number 13 of 2019)
Watch NHAI's video conference with Union Minister Nitin Gadkari