RK Marble launches its new and largest marble hub as "Experience One"
01 Jan 2020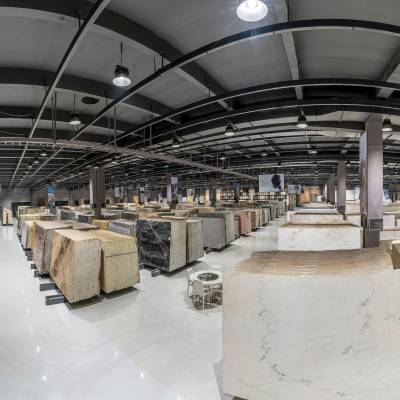 Celebrating the milestone year, RK Marble, the world's largest marble producer, unveiled the new revolutionary "Experience One" in Delhi/NCR; and announced their launch of first showroom at Mayapuri, Delhi and Marble Emporia in Gurugram to reinforce their position as the market leaders. The company presently owns and manages the largest marble processing, selling enterprise in Kishangarh, Rajasthan.
RK Marble, a company that was incorporated in 1989 at Kishangarh, Rajasthan, is one of the pioneers in marble processor in India and has a success story of over 30 years now.
The warehouse will sell the wide range of imported marble, travertine, onyx, limestone and granite from countries such as, Brazil, Spain, Turkey, Italy, Vietnam and Portugal. The warehouse will also stock over 15 lakh sq ft of imported marble and granite in more than 400 colors under one roof which is the largest stock in any metro-city in the country so far.
"The warehouse will stock the largest, most comprehensive range of marble from across the world. For an end consumer, this is akin to choosing from a large range and for the solution provide (interior designer, architect, contractor), this is like coming to a mega mall of quality natural stones," commented Ravindra Kumar Gupta, Director-Sales & Marketing.

The new 1,500 sq m area warehouse space opens in Gurugram. It features a new stone gallery which is used to display natural stone slabs from all over the world. More than 1,500,000 sq ft stock is readily available for sale at any given time.
RK Marble as a corporate entity is driven by the vision of providing its discerning customers with the best quality products at competitive prices. Honesty, transparency, excellence are some of the key benefits that we like to bestow on our valued clients. It is our continuous endeavour to bring to our customer newer, superior offerings from time to time.
RK Marble was established in 1989 by the Patni brothers, headed by the visionary Ashok Patni, who with single minded dedication and devotion transformed the face of the marble industry with the induction of dramatically improvised measures such as manpower empowerment, use of innovative technology and environment friendly norms. The company today has emerged as the undisputed leader and an internationally-acclaimed Guinness World Record holder as the largest producer of marble in the world. They own two mining facilities in Rajasthan at Udaipur (Morwad and Dharmeta Village) in the year 1991-93 and Wonder White in Talwara in 2012 where the best and most modern practices of mining are followed. In 2008, RK Marble has also acquired quarries of Flawless White and Cat's Eye in Yen Bai province Luc Yen Dist of Vietnam.
Wonder Cement plant, located in Nimbahera, District Chittorgarh, in Rajasthan, started with Line 1 in March 2012 with a production capacity of 3.25 million tonne per year followed by Line 2 in year 2015 and Line 3 in year 2019 to increase the total capacity of production by 11 million ton by the end of the year. Today, Wonder cement's parent company, RK Marble, is a thriving brand in India.