JK Cement - fastest growing cement co: M Singhi - Person of the Year
01 Dec 2021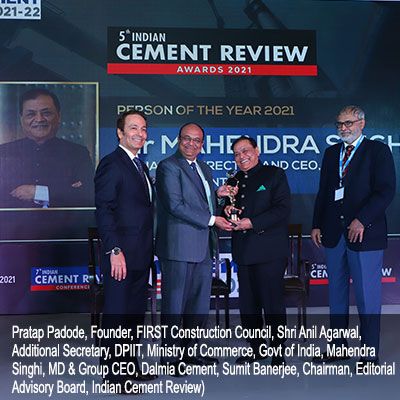 Friday, 17th December, 2021, New Delhi: JK Cement, Ultratech & Shree Cement swept the 5th Indian Cement Review Awards 2021 at The Lalit, Delhi, on 17th December 2021 among the large category (over Rs 5000 cr operating revenue) amidst an august gathering of captains of industry, bankers, fund managers, bureaucrats, technocrats and media.
In his opening address, Mr. Pratap Padode, Founder and President, FIRST Construction Council, said, "The National Infrastructure Pipeline is looking at doubling the annual investment into infrastructure. Between 2014 and 2019, the investment into infrastructure has doubled from Rs 5 trillion in 2014 to Rs 10 trillion in 2019 on an annual basis and going forward the plan is to invest an average of Rs 20 trillion per annum in order to meet the NIP target of spending Rs 111 trillion in five years. Infrastructure projects, which did not need as much, are being done on a much larger scale and are being executed at greater speed."
On receiving the award for the Person of the Year, an emotional Mr. Mahendra Singhi, MD & Group CEO, Dalmia Cement, after thanking the jury of Indian Cement Review and the FIRST Construction Council, the Guest of Honour, Anil Agrawal and his mentor Puneet Dalmia, asserted, "The Indian cement industry is poised to go from grey to green in the time to come. It is ready to support not only itself but other sectors, too. It is time to think afresh, to reshape and repurpose our business. The Indian cement sector is known as the most energy efficient and sustainable one in the world. Now it is time to move toward a net zero economy. I am sure that we would be the flag bearers in this effort across the globe."
Expressing his delight Shri Agarwal exhorted the cement industry to embrace innovation.
Highlighting the strides that entrepreneurial India is taking, he informed, "We have 80 start-ups, which were valued at over $250 billion as against the market value of all CII companies at $800 billion, and FICCI companies at $400 billion. They have spurred their valuation due to the power of innovation, which is what will similarly revalue cement companies, if they make the moves to further innovation in their industry."
During and earlier fireside chat both Singhi and Rajnish Kapur, COO, JK Cement parlayed over the challenges of sustainability and decarbonisation. Experts from the industry advocated decarbonisation strategies in view of PM Modi's commitment to be net zero by 2070.
The evening concluded with cocktails and dinner, and a heartfelt appreciation from the industry stakeholders on the efforts put in by the FIRST Construction Council in recognising and applauding the progress of the Indian cement industry.
Winners
Fastest Growing Cement Company (Large Category over Rs 5000 cr)
1. JK Cement
2. Ultratech
3. Shree Cement
Fastest Growing Cement Company (Medium Category between Rs 2000 cr and Rs 5000 cr)
1. JK Lakshmi Cement
2. Birla Corporation
3. Heidelberg Cement India Limited
4. Orient Cement
Largest & Most profitable Cement Company in India
1. UltraTech
Fastest Growing Cement Company (Small Category less than Rs 2000 cr)
1. NCL Industries
2. Sagar Cements
3. Anjani Portland
Lifetime Achievement
1. Mr Suresh Deolalkar, Consultant
Person of the Year
1. Mr. Mahendra Singhi, Group CEO, Dalmia Cement
The esteemed Jury Advisory Panel included:
Mr. Ashok Dembla , Managing Director, 

KHD Humboldt Wedag
Mr. Ashwani Pahuja, Chief Sustainability Officer & Executive Director, 

Dalmia Cement (Bharat)
Dr. Bibekananda Mohapatra, Director General,

 National Council for Cement and Building Materials
Dr. JD Bapat , Adviser and Development Professional
Mr. KN Rao, Former Director, 

ACC
Mr. Nitin Vyas, CEO, 

BEUMER Group
Mr. Madhav Vemuri, Director and Entrepreneur, 

Aideas Engineering
Mr. Rahul Deshmukh, Managing Director, Aluminium, 

Fives India Engineering & Projects Pvt. Ltd

.
Mr. Pratap Kumar Ghosh, Managing Director, 

Ercom Engineers Pvt Ltd
Mr. Goverdhandas Daga, Director, 

Secmec Consultants
Mr. DD Wanjale, Managing Director,

 GEBR. Pfeiffer (India)
Related Stories