Bangalore Airport Employs AI to Elevate Terminal 2
01 Sep 2023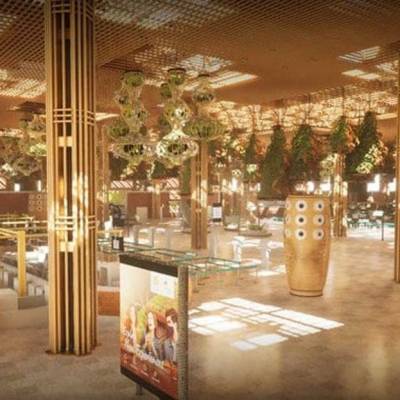 Bangalore International Airport Limited (BIAL) has officially incorporated Artificial Intelligence (AI) in the newly built Terminal 2 for detecting unattended bags to monitoring lineups.
While AirAsia, Air India, Star Air, and Vistara are now flying from the newly opened T2, foreign flights have yet to begin.
"A member of the NVIDIA Metropolis vision AI partner ecosystem, Industry.AI has deployed its vision AI platform across Bengaluru's newest terminal, T2, known as the garden terminal for its green spaces, indoor gardens, and waterfalls. It's one of the first deployments of intelligent video analytics at scale in an Indian airport," said US-based NVIDIA in a blog post on August 30.
According to the company, the Industry.AI platform connects more than 500 live camera feeds across T2 to visual AI technologies that can do nearly a dozen functions in real-time.
"AI increases the safety and efficiency of the terminal's operations by using vision AI and object detection to track abandoned baggage, flag long passenger queues and alert security teams about potential issues, among other use cases," it said. "By identifying congestion points and anticipating delays with vision AI, staff can proactively redirect passengers to less crowded areas or provide signals to open additional checkpoints, reducing wait times and enhancing passenger experiences," it said.
Unauthorized individuals and vehicles in the airport can also be tracked and notified in real time to platform users for increased security. Furthermore, Industry.AI detects speed infractions committed by cars outside the terminal, assisting in safe management.
Deploying vision AI at this scale is a first for us," said George Fanthome, Chief Information Officer at BIAL. "By adopting such advanced deep learning technologies, we strive to be one of the best airports globally and provide our customers with the best experience," he said.
It also aids in the management of passenger lines at terminal entrances, check-in counters, security check lanes, and other locations. Airport personnel can be trained to conduct jobs proactively based on past data about passenger movement acquired by the AI platform.
Nearly 32 million passengers pass through Bengaluru Airport each year.
"Our platform speeds up passenger flow during peak hours of operation by alerting airport staff about longer-than-optimal lines," said Tejpreet Chopra, CEO of Industry.AI. "This is done through a dashboard with a real-time visual and sensor feed that allows airport staff to respond to the situation in the shortest possible time."
Industry.AI intends to implement NVIDIA-powered accelerated processing and visual AI technology throughout Bengaluru Airport's terminals, as well as at other airports. "Bengaluru Airport's focus on adopting advanced AI technologies sets a new benchmark for the passenger experience at airports," Chopra said.
See also:
Bengaluru airport's T2 to handle operations from Aug 31
Madhya Pradesh's Datia Airport set to boost regional air connectivity


Related Stories