Capgemini achieves 100% renewable energy in India
01 Jun 2023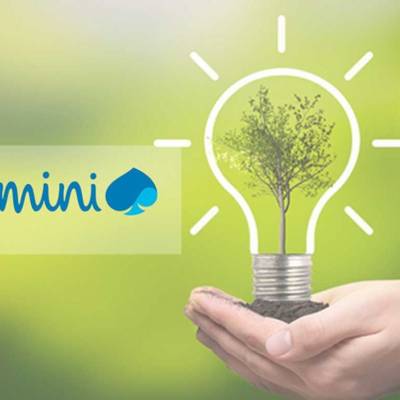 Capgemini, the multinational information technology services and consulting firm, has made a significant announcement regarding its operations in India. The company's facilities in the country are now running entirely on renewable energy, marking a significant step towards its sustainability goals. By transitioning to 100 per cent renewable energy sources, Capgemini is able to avoid the release of over 70,000 tonnes of carbon emissions annually. The achievement has been made possible through a combination of onsite renewable energy generation, offsite renewable energy purchase via power purchase agreements, and green power purchasing through utility programs. These measures account for 83 per cent of the renewable energy utilised, with the remaining 17 percent sourced from renewable energy certificates.
Capgemini's presence in India encompasses over 180,000 team members spread across 13 cities. To support its renewable energy goals, the company has installed 11.5 MWp of on-premises solar plants across all its campuses in India. Some of these campuses generate surplus energy, which is then exported to the respective state electricity boards. Notably, the Bengaluru, Hyderabad, and Chennai campuses (MIPL and SIPCOT) have been exporting excess renewable energy back to the state electricity grid through the net-metering programme. Since the beginning of this year, a total of 450 MWh of renewable electricity has been exported from the four offices, resulting in these campuses having a net positive energy use in 2023.
In addition to its renewable energy efforts, Capgemini has also taken steps to integrate battery energy storage solutions (BESS) into its operations. The Noida campus now houses a BESS with a capacity of 2.5 MWh, while the Mumbai campus boasts a 3.5 MWh BESS. This solution enables the company to store excess renewable energy generated by its solar plants during the day and utilise it during peak hours in the evening. By doing so, Capgemini significantly reduces greenhouse gas emissions from peaker power plants, lowers energy costs, decreases its carbon footprint, and alleviates stress on the grid during peak periods.
The BESS solution incorporates an intelligent Energy Management System (EMS) that orchestrates and manages the flow of energy from solar, battery storage, utility supply, and load. Integrated with Capgemini's Energy Command Center (ECC), the EMS facilitates real-time monitoring and control of energy supply. Additionally, the EMS utilises artificial intelligence (AI) analytics to effectively manage energy tariffs and optimise the utilisation of the BESS, storing and releasing energy during non-peak and peak hours, respectively. This process ensures efficient "Peak Shaving" and enhances overall energy management.
Ashwin Yardi, CEO of Capgemini in India and a Member of the Group Executive Committee, emphasised the company's long-standing commitment to sustainability and its continuous efforts to reduce its carbon footprint. Yardi expressed his pride in reaching the milestone of achieving 100 percent renewable energy across all offices in India and highlighted the role of innovative technologies like Battery Energy Storage Solutions and intelligent Energy Management Systems in transforming and decarbonising the energy industry. He concluded by stating that Capgemini will continue leveraging technology to drive meaningful impact, nurture a sustainable future, and prepare communities for the challenges ahead.
Related Stories