Destined to Design: Architect BV Doshi remembered
01 Feb 2023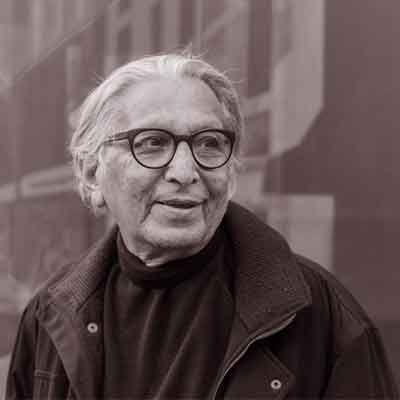 It takes a lot to be a legend – more so because the term defines people who continue to inspire us in a world that is fast changing. If we apply this criterion to the dominion of architecture and design, the moniker becomes rarer. One man who makes the cut is Balkrishna Vithaldas Doshi, often referred to as the 'Father of Indian Architecture'. The architect, who passed away on January 24, 2023, in Ahmedabad was India's first Pritzker laureate. He was also a recipient of the Padma Bhushan and the Royal Gold Medal from the Royal Institute of British Architects (RIBA), among other prestigious awards, for his valuable work and contribution to architecture.
Doshi's projects may not be 'glamorous', as defined currently, but offer us much food for thought. The intellectual minds who line up tomorrow to study architecture will be encouraged to think about the tales of form and function he has drafted in India. Even though he collaborated with Le Corbusier and Louis Kahn, two towering and influential modern architects, his work has an inventive quality that defies a particular style and strikes a deep personal connection with the people who live in the country and their culture. He set important directions for urbanism and architectural practice in a young independent India by attempting to combine modern concepts with indigenous traditions in his works, fusing Indian vernacular styles with European modernism and brutalism, as seen in Tagore Memorial Hall built in 1966 and PremabhaiHall located in the old city of Ahmedabad,among others.
A visionary, Doshi was aware that a developing nation like India would need a reference point of its own in architecture and design; this affirmation ultimately led to the birth of the School of Architecture and Planning (Ahmedabad,1966-2012). Doshi was the founder, former director and chairman of the institute, which was renamed Centre for Environment Planning & Technology (CEPT) University in 2002.
"BV Doshi has been instrumental in the way architecture is being practised in India," says Jaagrut Patel, Principal Architect, Jaagrut Patel and Associates, based in Ahmedabad."Numerous students of CEPT continue to define the built environment of India even today...
To read teh full story, CLICK HERE.
Related Stories