Electric Bus of the Year award for EV Power Plus
01 Sep 2023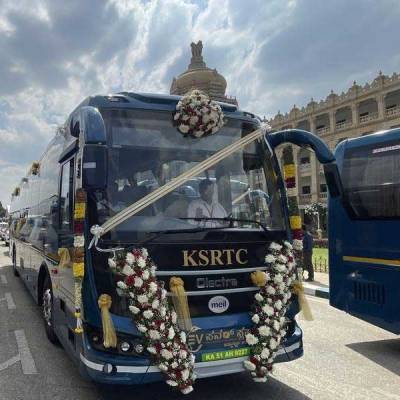 In a commendable achievement, the Karnataka State Road Transport Corporation (KSRTC) electric bus, "EV Power Plus," has been honored with the prestigious title of "Electric Bus of the Year." This recognition was bestowed upon KSRTC during the 10th edition of the National Award for Leadership and Excellence in Electric Vehicles, a distinguished event organized by the World Manufacturing Congress, held in Bengaluru.
KSRTC's exceptional electric bus, the "EV Power Plus," has been making remarkable strides in the realm of sustainable transportation. The corporation currently operates these cutting-edge electric buses on various routes, serving regions including Mysuru, Madikeri, Virajpet, Shivamogga, Davanagere, and Chikkamagaluru.
Under the Faster Adoption and Manufacturing of Hybrid and Electric Vehicles in India Phase 2 (FAME-2) initiative, KSRTC is set to operate these electric buses through a private operator on a gross cost contract basis. This innovative approach involves the private operator handling the operation of the buses for a duration of 10 years. As part of this arrangement, KSRTC will remunerate the private operator at a rate of 755 rupees per kilometer as the operational cost.
In addition to its remarkable achievement in the electric vehicle domain, KSRTC has garnered acclaim for its innovative human resources practices. The corporation received recognition for its innovative HR initiatives at the 22nd Asia Pacific HRM Congress. Moreover, KSRTC's commitment to safety and excellence in logistics and supply chain management was recognized with two prestigious awards - "Best in Class Employer" and "Best in Class Safety Initiative" - at the 15th Express Logistics and Supply Chain Leadership Awards.
KSRTC's accomplishments underscore its commitment to sustainable transport solutions, employee welfare, and safety in logistics and supply chain management, contributing to its growing reputation as a trailblazing entity in the transportation sector.
Related Stories